American tennis' rising star Michael Mmoh believes the great Nick Bollettieri has created an eternal legacy in tennis, one that was possible primarily because of his incredible work ethic.
Mmoh, who is one of the many players, including the likes of Andre Agassi, Maria Sharapova, and Venus and Serena Williams, to have trained under the valuable guidance of the late American coach, recently paid an emotional tribute to Nick Bollettieri.
Bollettieri, who passed away last month at the age of 91, is famous for having coached as many as 10 future World No. 1s. He also conceptualized the concept of a tennis boarding school and founded the Nick Bollettieri Tennis Academy over 40 years ago. The very academy has come to be known as the world famous IMG Academy over the last 30+ years.
24-year-old Michael Mmoh is one of the graduates from the IMG academy and spent a great deal of time with Hall of Famer Nick Bollettieri in his younger days as a budding tennis player.
"Only coach, I believe, in the Hall of Fame ever. So I mean, that speaks volumes. But more than that, you know, just his work ethic every day," Michael Mmoh said in a press conference at the ongoing 2023 Tata Open Maharashtra, when asked by Sportskeeda about his relationship with Nick Bollettieri.
As someone who got into the IMG Academy very early in his teens, Mmoh had the opportunity to closely observe and learn from Bollettieri's hard-working attitude even at the age of 80.
"When I first got into IMG, you know, he was like, 80, and he was waking up at five in the morning everyday," Mmoh said on Bollettieri's work ethic.
"He would work till 6pm. He was on court all day, every day. To see that at that age, it's special. And I think that's part of the reason, you know, he's cemented such a big legacy."
The American has always shared a close bond with Bollettieri, who also coached Jim Courier, Monica Seles, and Martina Hingis back in the day. Mmoh, who met Bollettieri shortly before he passed, had an important message for admirers of the great coach and others who were close to him.
Mmoh feels Bollettieri is an eternal legend whose legacy should be celebrated, adding that he wouldn't want his fans to be sad over his passing.
"I actually went to his house before he passed, unfortunately. And I saw him and, you know, it was a sad moment, but at the same time, you know, he wouldn't want us to be sad. Knowing him, he wouldn't want us to be sad. And yeah, he's a legend forever. He's a guy that's never gonna die," Michael Mmoh expressed.
Michael Mmoh reveals how unwavering support from Nick Bollettieri played a huge role in his tennis career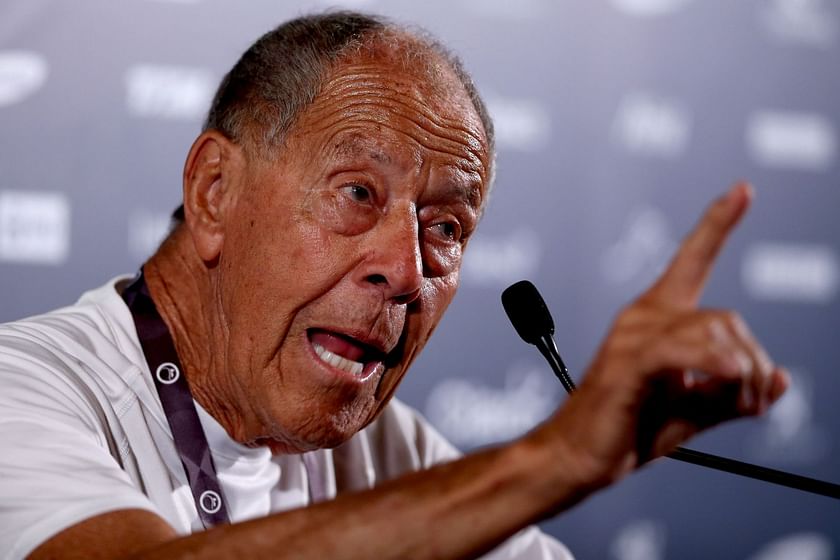 Nick Bollettieri had a special knack for recognizing young talent and Michael Mmoh was one of those young talents who Bollettieri not only recognized but also nurtured and fought for. Mmoh reflected on how he first got introduced to Bollettieri at the IMG academy and received unwavering support from Bollettieri when others doubted him.
Mmoh also expressed how Bollettieri was always there for him until the very end.
"To me personally, he's the reason I went to IMG. I originally went to IMG when I was like eight and my mom actually paid for a half an hour lesson with him. She paid like $500," Michael Mmoh revealed.
"Eventually, I got to the finals of Eddie Herr and he gave me a full scholarship. And he fought to give me that full scholarship, there's a couple of people that didn't want to give it to me. But Nick actually really wanted to give it to me."
"Ever since then, you know, we've always had a really good relationship. He always texted me anytime I do well."
Bollettieri is unfortunately not around anymore, but his valuable teachings will always stay with Michael Mmoh as he continues on his journey to make it big on the world stage. After a highly impressive run to end his 2022 season, Mmoh kickstarted his 2023 season at the Tata Open Maharashtra in Pune, India, with a victory against Manas Dhamne in his opener.