World No. 11 Holger Rune feels that his youthful vigor and hunger to win matches can help the player subside the problem of lack of experience when taking part in the 2023 Australian Open.
The Danish player has played five Grand Slam tournaments so far in his career, including the 2021 US Open and all four majors last year. His best performance came at the 2022 French Open, where the 19-year-old reached the quarterfinals, beating fourth seed Stefanos Tsitsipas on the path.
With the first major tournament of 2023 fast approaching, Rune reflected on his possibilities of winning the title at Melbourne Park.
"It's not that I'm so experienced compared to all the other guys, but I have the young fire inside me, so I'm really pumped for it," he said during a press conference at the Adelaide International.
The 2022 Paris Masters champion conveyed that he will take every match of the tournament "100 percent seriously."
"It's going to be tough because a lot of other players want to win it, as well, but I believe, and most importantly, I'm going to take every match 100 percent seriously and be as focused as I can in every match because you don't want to play also like two long matches in the beginning if you want to go all the way because it's very physical to play five set," stated the 19-year-old.
Rune is currently part of the 2023 Adelaide International. For the first-round fixture, the Dane will face World No. 36, Yoshihito Nishioka, on Monday (January 2).
---
"It's to be No. 1" - Holger Rune on his targets for 2023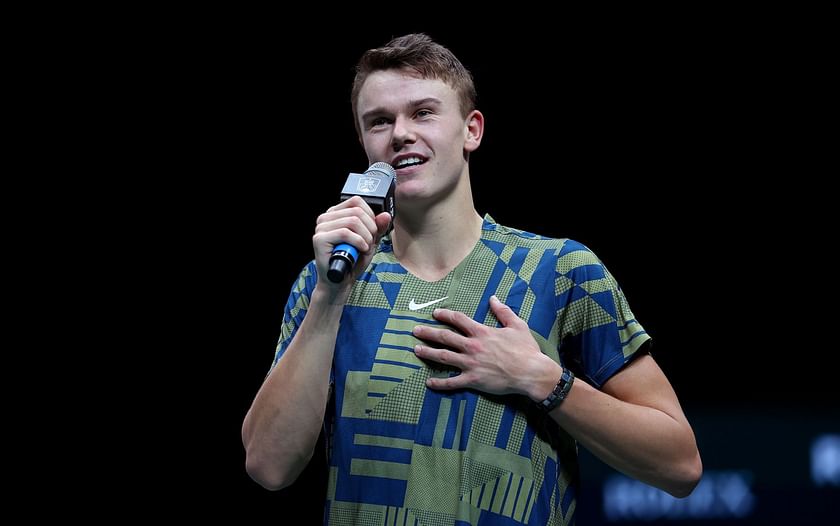 Holger Rune has revealed that his personal target for 2023 is to reach the top spot in the ATP rankings.
During a press conference at the Adelaide International, Rune was asked whether he has set any goals for the new season, to which he replied:
"I do. I do every year. Now it's to be No. 1. I went from 103 to 10, now 11, and it seemed quite impossible, but I believed in them"
The 2022 Stockholm Open champion stated that his original target for last year was to finish at a rank higher than 25.
"Actually my goal was not to be top 10 this year but to be top 25. I beat that by quite a lot," he asserted.
He expressed excitement ahead of the brand new season as he hopes to reach his personal goal.
"obviously I have to do better than I did this year to be No. 1, but I'm really pumped and looking forward to it," Holger Rune said.