Iga Swiatek is into the 40th consecutive week at the top of the WTA singles rankings after first taking over the top spot following Ashleigh Barty's sudden retirement in early 2022.
The World No. 1 showed her class in the ongoing United Cup as she helped her team qualify for the semifinals.
Team Poland went into the deciding quarterfinal match in the Brisbane City Finals tied on points with Team Italy. All eyes were on the crucial mixed doubles match between the Polish pair of Swiatek and Hubert Hurkacz and Italians Camilla Rosatello and Lorenzo Musetti. Despite the pressure, the Poles emerged victorious, winning 6-1, 6-2, a result that took them to Sydney for the semifinals.
Speaking at a press conference, Iga Swiatek shed some light on how she deals with the pressure of playing as the World No. 1.
"Well, I don't consider myself a leader, you know. I just want to show my best game on court, and this is what I know the best, and this is what I know how to do, you know," she said.
"But, yeah, as you said, yeah, I'm the youngest," she added. "Well, Magda, for example, or Hurkacz or Ali and Aga, obviously, they've been on Fed Cups and Davis Cup for so many years that they know actually, I don't know, a little bit better how it is to be in the team and have that baggage on your shoulders on court."
The three-time Grand Slam winner also stated that she was getting used to the pressure of being the World No. 1.
"I'm still kind of getting used to it, but, you know, I also got used to the pressure, especially last year. I'm trying to cut it off on my matches to just focus on my game, and it's going pretty well. Hopefully I'm going to be able to do that on my next matches," she revealed.
Iga Swiatek lauded her team members for making it easy for her. She confessed that she went into her mixed doubles with low expectations, owing to her lack of experience in the format.
"But I feel like honestly it's team effort. I don't feel like I needed to, you know, carry that much. I just wanted to play my singles matches really in a solid way. On mixed I knew I'm not also the one that experience, so I could play with low expectations and it really worked today," she expressed.
---
Iga Swiatek opens up on 'change of the rhythm' while playing singles and mixed doubles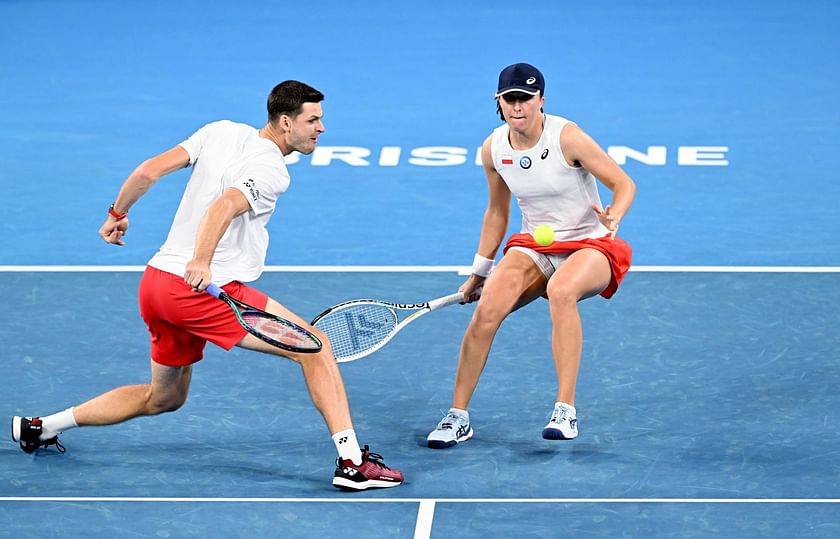 Reflecting on the differences in playing singles and mixed doubles at the United Cup, Iga Swiatek stated that players have complete control of the game in the former, while things tend to get tougher in matches where you are up against men.
"Well, at one point, yeah, it's really cool. It's a different format. It's really exciting. But on the other hand, I don't know, when I'm going on singles, I know that I have like full control sometimes, you know, over what's gonna happen. Here I play against men. So I just know that it's tougher to kind of know," she explained.
"From my perspective, I didn't know how I'm gonna cope with like change of the rhythm between playing against girl and the next point playing against men, you know," she added.