Carlos Alcaraz has revealed how he coped with his loss to Novak Djokovic in the semifinals of the 2023 ATP Finals.
Djokovic defeated Alcaraz 6-3, 6-2 on the Pala Alpitour court in one hour and 28 minutes to secure his spot in the final. The Serb is now on the brink of claiming a record seventh ATP Finals title.
Carlos Alcaraz sent down a barrage of powerful serves, including an impressive tally of 10 aces, during the match. However, the Spaniard managed to win just 62% (29/47) of the points on his first serve, which served as a testament to Djokovic's exceptional return.
During the post-match press conference, Alcaraz shared his thoughts on the outcome of the match. He revealed that it took him 15 to 20 minutes to fully comprehend the result, which left him feeling "a little bit down."
"Well, for me it has been difficult to realize the result of the match. It was 15, 20 minutes after the match that I was a little bit down," Carlos Alcaraz said.
Alcaraz acknowledged that he needs to get more experience of playing on indoor courts in order to match the caliber of players like Novak Djokovic. He also praised the World No. 1, calling him "unbelievable" while also complimenting his return.
"Once we step on the court, indoor court, I feel like I have to practice more, I have to be better player," Alcaraz said. "Obviously he has more experience than me playing in these tournaments, in these courts. But he's unbelievable. It's not about just serving against him. He has a great return game. Unbelievable, I'm going to say. As I said, he push you to a limit in every ball, every shot."
Carlos Alcaraz: "This match help me a lot coming into the pre-season"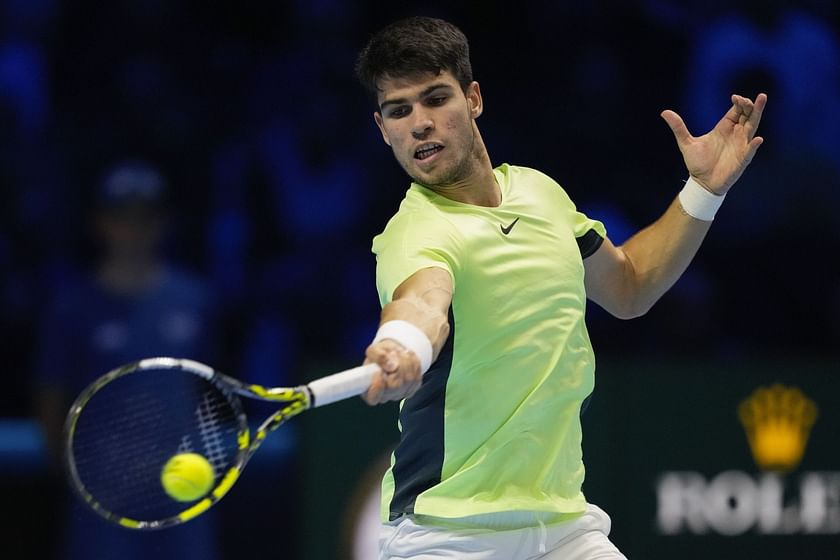 Carlos Alcaraz accepted his defeat to Novak Djokovic, recognizing that the matches he has played this year will serve as invaluable preparation for the upcoming pre-season. The Spaniard also said the mistakes he made this season would play a pivotal role in improving his game.
"Well, this match help me a lot coming into the pre-season. Right now I know all the things I have to improve if I want to be there, if I want to beat the best player in the world," Carlos Alcaraz said. "Obviously I'll rewatch the match to see my weakness, just to improve it and be a better player."
The loss on Saturday was Alcaraz's third loss in four encounters against Djokovic this year.
Djokovic will face Jannik Sinner in the summit clash of the ATP Finals. The match will provide Djokovic an opportunity to exact revenge against the Italian, who bested him during the round-robin stage.