Carlos Alcaraz reflected on 'how far' he is from Novak Djokovic on the tour after his heavy loss against the Serb in the semifinal of the 2023 ATP Finals.
Alcaraz arrived at the Pala Alpitour on Saturday (November 18) seeking revenge for his Cincinnati Masters final loss to Djokovic in August. However, the Spaniard was handed a frustrating 3-6, 2-6 defeat by the World No. 1, who was rock solid throughout.
During the post-match press conference, Alcaraz acknowledged that he has to improve several aspects of his game to reach the level of the 24-time Grand Slam champion.
"I will forget Wimbledon and Cincinnati and focus on this one. Because today I realized how far am I from him and how many things I need to improve," Alcaraz said.
Several tennis fans took to social media to react to Alcaraz's statement. One fan blamed the media for presenting the Spaniard as an "invincible" and "untouchable" figure in the sport.
"Carlos is a great guy, but the tennis media made him believe he was invincible, untouchable, and perfect with no flaws. The pressure came when he started talking about YE 1 repeatedly, more words, and fewer actions. I hope he becomes better," the fan wrote on X (formerly Twitter).
Another fan criticized the sponsors and pundits apart from the mainstream media for "almost" destroying the young talent.
"It's a textbook example of how MSM, greedy sponsors and biased pundits almost destroyed a great young player. Everyone should leave that kid alone and let him prosper at his own pace," their tweet read.
Here are a few other fan reactions to Alcaraz's statement:
---
Carlos Alcaraz admits he is not at Novak Djokovic's level on indoor hardcourts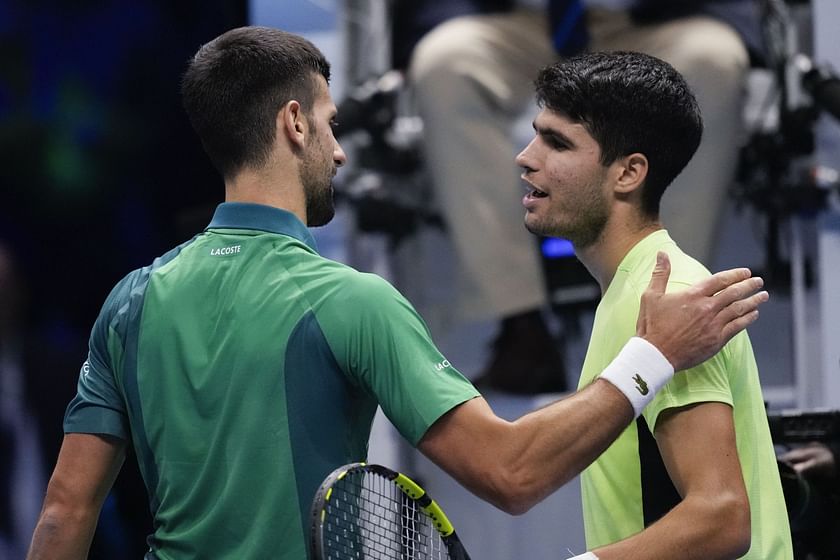 Carlos Alcaraz said after the match he was not at Novak Djokovic's level on indoor hardcourts. He reflected on his impressive performances against the Serb at Wimbledon and the French Open this year and drew a contrast with his straight-sets loss on the hardcourts of Pala Alpitour.
"I feel like I am not in his level in indoor court obviously. I've played great matches in Wimbledon, in Cincinnati, in Roland Garros. I felt in that match that I'm in the level… Obviously he has more experience than me playing in these tournaments, in these courts," Alcaraz stated.
Alcaraz also said he would rewatch the match to spot his weaknesses and improve as a player.
"Obviously, I'll rewatch the match to see my weakness, just to improve it and be a better player," the Spaniard added.
With his semifinal loss at the ATP Finals, Carlos Alcaraz failed to defend his year-end No. 1 rank, finishing second behind Djokovic. Meanwhile, the Serb will face Jannik Sinner in the final of the year-end tournament on Sunday.