Paul Mcnamee, a former Grand Slam champion, thinks Novak Djokovic is not the favorite to win the French Open 2023 semifinal against Carlos Alcaraz.
Djokovic and Alcaraz will meet on Friday, June 9, in the semifinal of the 2023 French Open. Mcnamee, a five-time Grand Slam champion in doubles, recently took to social media to post his opinion on the upcoming blockbuster duel between Djokovic and Alcaraz.
The Australian explained why he thinks the Spaniard should be considered the favorite.
"Many are asking why I think Djokovic, a two-time French Open winner, is the underdog v Alcaraz. Well he's on his worst surface, and he's playing imo the heir apparent to Rafa on clay," McNamee wrote on Twitter.
Alcaraz defeated Tsitsipas 6-2, 6-1, 7-6(5) in the quarterfinals of Roland Garros. After the match, he said he was looking forward to the battle with Djokovic.
"Since the draw came out, everyone was expecting that match, the semifinal against Novak. Myself as well. I really want to play that match," Alcaraz said.
Their first match was at the 2022 Madrid Masters. The then 19-year-old Spaniard won in three sets, 6-7(5), 7-5, 7-6(5).
On his way to the semifinals, Djokovic defeated Karen Khachanov in the quarterfinals, 4-6, 7-6(0), 6-2, 6-4. After the match, he called Alcaraz "the player to beat."
"That's the match that a lot of people want to see... If you want to be the best, you have to beat the best. He's definitely a guy to beat here," Djokovic said in his press conference.
---
Novak Djokovic set to play in his 12th French Open semifinal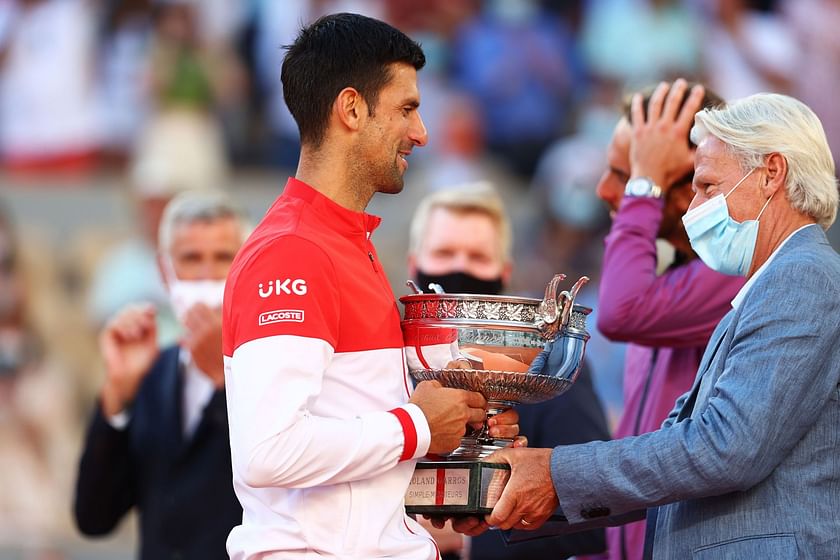 Novak Djokovic has now reached 12 Roland Garros semifinals in his career, winning the title on two occasions.
In 2016, he defeated Andy Murray 3-6, 6-1, 6-2, 6-4 in the final to complete the Career Grand Slam. Then in 2021, he performed a miraculous comeback in the final against Stefanos Tsitsipas to win 6-7(6), 2-6, 6-3, 6-2, 6-4.
The Serb has lost in the semifinals on five occasions so far. In 2007 Rafael Nadal defeated him 5-7, 4-6, 2-6, and a year later, Nadal won their semifinal match once again, 4-6, 2-6, 6-7(3).
In 2011 it was Roger Federer who stopped Novak Djokovic, winning the semifinal 7-6(5), 6-3, 3-6, 7-6(5). In 2013 Nadal once again came between Djokovic and the final, winning 4-6, 6-3, 1-6, 7-6(3), 7-9.
In 2019, Novak Djokovic was bested by Dominic Thiem 2-6, 6-3, 5-7, 7-5, 5-7.