Ons Jabeur has requested the Women's Tennis Association (WTA) to invite American actress Eva Longoria for the coin toss in her second-round match at the 2023 Guadalajara Open. She made the request on the back of witnessing Longoria's amusing blunder during Danielle Collins' match.
Longoria was present at the coin toss before the commencement of the first-round match between Collins and Sachia Vickery. Once the toss was completed, the actress promptly departed.
Danielle Collins' surprise was evident, as it was customary for the players to click a picture with the person who tosses the coin. Collins then inquired about them taking a photo together.
Caught off guard by the American's unexpected question, Longoria apologetically explained that she was unaware of the customary protocol following a coin toss.
"Do we get a photo?" Collins asked.
"With me? You guys… I don't know what I'm doing," Eva Londoria replied.
The official social media pages of the WTA also shared a video capturing the hilarious moment between Danielle Collins and Eva Longoria.
World No. 7, Ons Jabeur was amused upon seeing the video and asked the WTA to invite the actress to perform the coin toss for her second-round match against Alycia Parks at the 2023 Guadalajara Open.
"Can she do the coin toss at my match tomorrow?" Jabeur wrote.
"I'm so happy for Aryna Sabalenka, she deserves to be World No. 1; hopefully she will stay No. 1 until I get there and take her place" - Ons Jabeur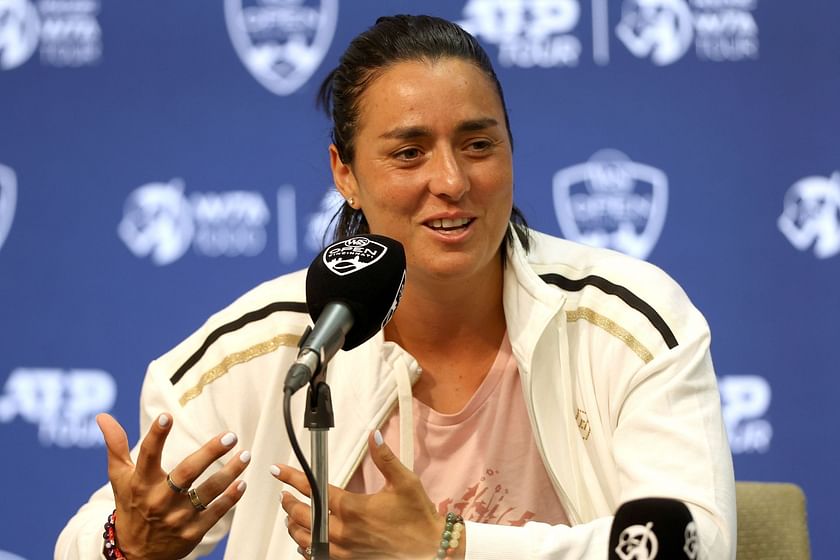 Ons Jabeur couldn't be happier about Aryna Sabalenka's ascent to the top spot, becoming the new World No. 1. Jabeur believes that Sabalenka truly deserves this honor and has been deserving of the No. 1 ranking for quite some time.
Sabalenka ascended to the coveted position of World No. 1 after her outstanding performance as the runner-up in the 2023 US Open. With the achievement, she brought an end to Iga Swiatek's impressive 75-week-long debut reign at the top.
During a press conference, Jabeur openly conveyed her deep admiration for Aryna Sabalenka, highlighting the Belarusian's passionate style of play on the court. Jokingly, the Tunisian expressed her desire for Sabalenka to maintain her current position as the World No. 1 before she herself ascends to claim the coveted spot.
"Honestly, I'm so happy for Aryna. She deserved that. She's a very solid player. I've practiced with her. Big serve, big hitter. I think she deserves to be No. 1 spot. She deserved that for a long time ago," Ons Jabeur said.
"Definitely the match yesterday was very interesting. Not so many people surprised because Jelena can play amazing, amazing games. That's the beauty of also WTA, to find different heroes. I honestly love how Aryna plays with her passion on the court. You can feel it. Hopefully she will stay No. 1 until I get there and take her place," she jokingly added.