Tennis influencer Rachel Stuhlmann recently expressed her excitement for the start of the new season and highlighted the things she is most looking forward to.
Stuhlmann has 264,000 Instagram followers, making her the sport's No. 1 influencer. She is also no stranger to the court, having initially taken up the sport at the age of five.
She was nationally ranked on the USTA's Junior Circuit by the time she was a teenager and went on to play NCAA Division I collegiate tennis. Although the American feels she could have made a professional career in tennis, she did not enjoy the busy travel schedule.
The influencer recently took to Instagram to express her excitement about the new season and made a list of what she is looking forward to. The first on her list is the inaugural United Cup, a mixed-gender team tournament that has gained greater success than expected and is currently underway in Australia.
Stuhlmann placed the Australian Open in second place, which begins in ten days, from January 16 to January 29. Last but not least, the third spot on her list was occupied by the upcoming tennis docuseries 'Break Point,' which will premiere with five episodes on January 13. It will feature some of the sport's most well-known faces such as Nick Kyrgios, Taylor Fritz, and others.
"Pro tennis is back (finally) and here's what I'm currently excited about: 1. The success of the inaugural @unitedcuptennis (mixed-gender team event). 2. The @australianopen in 10 days. 3. For 'Break Point' to come out on Netflix," the American wrote.
---
Tennis influencer Rachel Stuhlmann hints at the release of a new project in 2023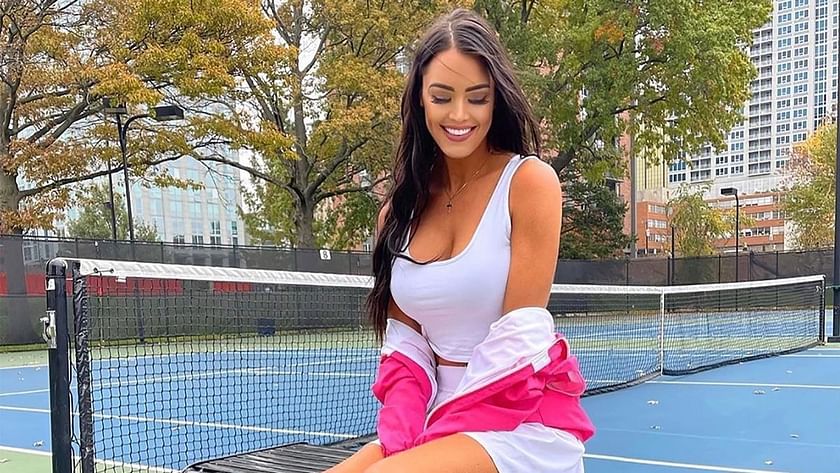 Rachel Stuhlmann recently stated on Instagram that five years ago she began writing about many elements of tennis and launched her website, where her work was positively received.
"Five years ago, I had so many different thoughts and ideas about the game that I wanted to share with the world. I began writing different articles and blogs on fashion in tennis, comparing tennis players to their basketball player counterparts, various stories about the game, and much more. I wanted an organized place to share all of my ideas, so I hired a website designer. I published my articles there, which were well-received and appreciated by so many. I am always so grateful for the opportunities that came from that!" she wrote.
She added that her career has been a complete rollercoaster since then, as she has traveled and worked with many tournaments, as well as being associated with some of the finest tennis companies in the industry, adding that 2022 was the best year for her.
"Since then, my life has been a whirlwind of different jobs and roles in professional tennis. I've traveled and worked with so many tournaments worldwide and partnered with some of the best tennis companies and brands in the industry. My career has been an exciting journey, and this year has been the best one yet!" she added.
Stuhlmann claimed that 2023 will be a "crazy" year as she has been working diligently on a new project. She also wants her followers and readers to engage more.
"All this to say- I am having a full circle moment here- I've been working very hard on a project that I am very excited to share with you all finally. As so much has changed in the past five years, I have entirely recreated and relaunched my website. I am so excited to share my journey with you all through travel updates/newsletters, partnership highlights, and even some fun merch items available," the tennis top influencer wrote.
"As always, thank you all so much for the support, and I can't wait for you to see and enjoy it! It's going to be a crazy 2023, and I am taking you guys along for the ride with me," she added.