Tennys Sandgren recently responded with a sarcastic jab to a fan, who suggested that Novak Djokovic only joined Serbia for this week's Davis Cup Finals group stage to be eligible for the 2024 Olympics in Paris.
Djokovic was in fine form during his first singles match this week, getting the better of Spain's Alejandro Davidovich Fokina in straight sets.
The Serb's win not only helped his country notch a 2-0 victory in the tie but also sent them through to the knockout stage of the team event — which will be played in November.
Following this, journalist Jon Wertheim called for the 36-year-old to receive plaudits for turning up for national duty. One fan on X (formerly Twitter), however, disagreed with him as they reposted his words of admiration with a diatribe of their own.
The user suggested that Djokovic was only looking out for himself while posting a screen-capture of a document that entailed the ITF's minimum participation requirement for the 2024 Olympics — which is at least two Davis Cup participations. They wrote:
"He is required to play Davis Cup in order to be allowed to play the 2024 Olympics, but keep acting like he's Jesus Christ Jr. for doing something that serves his own interests, nobody can stop you."
However, Tennys Sandgren did not find the user's criticism to be reasonable. The American took a sarcastic dig at them; he asserted that since the 24-time Major winner will also be representing Serbia at the 2024 Games; it was counterproductive to attack him for doing what he needed to meet the eligibility criteria.
"'He represented his country just so he could represent his country some more!' Yes," Sandgren wrote in his reply to the fan.
Novak Djokovic guided Serbia to their lone Davis Cup title victory in 2010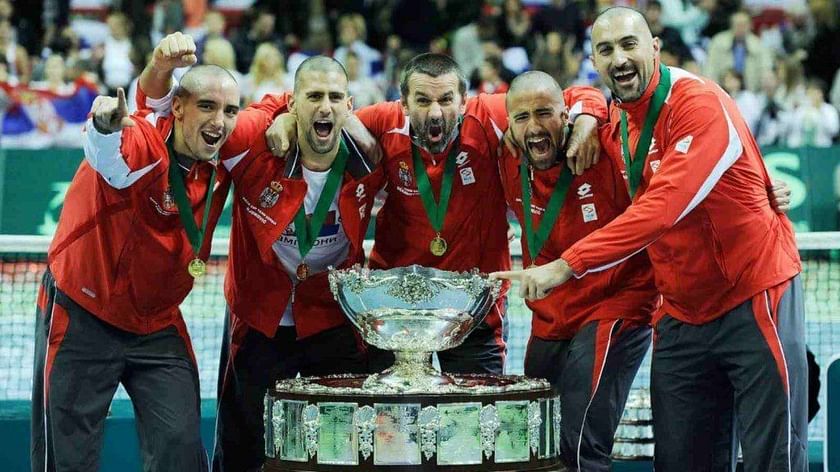 Novak Djokovic has always been at his best whenever he has represented Serbia in team competitions. The 24-time Major winner has a 38-7 win-loss record for his country at the Davis Cup in singles.
The most extraordinary win at the team event for Djokovic came at the 2010 Davis Cup final when Serbia took on France. The Serb was in fine form during the entire week.
He dismantled both Gael Monfils and Gilles Simon in straight sets to give the underdogs a chance against Les Bleus, who had won the team event nine times before the title match.
At 2-2 in the tie, Viktor Troicki came in clutch to defeat Michael Llodra and gave Serbia their only Davis Cup triumph to date.
The Serb guided his home country to one more final at the team event in 2013. However, their campaign was unceremonious as they succumbed to a narrow 3-2 defeat to the Czech Republic.