Aryna Sabalenka was embroiled in controversy in her very first match at the 2023 French Open, as her Ukrainian opponent, Marta Kostyuk, refused to shake hands with the Belarusian following her loss. The Paris crowd, interestingly, took Sabalenka's side and booed Kostyuk off the court, even as the former took a dramatic bow on Court Philippe-Chatrier after her 6-3, 6-2 win.
Speaking at her press conference afterwards, the World No. 2 was ambushed rather, as one reporter pressed Sabalenka to give her thoughts on the Russia-Ukriane war without resorting to generalized statements about the separation of politics and sports.
Aryna Sabalenka very clearly enunciated that she was against the war, and that she has always been against the war. For starters, the 25-year-old could not understand why she had to come out and say such obvious things, as in her mind, every "normal" person was against the war by default.
"First of all, when I get the question about Ukrainians, they ask me, like, So you know that they hate you? Like not personally or politically, they asking the question. So I'm answering the question that if they hate me, like I don't feel anything like that," Aryna Sabalenka said.
"About the war situation, I said it many, many times: Nobody in this world, Russian athletes or Belarusian athletes, support the war. Nobody. How can we support the war? Nobody, normal people will never support it. Why we have to go loud and say that things -- this is like 1+1=2," she added.
Sabalenka, who had initially been confused by the booing by the Roland Garros crowd as she had imagined it was directed at her, then reiterated that stopping the war was not in her hands personally, or any of the Belarusian players', for that matter.
"Of course we don't support war. If it could affect anyhow the war, if it could like stop it, we would do it. But unfortunately, it's not in our hands. That's the part about Ukrainians," Sabalenka said.
The World No. 2 proceeded to defend herself about her "lack of message" against the war, stating that first and foremost, her message was to motivate players from smaller countries such as Belarus to work really hard to reach the top level of tennis.
"The secondly, as the World No. 1, what's my message? Okay, let's get back to the country. I'm from small country, from Belarus, who was working really hard to get to this level. This is the message to a lot of young athletes who is from small countries, who don't have enough money, that they can do well in this sport."
"That they have to work hard and believe in their selves and they can do whatever they want to. This is my main message as World No. 1," Aryna Sabalenka said.
That was all what Aryna Sabalenka wanted to focus on, and not on whether everyone in the world liked her or not. The Belarusian simply wanted to play her best tennis, make people enjoy her game and bring joy to them.
"I don't know if I'm role model for a lot of people or, as I said, there's going to be people who don't like me and there is going to be people who likes me. I'm focusing on people who likes me and who want me to be the best."
"You know, I want to show my best tennis, I want people to enjoy tennis matches, to enjoy my matches. So this is my message, to bring the joy for people. I don't know," Sabalenka added.
"If people don't like me or hate me, I kind of understand that" - Aryna Sabalenka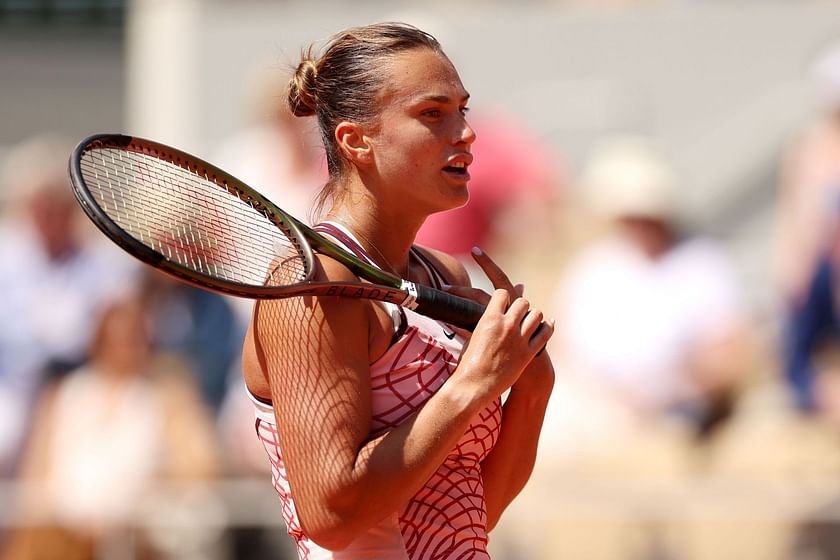 Aryna Sabalenka further stated in her press conference that while she played very aggressive on the court, she was a naturally "positive" person. As a result, she believed that she was not overtly affected by people who don't like her, as her focus has always been directed at those that chose to like and support her.
"I'm naturally like a positive person. On court just my style of the game, I play aggressive, so I'm more aggressive on court. But off court, yeah, I seem to be more positive," Aryna Sabalenka said.
"I focus on things like what they saying about me, like on positive things. If people don't like me or hate me, I kind of understand that, it's okay, it's their decision, their opinion. I don't want to prove them that I'm a good person or bad person. I just focus on people who likes me," she added.
Up next, Sabalenka will take on compatriot Iryna Shymanovich in the second round of the 2023 French Open