Novak Djokovic has had plenty of coaches throughout his career who have helped him achieve numerous accolades. The Serb is currently coached by 2001 Wimbledon champion Goran Ivanisevic, who has been by his side for almost four years now.
Novak Djokovic's coach Goran Ivanisevic's playing career
Ivanisevic turned pro in 1988 and went on to claim 22 singles titles, including the aforementioned Wimbledon title. The Croat reached the final of the grass-court Major in 1992, 1994, and 1998 but ended up losing on all three occasions. Ranked 125th in the world at the time, he received a wildcard for Wimbledon in 2001 and reached the final after eliminating Marat Safin and Tim Henman in the quarterfinals and semifinals respectively. Facing Ivanisevic in the final was Patrick Rafter and the former won 6-3, 3-6, 6-3, 2-6, 9-7 to win his only Grand Slam title.
Apart from his Wimbledon triumph, Ivanisevic also won the Paris Masters and the bronze medal in both the men's singles and doubles tournaments at the 1992 Olympics in Barcelona.
The last couple of years of his career were derailed by injuries and he hung up his racquet in 2004 following a third-round loss to Lleyton Hewitt at Wimbledon
From Marin Cilic to Novak Djokovic: Goran Ivanisevic's coaching history
The Croat joined forces with compatriot Marin Cilic in 2013 for his first big coaching gig. The following year, their partnership bore fruit as his ward went on to win the US Open. The duo parted ways after the conclusion of the 2016 Wimbledon Championships.
Ivanisevic then became part of Tomas Berdych's entourage, starting in August 2016. Their collaboration lasted for a year, after which they went their separate ways.
Milos Raonic added Ivanisevic to his team in 2018 and the duo worked together for almost a year. During this time, the Canadian reached a couple of Grand Slam quarterfinals and was the runner-up at the Stuttgart Open, going down to Roger Federer in the final.
On June 30, 2019, Djokovic confirmed that in addition to Marian Vajda, he had added Ivanisevic to his coaching team as well. The partnership was an immediate success, with the Serb winning Wimbledon a few weeks later.
Goran Ivanisevic has served as Novak Djokovic's only coach since March 2022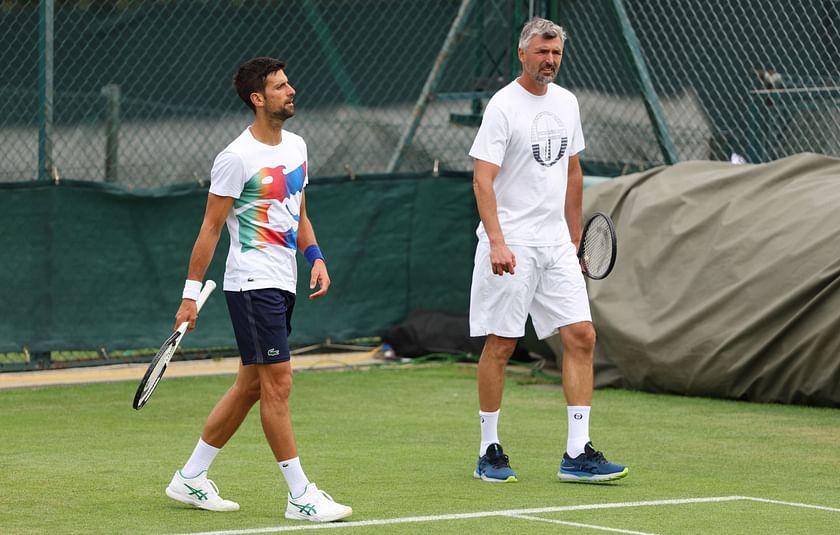 When Goran Ivanisevic first teamed up with the Serb, he shared coaching responsibilities with Marian Vajda. From 2019 until early 2022, the trio enjoyed considerable success together.
However, Vajda and Djokovic decided to end their long-standing relationship in March 2022. It was an amicable split and they remain on good terms even now. Since their split, Ivanisevic has been the Serb's primary coach and their results together have been quite amazing.
Djokovic won Wimbledon last year, along with the Italian Open and the ATP Finals. He kicked off the 2023 season by winning the Adelaide International 1 and captured a record 10th title at the Australian Open after that.
By doing so, the Serb also caught up to his arch-rival Rafael Nadal, equaling the Spaniard's record of 22 Grand Slam titles. His brilliant start to the year saw him reclaim the World No. 1 ranking from Carlos Alcaraz as well. The 35-year-old then surpassed Steffi Graf's longstanding record of 377 weeks spent atop the rankings.
As a former Grand Slam champion and accomplished player himself, Ivanisevic understands how to help Djokovic further elevate his game. The duo's camaraderie is evident to all and they share a close relationship beyond the sport as well. Based on their results, this is one of the most successful partnerships in tennis.