Novak Djokovic has been criticized on multiple occasions in the past over his use of the medical timeout. The issue came up again on Wednesday after Pablo Carreno Busta, the man he beat in the Roland Garros quarterfinals, claimed that the Serb resorts to taking medical timeouts whenever he is put under pressure by his opponent.But does Djokovic really abuse the MTO rule, as Carreno Busta insinuated? Is it a case of gamesmanship or subtle cheating, or is it totally acceptable fair play? Most importantly, is the criticism that the World No. 1 gets justified??
Let's try and answer these questions by examining the issue at its core.
What is a medical timeout?
According to the ITF rule book, a medical time-Out "is allowed by the ITF Supervisor/Referee or Chair Umpire when the Sports Physiotherapist has evaluated the player and has determined that additional time for medical treatment is required." The rule further states that a time-out shall be limited to three minutes of treatment - which can take place either on the court or off it.
The player can take an MTO during a change-over or between sets, unless the trainer is convinced that immediate treatment is required for an acute condition. Popular to contrary belief, a player cannot unilaterally ask for an MTO; it's the physician who decides whether a timeout is required.
While there is no specific limit to the number of timeouts a player can take, there can be just one MTO for "each distinct treatable medical condition".
Novak Djokovic and his history of MTOs
The impression in the tennis community at large is that Novak Djokovic uses medical timeouts as a tactic rather than a necessity. Many popular commentators have alleged that the Serb takes them to regain momentum while trailing in sets or matches.
Djokovic was criticized severely for his medical timeout Dominic Thiem in the final of this year's Australian Open. The 33-year-old took the break in the middle of the match, at a time when the Austrian was looking to gain control of proceedings, and he later explained the reason for it in detail.
"Every time I threw the ball for my service my head was spinning and I had no more energy. I tried to recover energy and fortunately I was better afterwards," Djokovic had said about his MTO against Thiem.
Another time Novak Djokovic came under the scanner was in the 2016 US Open final against Stan Wawrinka. Wawrinka even complained to the umpire about the timing of the break, and Djokovic was seen apologizing to the Swiss during the game.
The commentators, however, believed that granting an MTO to Djokovic was unfair.
"Complete abuse of the rules," said Patrick McEnroe, who was on air with his brother John during the match. "Up to the officials to do something about it, but they don't have the guts."
The duo even joked about the Serb getting separate timeouts for his toes and each finger.
Back in 2008 Andy Roddick had famously called out Novak Djokovic for his physical ailments, even mockingly suggesting the Serb had 'bird flu' and 'SARS'. The Serb had a reputation for physically breaking down too often in his matches, with a long of list of retirements at the start of his career. And although he managed to fix most of his problems in the early 2010s, the medical timeout controversies seem to be raising their ugly head again now that he is getting close to his mid-30s.
One of the major reasons behind the criticism of Djokovic's timeouts is that he tends to perform significantly better after them. More often than not, the World No. 1 is able to fight back after an MTO and regain his lost momentum.
That was particularly evident in the final of the 2015 Australian Open. Djokovic took an MTO before beating Andy Murray in four sets, inviting criticism from his opponent. Murray admitted that the breaks distracted him, while also muttering that Djokovic "takes them all the time".
Carreno Busta spoke along the same lines on Wednesday. The Spaniard did not hold back in his criticism of Djokovic after their French Open quarterfinal, insinuating that medical timeouts was a part of the Serb's playbook.
"Every time the game gets complicated, he asks for medical assistance. He's been doing this for a long time," said Carreno Busta. "He didn't surprise me. It was a good thing. It was a sign that he was losing and that I was playing well, because he always does that."
Interestingly though, Novak Djokovic didn't technically take one against Carreno Busta. While he seemed in discomfort throughout the match, the treatment that he actually got was on a changeover, and it only consisted of a massage.
That said, there is no denying the Serb's long history of MTOs, which is probably why Carreno Busta took it as par for the course.
Is Novak Djokovic the only one who takes MTOs?
While Novak Djokovic gets a lot of brickbats for his use of MTOs, there are other players too who seem to have benefited from them at various points of their career.
Roger Federer asked for an MTO not only in the semifinal against Djokovic at this year's Australian Open, but also in the quarterfinal against Tennys Sandgren - where he saved seven match points afterwards. The Swiss had also been criticized for his use of the MTO in the 2017 final at Melbourne, where he was given a break after losing the fourth set to Rafael Nadal.
Victoria Azarenka was heavily censured for a 10-minute timeout in the 2013 Australian Open semifinal, which she took right before Sloane Stephens was about to serve to stay in the match.
The medical timeout is an option available to everyone on tour, and there have been countless examples of players using it to their advantage. For some reason though, Novak Djokovic seems to bear the brunt of the criticism for it more often than the others.
Can MTOs be characterized as 'cheating'?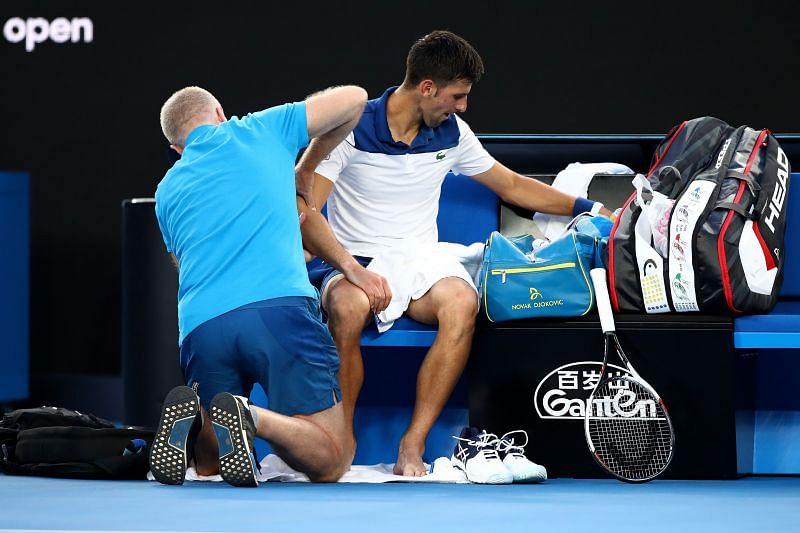 While taking an MTO might seem like a distasteful tactic to some, the fact remains that it is completely within the rules. In other words, there is no way it can be considered 'cheating' or even remotely 'illegal'.
If not expressly 'cheating', does it come under 'gamesmanship' or 'unsportsmanlike conduct'? That is a highly subjective issue, thanks in no small part to the fact that outsiders can never truly know a player's actual physical state.
If a player is under genuine physical duress, would anyone begrudge them taking a medical timeout? The answer is an emphatic 'no'. So the issue boils down to whether we believe the injury is real or fake - and that's where fans and even commentators sometimes go beyond their scope of observation.
What seems like play-acting or exaggeration to fans watching on TV, may in fact be a manifestation of real pain. Players across the length and breadth of the tour aren't equally expressive; some like to show their emotions, while others prefer to hide it. But that doesn't mean they can't all be hurting.
Accusing a player of faking an injury is, plain and simple, taking it too far. And if a player seems to be doing it more often than others? Well, it must mean that he or she gets injured more often - or suffers physical discomfort more often - than others.
Admittedly, it is possible for a player to exploit the rule and take an MTO even when it is not genuinely required. But there is no way for the commentators, and least of all the fans, to prove that. Unless there is evidence to the contrary, all players must be assumed to be innocent until proven guilty - just like it is in any court of law.
Is there a way to avoid MTO controversies in tennis?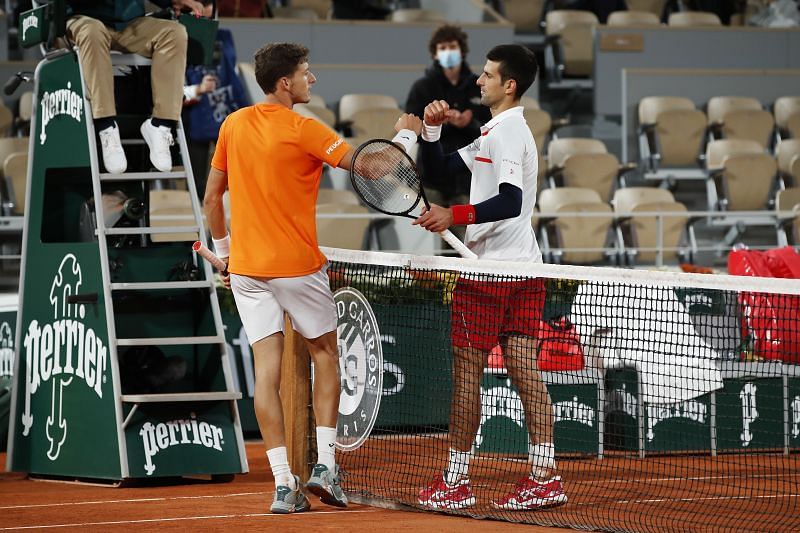 Objectively speaking, the criticism that Novak Djokovic gets for taking MTOs is not justified. He is only following the rules as mentioned above, and for all we know he might actually be getting injured more often than the other top players.
But is there a way to avoid the controversies around his MTOs altogether? The obvious answer would be a change in the rules; since the current rules have room for exploitation, a tweak here and there could theoretically nip the issue in the bud.
There's an argument to be made that MTOs should be outlawed from the sport. Since fitness is as much a part of tennis as racquet-work, some believe that players who cannot withstand the physical demands of a match should concede defeat.
That's a contentious take though, and borderline inhumane. It would likely also be opposed vehemently by tournament organizers because of the danger it poses to their revenues. Most fans in the stadium would demand a refund if a Novak Djokovic vs Roger Federer match ended at 1-1 in the first set because one of the two got injured and couldn't continue playing without being treated by a physician.
Another, perhaps easier way to eliminate the controversies around MTOs is for players to learn to handle them. In that respect, a cue can be taken from Stan Wawinka's approach in the USO 2016 final. While he was upset with the MTOs, the Swiss did not let them disturb his rhythm; he focused on his own game rather than the Serb's condition.
A break is always detrimental to momentum, and it can't be denied that a three-minute timeout can put you off - especially if you're leading. But there are many other breaks in tennis; there are change-overs after every two games, and breaks between sets, and even breaks to show Hawkeye replays. If the players have got accustomed to all of those, why can't they learn to deal with MTOs too?
While Carreno Busta was initially critical of Novak Djokovic's injury breaks, he later added that they didn't really affect him. That could be because the Spaniard 'knew' it was coming, or because he's an experienced enough professional to handle anything that comes his way.
Pablo Carreno Busta didn't lose to Novak Djokovic in the French Open quarterfinals because of an injury break. He lost because, eight times out of 10, the Serb is a superior player on the court (their head-to-head is 4-1 in Djokovic's favor).
Unfortunately, Carreno Busta's post-match comments took all the attention away from that simple fact. Novak Djokovic is objectively the best player in the world, and it's a shame that his MTO controversies are distracting us from that.