Novak Djokovic was at his hilarious best during the 2007 Indian Wells Masters presentation ceremony.
Djokovic came face-to-face with Rafael Nadal in the final of the tournament. The duo battled it out for an hour and 34 minutes, during which the Serb got to break point three times.
But Nadal proved to be better on the day. He saved all three break points and broke Djokovic three times in return to lay his hands on the winner's trophy in California.
Though the match ended in Nadal's favor with a 6-2, 7-5 scoreline, it was Djokovic who came up with the more memorable lines during the trophy presentation.
The Serb was presented with the finalist's trophy by none other than six-time Grand Slam champion Boris Becker. The German legend praised the runner-up, saying:
"Novak let me say that this is the first of your many big finals and you have a bright future ahead of you."
Djokovic, in turn, began his speech at the Indian Wells Tennis Garden by extending his gratitude towards Becker. He said:
"First of all, I've to say that I'm very excited that it is my first big speech. I cannot describe the feeling and what a big honor it is to receive a trophy from big legend Boris Becker."
The current World No. 1 then joked about how he was being honored by the person who was winning Wimbledon while he himself needed his mother's assistance to drink milk.
"You know when my mother was giving me the milk, I was watching Boris winning Wimbledon and now he's giving me the trophy," the Serb said, laughing.
The Serb later roped in Becker as his head coach. The duo had a fruitful partnership from 2014 to 2016.
---
Novak Djokovic narrowly leads Rafael Nadal 30-29 in the head-to-head tally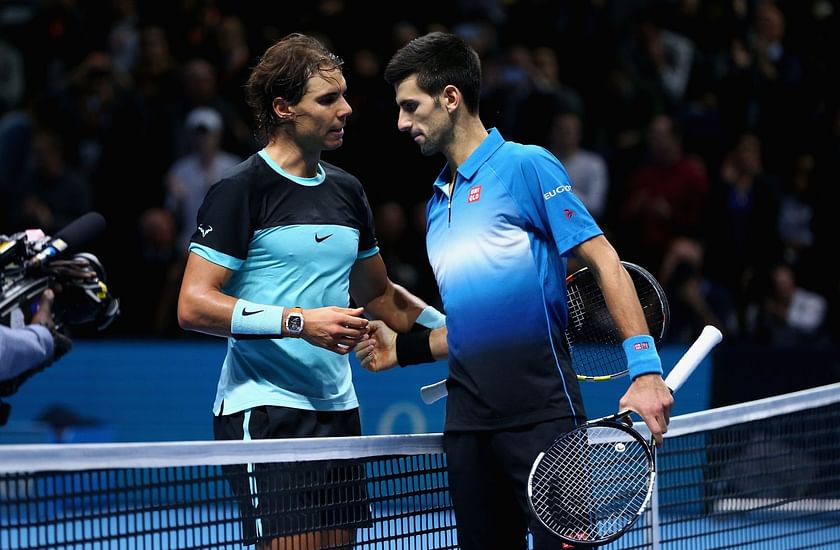 Novak Djokovic has a slim lead of 30-29 in the head-to-head tally against Rafael Nadal.
The duo last faced each other in the quarterfinals of the 2022 French Open in Paris. The Spaniard downed his opponent 6-2, 4-6, 6-2, 7-6(4) that day, en route to winning the Major a record 14th time.
Interestingly, their previous tie prior to the 2022 clash was also played at the Paris Major, back in 2021. The result was, however, different then as Djokovic won the match 3-6, 6-3, 7-6(4), 6-2.
Nadal has been away from the court since the 2023 Australian Open due to a hip injury, but will be hoping to level the head-to-head tally with the Serb once he gets fit to compete again.
What is the foot injury that has troubled Rafael Nadal over the years? Check here
Edited by Sudeshna Banerjee