VCT LOCK//IN 2023 has entered its Omega half, which hosts sixteen teams from the original pool of thirty-two. With Day 7's conclusion on February 22, three out of sixteen Group Omega teams advanced to the next stage, while three were eliminated. LOCK//IN's Day 8 will host six of the remaining Group Omega participants, including Global Esports and Team Vitality.
Besides two other inter-regional clashes, VCT LOCK//IN will pit Pacific's Global Esports (GE) and Europe's Team Vitality in a best-of-three series on February 23. With the tournament featuring a cutthroat single-elimination format, both teams are expected to give their best to stay in the competition.
The next section of the article offers predictions for the upcoming Round 1 Group Omega matchup featuring long-term foes, Team Vitality and Global Esports.
---
Global Esports vs Team Vitality: Who will win the Group Omega Round 1 matchup in VCT LOCK//IN?
VCT LOCK//IN's team pairing process has led to some of the most exciting inter-regional series in the tournament so far. To top it off, Global Esports and Team Vitality are two of the most culturally diverse teams in the competition, featuring players from more than three nationalities.
The upcoming game will be an excellent display of diversity and experience and will give young, unexplored talent a stage to showcase their skills. While both teams are currently closely matched, it is possible to predict the outcome of the matchup by considering certain factors.
---
Predictions
Both Team Vitality and Global Esports made significant changes to their professional Valorant roster after Riot Games announced the names of VCT's partnered teams.
GE welcomed a bunch of young Asian talent and imported former XSET player AYRIN to lead the team. The popular Indian organization also retained SkRossi and Lightningfast, who are two of the best Valorant athletes in the country. As of now, their complete roster features nine players.
Similar to GE, Team Vitality signed three experienced players, Twisten, Destrian, and MOLSI, back in November 2022 to reform their roster for VCT 2023. The French esports organization also includes former Acend player BONECOLD and long-term Vitality member ceNder.
Both teams seem evenly matched based on their experience and past performances, and a close outcome is expected in today's match. However, AYRIN's leadership and experience may give GE the discipline needed to channel their fierce firepower, which could give them an edge over Team Vitality in VCT LOCK//IN.
---
Head-to-head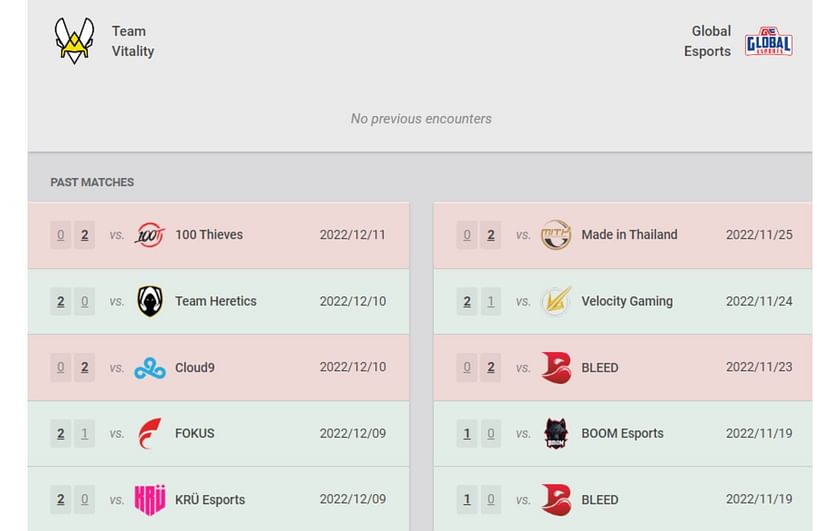 Team Vitality and Global Esports have not met in a professional game of Valorant.
---
Recent results
In December 2022, Team Vitality participated in Red Bull Home Ground #3 and performed well against teams like FOKUS, KRÜ Esports, and Team Heretics. However, they were eliminated after losing to 100 Thieves in the semifinals.
Global Esports, in its newest form, havn't participate in any tournaments so far. However, their old Indian squad teamed up to take down SEA/SA opponents in some third-party tournaments.
Considering their recent appearances, Team Vitality seems to have worked more on their synergy than GE, giving the former a possible advantage. However, GE may easily neutralize such an upper hand with good in-game coordination. After all, VCT LOCK//IN has been full of surprises so far.
---
Potential lineups
Global Esports
Ganesh "SkRossi" Gangadhar
Kim "Baazi" Na-ra
Park "texture" Jun-ki
Cahya "Monyet" Nugraha
Jordan "AYRIN" He (IGL)
Hong "Eraser" Chang-pyo (Coach)
Team Vitality
Michał "MOLSI" Łącki
Tomas "Destrian" Linikas
Karel "Twisten" Ašenbrener
Jokūbas "ceNder" Labutis
Santeri "BONECOLD" Sassi (IGL)
Salah "Salah" Barakat (Coach)
---
Where to watch
Fans can watch Global Esports clash against Team Vitality in VCT LOCK//IN 2023 on February 23, 2023, at 9 am PDT/7 pm CEST/10:30 pm IST. The match will be livestreamed on the YouTube and Twitch channels of Valorant esports. Fans can also join their favorite streamer's watch parties to enjoy the game.
Poll : Who will win today's Group Omega Round 1 matchup in VCT LOCK//IN?
40 votes
Edited by Siddharth Satish