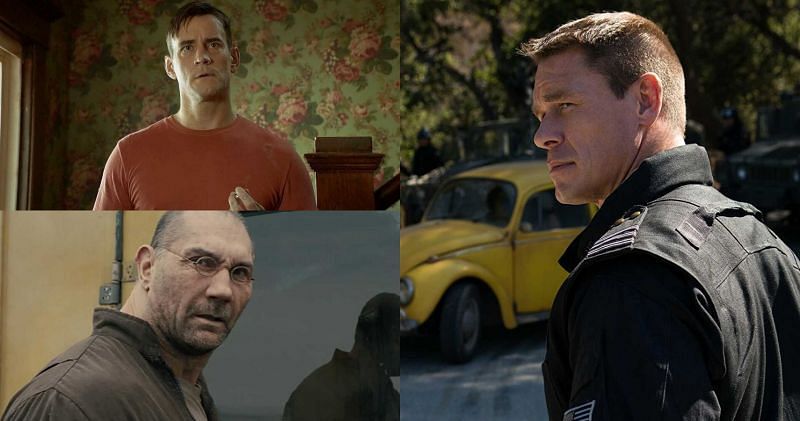 In the world of mainstream entertainment, WWE Superstars have always been showing up in some shape or form. Surprisingly, though, this phenomenon has been happening longer than some have realized.
It's true - The Rock is the biggest movie star on the planet and essentially paved the way for the rest of his brethren. Wrestlers like CM Punk, John Cena and Batista have all made successful forays into the film world. Hulk Hogan tried back in the 1980s and 90s but never made it past family fare.
These days, film reviews are aggrigated by sites like Rotten Tomatoes (who's ratings we're basing this list on) as most movie fans gravitate towards them to check on the reviews for their favorite film. It's not a perfect system, but it's always fun to see where our favorite movies fall on the scale.
And, with that being saidere are the 10 best films with WWE Superstars, according to Rotten Tomatoes.
---
#10 Hulk Hogan in Rocky III - 64% (1982)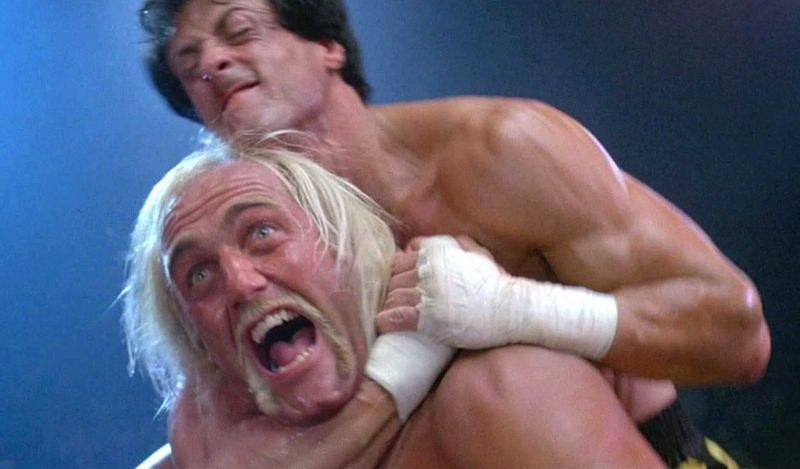 This was technically Hogan's film debut, where he played a short but memorable role in Rocky 3. The film was the third in the Rocky series (um... obviously) and, at the time, was a huge departure. Gone were the grime and grit of the previous films and replaced with a glossy shine.
This actually works, as Rocky Balboa is the World Champion and, with that, comes money, fame, and power. He is over with the crowds and engages in inter-promotional matches with pro wrestlers like Thunderlips (Hulk Hogan).
This proves to be his downfall as Clubber Lang (Mr. T) destroys him in the ring and takes his title. Balboa has to recover his title and train with an old foe to do it. It's a great action/sports movie.
In reality, the movie was important as it was this film that actually showcased him to the mainstream. Vince McMahon Sr. actually fired him for taking the role, but in a sense, this set the stage for Vince's son to set the stage for WrestleMania in 1985. If anything, the role helped Hogan to increase his ever-growing stardom.
Complete List of Hulk Hogan's Best Movies
#9 The Rock in Fast Five - 77% (2011)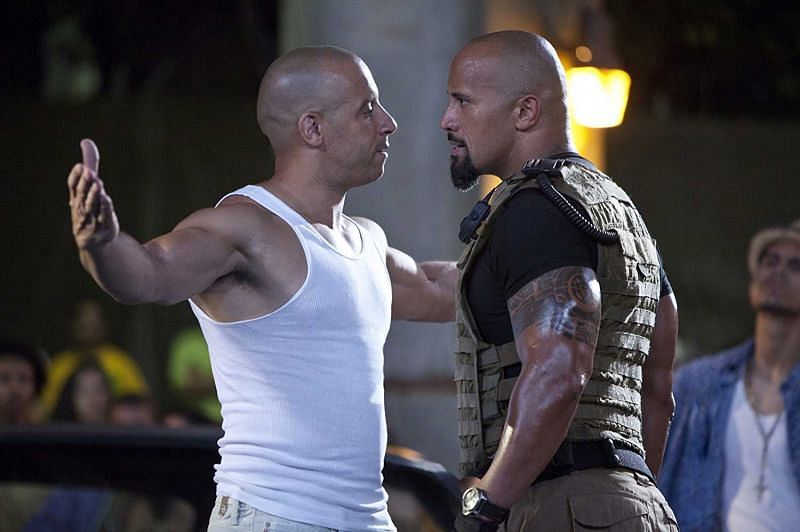 If there was a turning point in The Rock's Hollywood career, it was Fast Five. Before this, The Rock was doing family-friendly movies like The Gameplan and the infamous Tooth Fairy.
Along with the revenge flick Faster, released a few months earlier in 2010, this film resurrected The Rock's acting career and set him on a path towards becoming the biggest action star of the decade. His last film, Jumanji: The Next Level, has already grossed $700 Million worldwide and at the moment, he just looks unstoppable.
---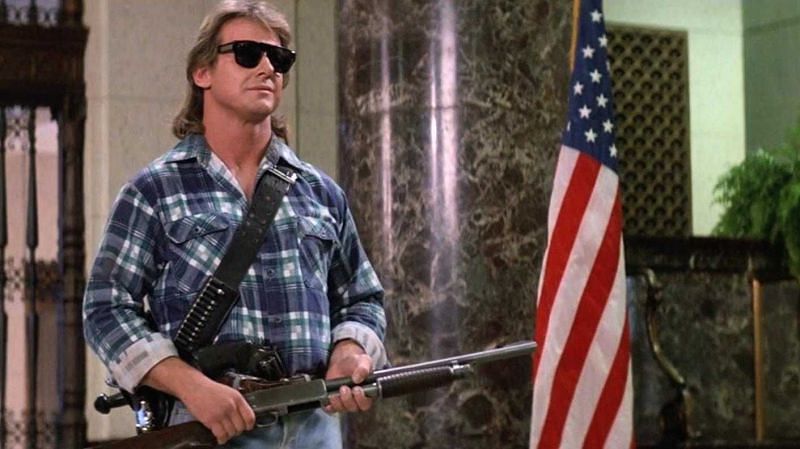 Directed by the legendary John Carpenter (Halloween, The Thing), They Live is considered one of his best movies. The film is a sci-fi horror masterpiece as John Nada (Roddy Piper) is able to see, via sunglasses, that aliens disguised as humans have taken over the Earth.
The film is hailed for its socio-political commentary, as it depicts the aliens as the ruling class who have been manipulating the population for years through subliminal messages in advertising and other forms of media.
Moreover, the film depicts a 5 1/2 minute fight between Piper's character and Frank Armitage (Keith David) which took a long time to shoot. Keith David, in interviews has said that the fight was the most fun he ever had and praised Piper for his work. He said:
"I've never felt safer in my life having a fight scene with anybody. He was magnificent. He knew exactly how to make me feel safe, he helped me to sell it, and I felt we had a great fight scene."
Piper may have left this world, but he left behind a body of work that will stand the test of time.
#7 CM Punk in Girl on the Third Floor - 81% (2019)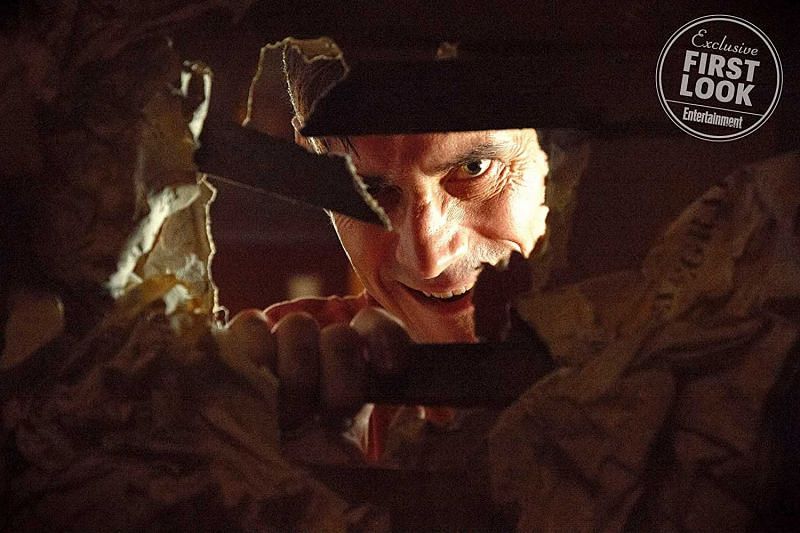 CM Punk may have recently become a pundit on WWE Backstage, but he's also decided to wet his beak in the world of movies. An admitted Horror fan, Punk jumped at an opportunity to star in Girl on the Third Floor and received great reviews for his leading man turn.
The entire film mostly takes place within the confines of an old Victorian house that Don (CM Punk) is fixing up. Strange things start occurring, as the house is revealed to be haunted by dark forces. While an independent release, the film is possibly a sign of big things to come for CM Punk.
---
#6 Kurt Angle in Warrior - 83% (2011)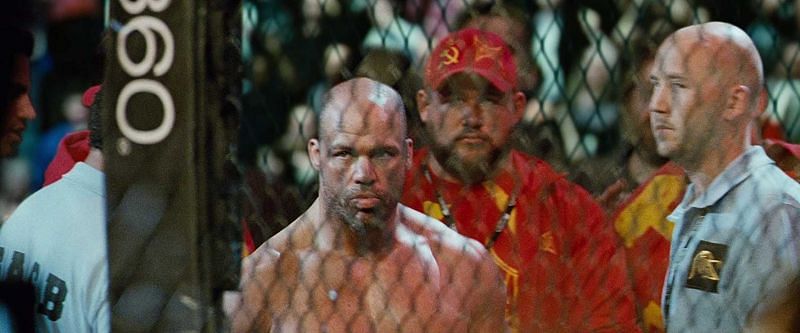 And plays a minor, but intricate role, in a very powerful ensemble piece that stars Tom Hardy, Joel Edgerton and Nick Nolte. Warrior, while not a box-office smash, was a critically acclaimed hit earned a best supporting Oscar nomination for Nolte.
Kurt Angle is great in the limited screen time that he is, as he portrays an Ivan Drago-type character. His scene is pivotal, as Joel Edgerton's character has to get past him to get to the finals.
It's a great film and it's something that any wrestling or MMA fan should watch.
#5 Batista in Blade Runner 2049 - 87% (2017)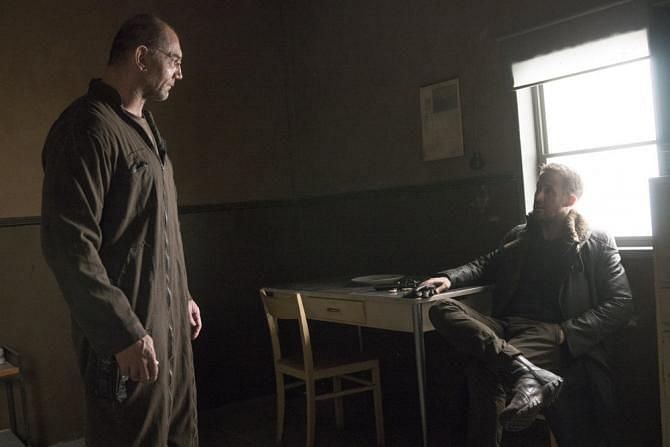 Batista has been acclaimed for his roles in Stuber, Guardians of the Galaxy and Spectre. But his turn in Blade Runner 2049 is remarkable, as he manages to shift between a soothing calmness and a violent machine. Considering that he's in the movie for just a few minutes, he leaves an impression on the viewers that will leave them wanting for more.
Batista plays an aging replicant who has no desire to be terminated. His character's death sets off the chain of events in the film that received 5 Oscar nominations.
---
#4 John Cena in Bumblebee - 92 % (2018)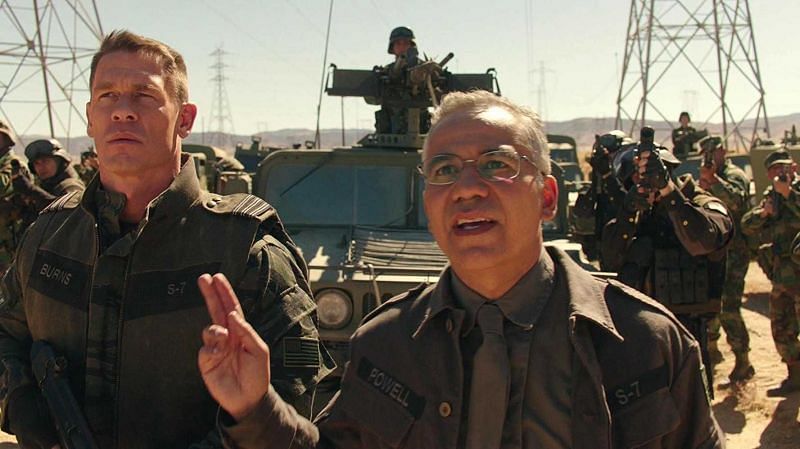 While John Cena had already made his film debut in The Marine several years earlier, it didn't necessarily put him on the map. With his in-ring WWE career pretty much on the back burner, John Cena has turned his attention towards TV and movies.
With his supporting turn in Bumblebee, John Cena was able to establish himself in Hollywood going forward. He's already been cast in Suicide Squad 2 and will also be in the next Fast and Furious movie. While a return at WrestleMania 36 might be on the cards, John Cena's wrestling days will get fewer by the year.
#3 The Rock in Fighting with my Family - 92% (2019)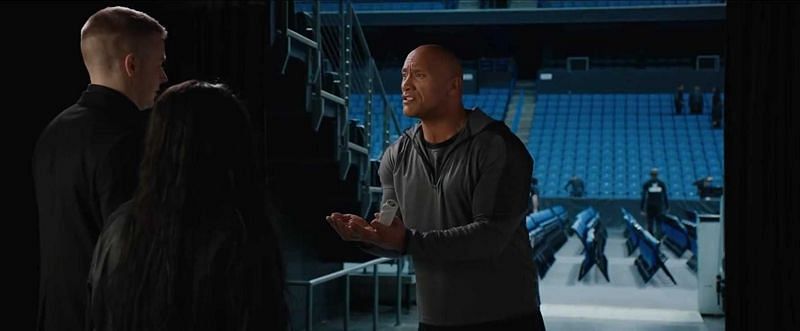 The Rock produced and co-starred in this film about WWE Superstar Paige's beginnings in the business. Coming from a family of wrestlers, Paige's background was fully fleshed out, thanks to the impressive writing and direction by Stephen Merchant and a supporting cast that contained the likes of Nick Frost, Vince Vaughn, and Game of Thrones' Lena Headey.
Fighting with my Family gave fans a humanized look at the behind-the-scenes chaos of WWE. The film even boasts appearances by Big Show, Sheamus and The Miz.
---
#2 Andre The Giant in The Princess Bride - 97% (1987)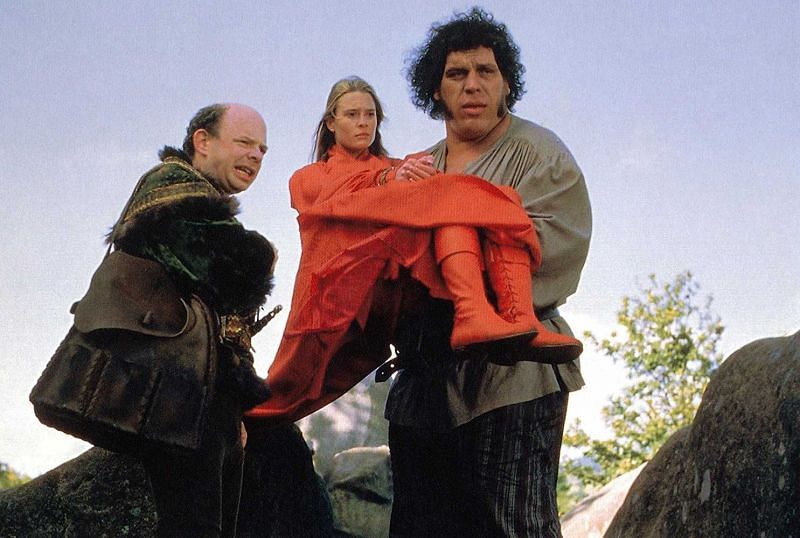 Considered a Cult Classic (it didn't originally do very well at the box office when it was released), The Princess Bride is one of the most-quoted films of its time. The film is a simple fairy tale, which is actually narrated by a grandfather (Peter Falk) reading a story to his grandson (Fred Savage). The tale depicts a delightful of romance and comedy as Westley/Man in Black (Cary Elwes) has to rescue Buttercup (Robin Wright).
The band of villains protecting her, who eventually becomes his allies are played by Mandy Patinkin and Andre The Giant. Andre plays the gentle giant to perfection as he is charming and has some of the funniest scenes in the film.
Billy Crystal, who played Miracle Max in the film, also made another movie entitled My Giant, based on his experience with working with Andre in the movie.
#1 Multiple WWE Superstars in The Wrestler - 98% (2008)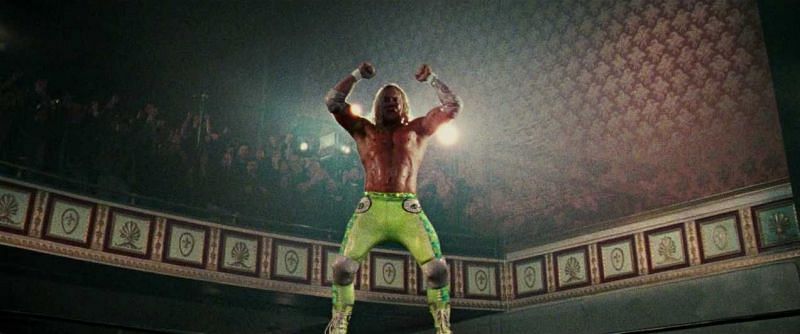 Mickey Rourke's comeback performance as Randy "The Ram" Robinson, directed by Darren Aronofsky, The Wrestler depicts the ugly side of the wrestling business. As much as Fighting with my Family was a great depiction of the business, this more gritty and realistic take is devoid of optimism.
The film was nominated for two Oscars, including Best Actor and Best Supporting Actress by Mickey Rourke and Marissa Tomei respectively. The film also cast Ernest 'The Cat' Miller as The Ayatollah, an old foe of Randy The Ram. A wrestling promoter offers Randy a rematch with The Ayatollah, but Randy retires due to his declining health.
The film sees him struggle as he tries to reconnect with his daughter (Evan Rachel Wood). The film also contains appearances by R-Truth, Jim Powers, Robbie E and Cesaro. It's been reported that Vince McMahon hated the film, but that didn't stop him from offering Rourke to appear at WrestleMania 25.
This was the same one where Rourke infamously punched out Chris Jericho during Jericho's feud with WWE Legends.
Is there any other film that you felt should belong on this list? Comment below.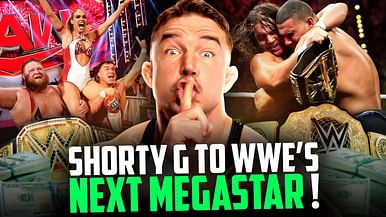 Why Chad Gable could be the next WWE mega star
Edited by Kevin C. Sullivan