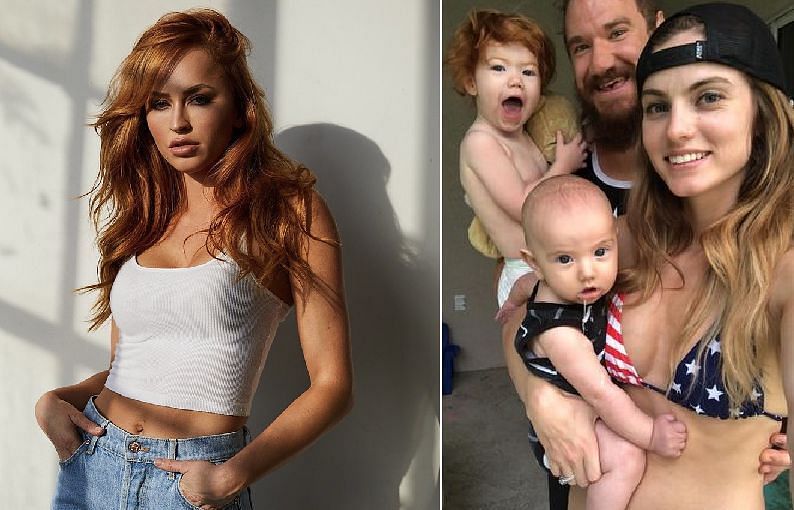 The Women's Revolution took hold of WWE and changed the face of the entire company. The women, who were once known as Divas, became Superstars and were finally seen as legitimate competitors on all three WWE brands.
This movement also paved the way for the return of several trailblazers, including Alundra Blayze, Molly Holly, Ivory, Trish Stratus, and Lita.
While there are several names from the past who roll off the tongue, there are others who have been lost in the shuffle.
The following list looks at just five former WWE women who haven't been invited back to be part of the recent Women's Revolution and have instead become a forgettable part of WWE history.
---
#5. Former WWE Superstar Aksana
Aksana came through the ranks in WWE alongside the likes of AJ Lee, Naomi and Kaitlyn, who all went on to become stars on the main roster. Though they later left the company, Lee and Kaitlyn have continued to become well-known faces and public figures.
Among other notable names, Aksana was part of the first and only all-female season of NXT, which was won by Kaitlyn. Despite her loss, Aksana was still promoted to the main roster, and she was a main part of the women's division for several years. She also managed Cesaro during the beginning of his run on the WWE SmackDown.
Whilst Aksana had the talent in the ring, she wasn't able to connect with the fans in a meaningful way. After five years with WWE, the company's first-ever Lithuanian Diva was released from her contract. Aksana was one of the only women on the roster at the time who wasn't linked to "Total Divas" and her release came just as the Women's Revolution was starting to build.
Since her release from the company, Aksana has stepped out of the wrestling business and the spotlight altogether. The former NXT Superstar has changed her hair back to its original color and is reportedly now working as a fitness trainer in Florida.
According to a report by RingTheDamnBell, the former WWE Superstar went on to work for a chain of health clubs called YouFit for two years as a director of trainers. She started her own business as a personal trainer.
#4. Former WWE Superstar Rosa Mendez
Rosa Mendes was one of a number of WWE women who were signed to the company following the annual WWE Diva Search.
Mendes went on to become part of the women's division in 2008, when she debuted as an intern for Beth Phoenix. She was a featured star in WWE for several years, and she even had a main cast role in "Total Divas." Among other highlights of her WWE run, she managed Primo and Epico.
In 2016, Mendes announced that she was expecting her first child, and she subsequently switched to a backstage role in the company. The following year, on her daughter's first birthday, Mendes announced her retirement from WWE.
The former WWE Superstar has since wrestled a handful of matches on the independent scene, and she has also started her own company.
Mendes and her partner Bobby Schubenski have split up, and Mendes has focused on a venture called Totally Fit Mama, a meal plan and workout regime for women and mothers, since the birth of her daughter. Mendes also works as an aerobics instructor for a company called High Fitness.
#3. Former WWE Superstar Summer Rae
Summer Rae was part of the NXT Women's Division for a number of years before she was promoted to WWE's main roster, where became a well-known star.
Rae was then teamed with Fandango as his dancing partner before she went on to be part of some interesting feuds, including a memorable storyline between Rusev and Dolph Ziggler.
The former Superstar was even made a main cast member on "Total Divas" for several seasons. Near the end of her run on the main roster, Rae briefly joined forces with Team B.A.D. But after a year of inactivity due to a number of injuries, she was released from her contract in October 2017.
Like many other stars before her, Rae went on to wrestle for several months on the independent circuit following her release before she announced that she had landed an interesting new job.
Rae is currently working as the Director of Marketing and Social Engagement for a cryptocurrency company called Cornerstone Global Management LLC. The former WWE Superstar herself made the announcement on her Instagram page earlier this year, where she noted that she was about to begin a new venture.
#2. Former WWE Superstar Cherry
The WWE Universe will remember Cherry as the roller-skating valet who accompanied Deuce and Domino to the ring.
Even though Cherry was able to lead the team to tag team Championship gold, their run was short-lived. After they split up, she began a short run in the women's division, but after just a year on the main roster, Cherry was released from the company in 2008.
Cherry has since appeared in several episodes of "Total Divas", since the former WWE Superstar has remained close friends with Natalya.
After several independent wrestling events, Cherry left the business and went on to work in an aquarium. The former star recently appeared on Ring The Belle, where she noted that alongside Deuce and Domino, she had recently started taking independent bookings again. She stated that she was hoping to make her return to WWE in the near future.
Cherry is almost unrecognizable when compared to her time in WWE, but it appears that the former star has her heart set on being part of the Women's Revolution in the future.
#1. WWE Tough Enough 2015 winner Sara Lee
Sara Lee won Tough Enough in 2015, when WWE brought back the popular competition series.
Mandy Rose and Sonya Deville also started their WWE careers as part of the competition, but it was Lee who was announced as the female winner. Following her victory, she received a one-year deal with WWE and began working on NXT and training to be a Superstar.
This year came to an end when Lee was surprisingly released on September 30, 2016, and she then announced that she was expecting her first child with fellow WWE Superstar Wesley Blake.
Lee has since gone on to marry Blake, who was recently released by WWE, and the couple has three children together. These days, it seems like Lee is focused on raising her children, Piper, Brady and her most recent addition, who she welcomed last month.
The former star has remained active on her Instagram page, where she continues to update fans on her life after WWE and the challenges that come with being a parent of three children.