WWE Royal Rumble is just around the corner. We're on the road to WrestleMania with one of the most exciting premium live events the company has to offer, and a time-honored tradition has begun. That's right, wrestling fans are debating who will show up on January 28th.
Is Jay White finally coming to WWE? Will The Undertaker make another appearance? It's the most exciting time of the year for WWE fans, so why not take a trip down memory lane? We've seen a lot of great special one-off Royal Rumble appearances over the decades. From celebrity guests to legends showing up for one last hurrah, Royal Rumble surprises can make or break the entire show.
Today we'll be looking at five of the best Royal Rumble one-off appearances in the event's history. By that, we mean no appearance that was setting up a later feud or a return to active competition.
---
#5. Drew Carey - Royal Rumble 2001
Yes, we'll go ahead and get the celebrity spot out of the way. To be fair, though, this moment was great.
At what is considered by many fans to be the greatest Royal Rumble in WWE history, we saw comedian Drew Carey take his chance to earn a shot at the main event of WrestleMania.
At the height of The Drew Carey Show and Whose Line is it Anyway's popularity, Carey strolled down to the ring at the 2001 Rumble. The #5 entrant came down just in time to watch Matt and Jeff Hardy eliminate each other, leaving him the sole contestant for a short while. As he raised his arms high and celebrated, his joy turned to absolute fear when the next entrant, Kane, made his entrance.
The Big Red Machine stalked the ring while Carey begged for the Hardys to come back in. When Kane stood in front of him, Carey looked like he...well, as JR said in the moment, "It's a good thing Carey's wearing black pants." The celebrity attempted to pay Kane off, but the freak of nature slapped the cash out of his hand and goozled him.
As Kane picked him up for a chokeslam, Drew Carey was saved by the next Royal Rumble entrant, Raven. Instead of sticking around to try and help, though, Carey waved goodbye to the crowd and frantically climbed over the ropes to escape any future torment.
---
#4. Bubba Ray Dudley - Royal Rumble 2015
The 2015 edition of the Royal Rumble emanated from Philadelphia, Pennsylvania's Wells Fargo Arena. Considering the lively and raucous Philly crowd, WWE opted to give them a huge surprise at the #3 spot. Being the home of ECW, any of the extreme icons would have done the trick.
Months after his final contracted date with TNA in 2014, Bubba Ray Dudley returned to WWE and the crowd went mental. As The Miz watched on in disbelief, the crowd jumped to their feet to shower the legendary superstar with "ECW" chants.
While D-Von wasn't around at this point, Bubba Ray Dudley did find a temporary partner in R-Truth, who helped Bubba dish out some punishment to The Miz. It's a fun moment that got the crowd excited for what was to come. Unfortunately, the ending didn't exactly stick the landing, but Bubba Ray Dudley can only do so much.
---
#3. Booker T - Royal Rumble 2011
It may not have lasted long, but it was one hell of a 68-second stretch from the legendary Booker T. CM Punk's New Nexus was dominating the Royal Rumble at this point. After Punk lasted the first third of the match on his own, his lackeys began filling the match.
Eventually, Punk was surrounded by Michael McGillicutty, David Otunga, and Mason Ryan. It was an uphill battle for whoever came out next. Still, when Booker T's music rang out at #21, you could see the hope leave Punk's face. As the words "Can you dig it, sucka" reached his ears, Punk fell to his knees and pleaded with Mason Ryan and David Otunga to put an end to Booker T's night.
Booker ran wild. A heel kick to Ryan, a Scissor Kick to Otunga, and a Book End to McGillicutty gave him the chance to hit the Spinaroonie in the middle of the ring. He would've eliminated CM Punk from the Rumble had Mason Ryan not recovered in time.
Again, it didn't last long, but it pumped some life into the Boston crowd after many of their favorites were tossed to the side by the Nexus.
---
#2. Beth Phoenix - Royal Rumble 2020
WWE Hall of Famer Beth Phoenix has appeared in two Women's Royal Rumble matches in her career, and was the second woman to appear in the Men's Rumble back in 2010. While both of those nights were special, with Phoenix eliminating The Great Khali as a standout moment, her run in the 2020 match was special.
In both of those previous events, Phoenix lasted for a grand total of 4:01. In 2020, she went over 27 minutes. Not only that, a decent amount of that time was spent with the Glamazon's golden hair dyed red with her own blood. During the bout, the back of Phoenix's head bounced off a ring post, busting her open for the rest of the match.
She fought on valiantly, of course, and even managed to almost win the whole thing. There was a moment with "Santina" Marella, but the less said about that, the better.
---
#1. Mickie James - Royal Rumble 2022
Hardcore Country rang loud in St. Louis, Missouri when Mickie James made her special appearance at the Royal Rumble. What was special about this was that the legendary superstar was, and still is, an IMPACT Wrestling Knockout. James walked into the event with the Knockouts World Championship around her waist.
Not only that, her IMPACT theme, Hardcore Country, which she performed, was played instead of her usual WWE theme. The crowd erupted when it kicked off her entrance at the #20 spot, showing that her fans had been keeping up with her exploits outside of WWE.
The moment wasn't exactly a secret, as James was revealed as an entrant weeks prior. Still, that didn't make it any less special. Seeing a wrestler contracted under a different company show up to perform in WWE was incredibly rare, and no one was really sure if they'd let her walk out with the gold around her waist. She did, though, and it made the moment that much more special.
A year later, Mickie James is once again holding the IMPACT Wrestling Knockouts World Championship. Could we see her show up in the Royal Rumble once again? We wouldn't mind seeing it.
What was your favorite one-off Royal Rumble surprise, and who would you like to see show up this year? Let us know in the comments below!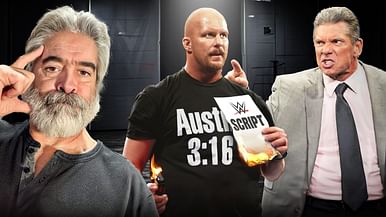 How Stone Cold was born in 2 minutes