'The Beast Incarnate' Brock Lesnar has had quite a lucrative career in the combat sports world. His huge popularity and drawing power allowed him to remain at the top position and enjoy a lengthy reign as champion despite his status as a part-time wrestler.
WWE Chairman Vince McMahon relied on Brock Lesnar to sell major events and to bring more eyes on an episode of SmackDown or RAW. McMahon also let Brock Lesnar get away with a lot of questionable acts that would've gotten almost any other Superstar immediately released from the company.
WWE has a long list of rules and regulations that every talent needs to follow, but a lot of those rules did not apply to Brock Lesnar. The Beast is a huge box office attraction, and as such, WWE had to break some of its own regulations in order to make things comfortable for Lesnar.
Here are five times Brock Lesnar was allowed to do whatever he wanted to do in WWE.
---
#5 Brock Lesnar demanded his own main roster call-up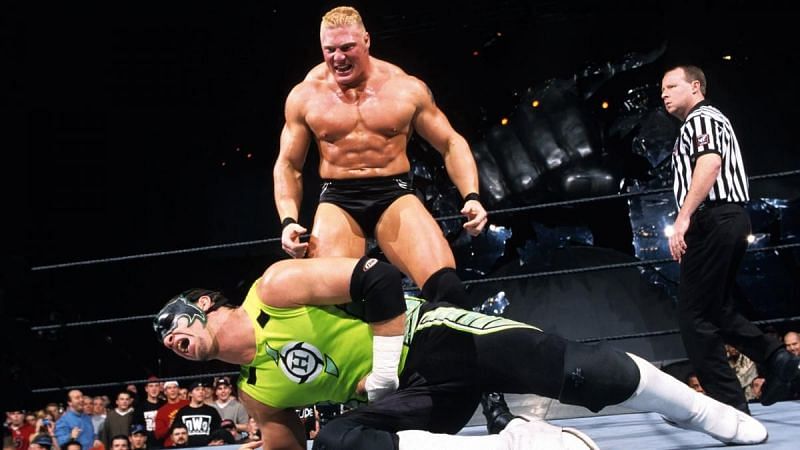 Brock Lesnar was conquering his opponents even before he made the jump to sports entertainment. His successful amateur wrestling career didn't go unnoticed, as WWE was very interested in signing the young athlete. WWE's initial plans for Brock Lesnar was for him and his roommate Shelton Benjamin to train in Ohio Valley Wrestling for two or three years and then move up to the main roster.
After the two wrestlers made early progress, Brock Lesnar grew frustrated and wanted to leave OVW. Lesnar told former WWE talent scout and recruiter Gerald Brisco that he wanted to be on the main roster in two months. WWE responded by granting The Beast's wish.
Brock Lesnar made his main roster debut shortly after that on the Monday Night RAW after WrestleMania 18 and less than six months later he was given a run with the WWE Championship. Even today with NXT, it's unheard of for a developmental talent to demand their own main roster call-up. Brock Lesnar did it, and he got what he asked for.
#4 Brock Lesnar changed the ending to his own match
Most wrestling fans are aware that outcomes are predetermined by Vince McMahon and the creative team. The WWE Chairman has the final say on everything, but McMahon is also known for changing his mind at the last minute, nixing all the plans for the outcome of a major match in favor of another finish suggested by a top star.
This was the case back in 2018 at WWE SummerSlam. Brock Lesnar dropped his Universal Championship to Roman Reigns at the event after attacking Braun Strowman who was standing at ringside with his Money in the Bank contract. Jon Moxley, however, revealed in an interview that was not the original plan for the finish.
Moxley stated that The Shield was supposed to reunite after preventing Strowman from cashing in his Money in the Bank contract on Roman Reigns. However, Brock Lesnar arrived early that night and pitched his idea to Vince McMahon of how things should transpire, which McMahon agreed to.
"Brock comes in at 6pm and changes everything. And Vince is like, 'Okay, we're gonna go with Brock's idea,' and it made everybody else look stupid except Brock, and the writers are just sitting there watching it in a room and they're just like, 'Come on, we had this great ending to the show...'"
The Shield had their reunion the following night on RAW, but there's no doubt that The Biggest Party of the Summer would've been a more memorable event if it hadn't been for Brock Lesnar.
#3 Brock Lesnar showed up in UFC while he was the Universal Champion
Brock Lesnar, despite being the WWE Universal Champion at the time, showed up at UFC 226 and confronted Daniel Cormier after the latter's successful fight. A match between Cormier and The Beast was teased, but it never took place. Brock Lesnar even wrestled a match in UFC in 2016 while he was still contracted to WWE.
WWE gave Lesnar permission to participate in the major MMA promotion, even though UFC didn't have a working relationship with the company. WWE, however, used to have a partnership deal with wrestling promotions such as New Japan Pro Wrestling that allowed WWE Superstars to compete outside the company.
After all those partnership deals ended, WWE wrestlers weren't allowed to compete or make appearances in other promotions. That rule still stands today. If AJ Styles or any other top stars wanted to show up in AEW, WWE would most likely say no.
Lesnar, on the other hand, was allowed to make an appearance for UFC while he was the Universal Champion, which was something that only Brock Lesnar could do.
#2 Brock Lesnar demanded to go on first at WrestleMania 35
WWE WrestleMania 35 was a historic and thrilling night for many fans. Kofi Kingston finally won the WWE Championship after 11 long years and Becky Lynch, Ronda Rousey and Charlotte Flair made history by becoming the first female wrestlers to headline The Show of Shows. Brock Lesnar, however, was not satisfied that his Universal Championship match with Seth Rollins wasn't the main event.
According to reports, The Beast verbally abused Vince McMahon backstage after getting angry that his match wasn't going on last. He then demanded it go on first instead, changing the plans at short notice. If any other Superstar made such a huge demand like that to Vince McMahon, they would've probably ended up getting fired at the spot, but since Brock Lesnar had the Chairman's number, his wish was granted once again.
Lesnar reportedly flew home almost immediately following the match, while the show was still taking place. The Beast had another incident with Vince McMahon at the previous WrestleMania event after he threw his Universal Championship belt at the latter in the gorilla position after defeating Roman Reigns to retain the title.
#1 Brock Lesnar was allowed a sponsorship deal
Brock Lesnar was the first and only wrestler in WWE history that had a sponsorship deal with another company that saw him adorning the sponsor's logo on his merchandise. During his UFC run, Lesnar was sponsored by several companies, just like other MMA fighters. One of those companies was the American sandwich chain, Jimmy John's.
After Lesnar returned to WWE in 2012, he continued sporting the Jimmy John's logo on his attire until the sponsorship deal reportedly expired in early 2019. Lesnar had a very lucrative contract with WWE that allowed him to do certain things that other wrestlers could only dream of, such as earning lots of money through a sponsorship deal.
WWE Superstars are currently not even allowed to use third-party apps such as Twitch and Cameo, yet Brock Lesnar, because he's such a huge star, got away with a sponsorship deal in a professional wrestling company. Vince McMahon knew very well how valuable Brock Lesnar was, so he didn't let a little sponsorship deal stop him from signing The Beast.