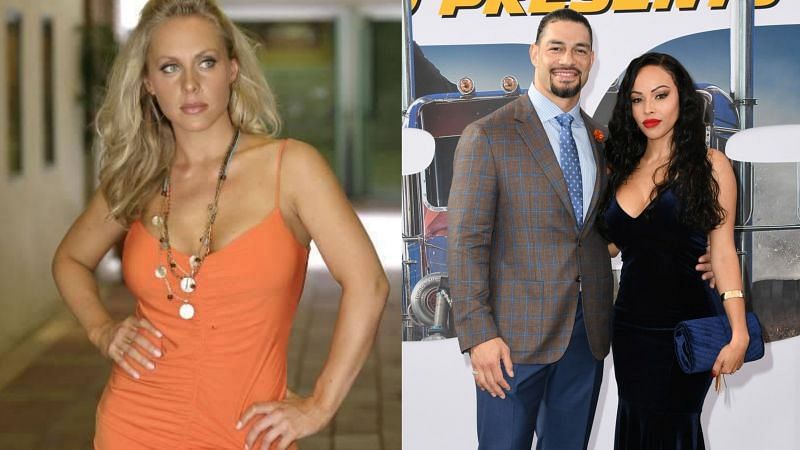 Many WWE and AEW superstars have excellent physiques, and some of them are married to real models.
While quite a few wrestlers are married to colleagues, others are in romantic relationships with people who are not in the pro wrestling business. Some superstars' wives work in jobs unrelated to the entertainment industry, like AJ Styles' spouse, Wendy, who works as a school teacher.
Several wrestlers' wives work as models for their own brands, and few have even appeared in well-known magazines.
Let's take a look at five WWE/AEW Superstars who are married to models. Today, only two of the five superstars' wives mentioned in this list are still active models. The other three have chosen to focus on their families instead.
---
#5. AEW Star Paul Wight - Model Bess Katramados
AEW star Paul Wight, a.k.a. The Big Show, is a legend in the wrestling business. He debuted on WCW 20+ years ago, going on to win the WCW World Heavyweight Championship twice and WCW World Tag Team Championship three times.
Wight then moved to WWE in 1999, where he made history, winning nearly every title on the roster.
Paul Wight was married to Melissa Ann Piavis when he debuted in WWE. However, they divorced in 2002. Five days after finalizing the divorce, Wight tied the knot for the second time.
The former WWE Champion's second wife, Bess Katramados, is a former model. Although she never signed major deals in the fashion industry, she worked locally around her birthplace in Illinois.
After marrying Paul Wight, Katramados put aside her modeling career to focus on their family. She became her husband's personal trainer and fitness instructor. The couple have welcomed two children together, while Wight also has a third child from his first marriage.
Earlier this year, Wight signed for AEW as a commentator and an in-ring performer.
The 49-year-old veteran is yet to compete in AEW. His last wrestling match came over a year ago on WWE Monday Night RAW, when he lost to Randy Orton in an unsanctioned match.
#4. WWE Universal Champion Roman Reigns - Model Galina Becker
Roman Reigns is the top guy on SmackDown today, and he is married to a former model. The current Universal Champion met his wife, Galina Becker, at Georgia Tech and they have been married for nearly seven years.
Reigns' wife was an accomplished athlete during high school and college. She excelled in track and field and also played volleyball. She graduated with a management degree but took a different career path following her graduation.
After graduating, Becker worked as a fitness model but then put her career on hold to focus on her family after having five children with Reigns.
Roman Reigns is currently dominating SmackDown. He has held the Universal title for nearly a year.
The Tribal Chief recently defeated Edge at Money in the Bank to retain the Universal Championship. However, he was confronted right after by the returning John Cena.
Although it seemed like Cena would go one-on-one with The Head of the Table at SummerSlam, Roman Reigns rejected his challenge. Instead, Reigns agreed to defend his title against Finn Balor.
#3. AEW Star Jake Hager - Model Catalina White Hager
Former WWE Superstar and current AEW star Jake Hager is also married to a model. His wife, Catalina White Hager, is a well-known model who has appeared in several recognized magazines like Maxim, FHM, and Complex.
Catalina tried her luck with pro wrestling over a decade ago. She had a very short stint with WWE when she signed a developmental contract, competing in only one FCW match before getting released in 2009. Later, Catalina occasionally wrestled outside WWE, although she primarily remains a model and Pilates instructor.
During her time in WWE, Catalina met Jake Hager, who competed under the name of Jack Swagger. They tied the knot a year following her release and now have two children.
Hager left WWE in 2017, where he held the ECW, United States, and World Heavyweight Championships. Following his release from WWE, Hager wrestled on different promotions before joining AEW in 2019.
Hager debuted on AEW in October 2019 to join Chris Jericho, Sammy Guevara, and Santana & Ortiz. Led by Jericho, they formed The Inner Circle. Catalina also made a few appearances alongside her husband on AEW.
Hager is yet to hold any titles in Tony Khan's promotion. He competed for the TNT Championship against Cody Rhodes in July 2020 but lost.
Before that, he also lost an AEW World Championship match against Jon Moxley.
#2. WWE Superstar Randy Orton - Model Kim Kessler
WWE Superstar Randy Orton's wife, Kim Kessler, launched her own clothing line, SLTHR, in 2020 and has been modeling for it ever since. Although she was not originally a model, Kessler became one to market her products. She often features her husband as a model for men's wear.
Orton and Kessler have been married for nearly six years, and the multi-time world champion is very supportive of his wife's work. He praised her while appearing as a guest on Stone Cold Steve Austin's Broken Skull Sessions.
"I'm doing my thing in the ring, she is doing her thing at home raising five kids. On the side, she is also the owner of her own company SLTHR. And yeah, we are selling some merch man," said Orton. "I'll tell you what, if it's me to a tee I love it. I'm proud of her."
The Viper has been absent from Monday Night RAW for over a month now. He fought his last match on June 21, suffering a defeat against John Morrison.
According to reports, Orton is expected to make his return on the August 2 episode.
#1. AEW Star Christian Cage - Model Denise Hartmann
AEW star Christian Cage is another wrestler who is married to a model. The WWE legend surprised pro wrestling fans when he returned to in-ring action earlier this year.
Christian, a two-time WWE World Heavyweight Champion, went on to sign a multi-year contract with AEW. In his first official singles match in seven years, the 47-year-old veteran defeated Frankie Kazarian.
Twenty years before making his AEW debut, Christian married Denise Hartmann, a former German model. The two met as Christian was on a WWE tour in England. In 2013, they welcomed their first daughter, Isla.
Christian's wife is not a wrestler. However, she made a few appearances on TNA when her husband was wrestling there in 2006. During Christian's rivalry with Abyss, the latter stalked Captain Charisma's wife to add more heat to the feud.
Since marrying Christian, Hartmann has kept a low profile. She is not active on social media. Her husband, too, kept his personal life away from the spotlight.
Captain Charisma is on a successful run in AEW, having competed in seven matches so far and winning six of them. Christian Cage's only defeat came in the Casino Battle Royale at AEW Double Or Nothing last May.