There have been multiple superstars throughout WWE history who have carried animals to the ring. Even in WCW, there were some bizarre instances. While the number of animals that accompany a superstar to the ring has reduced, they have been a part of several superstars' ring entrances through the years.
This list focuses on five former WWE superstars who got animals to the ring with them:
---
#5. Jake 'The Snake' Roberts - Carried a snake in his WWE run
We can't start the list without mentioning one of the great icons in WWE history - Jake "The Snake" Roberts. When looking at Jake Roberts' resume in WWE, it has zero championships and from his perspective, it didn't matter.
For Jake Roberts, championships are merely props in wrestling. Be that as it may, Roberts' time in WWE was defined by his run with "Damien" the Snake. Jake Roberts debuted at WrestleMania 2 with Damien, who made George Wells his first victim.
It was a great way to introduce Jake Roberts in 1986 and it would be a foreshadowing of his WWE career. Jake Roberts would always bring Damien to the ring and the snake would become an integral part of many of his storylines, including the ones against Ricky Steamboat, Randy Savage, and The Undertaker.
Interestingly, Jake Roberts revealed that he didn't even like snakes, to begin with:
"I hated the sons of b***hes. I'm terrified of them!" said Roberts. (H/T Prowrestlingstories)
Roberts described it as a "miserable job":
"What a miserable damn job that was, carrying my wrestling gear and clothes — and a 100-pound snake in a box! Walking around with 150 pounds of gear, that's not healthy to do, really. Really, really brutal, man. It really tore my a** up." revealed Roberts.
Perhaps the most iconic and terrifying moment of Jake Roberts' WWE career was in late 1991 when he was feuding with the retired Randy Savage. The Macho Man had to retire earlier that year after losing a match against The Ultimate Warrior at WrestleMania.
Jake Roberts recalled his interaction with Randy Savage before the segment. The Macho Man was paranoid that there were people within WWE who wanted to "take him out" and needed to ensure that Jake Roberts wasn't one of them.
Despite Roberts assuring Savage that the snake was devenomized, Savage made sure that Roberts got bitten by it first:
"Savage came up to me before and said [Macho Man voice], 'Your cobra's gonna bite me – Okay, you got that? But here's the f***ing problem, yeah… there's a lot of people around here that'd like to TAKE the Macho Man OUT – you know what I'm sayin'? And you might be one of them…'" revealed Roberts.
The segment would play out as planned and it remains a piece of WWE history. Unfortunately, Jake Roberts was in a very dark place for a long time during and after his WWE run. Thankfully, he is in a much better place physically and mentally today.
#4. The British Bulldog - Made a few entrances in WWE with "Matlida" the Bulldog
The British Bulldogs, Davey Boy Smith and The Dynamite Kid, debuted their mascot, Matilda, in 1986. Although she is a popular part of WWE history, she didn't make as many appearances as fans remember.
It was probably better that way since Jake Roberts recounted to Roddy Piper years later that The British Bulldogs were the biggest pranksters in wrestling. There have been accusations of Matilda getting neglected on the road, but even then, she remains a symbolic figure in WWE history.
Perhaps the most memorable moment with Matilda was when she was stolen by The Islanders and Bobby Heenan. The Bulldogs would eventually get Matilda back.
The "purebred" bulldog would eventually start appearing with Davey Boy Smith in his singles career, but only a handful of times.
---
#3. Ricky Steamboat - "Komodo Dragon"/Crocodile
Soon after Jake Roberts' debut, he began an epic feud with WWE and wrestling icon Ricky "The Dragon" Steamboat. It was a feud that saw Steamboat suffer a legitimate knockout after Roberts DDT'd him onto the concrete. Roberts insisted on not doing it, and his fears came true when they went through with the spot.
The defining moment of their feud was the conclusion of it half a year later. Steamboat won the feud but had introduced a crocodile, presumed to be presented as a Komodo Dragon.
Once Roberts tried to get one over Steamboat using Damien, The Dragon would bring out his crocodile, scaring Roberts away. It was a WWE classic, although not as well-received by many modern fans looking back at it.
#2. Erick Rowan - The spider angle before his WWE release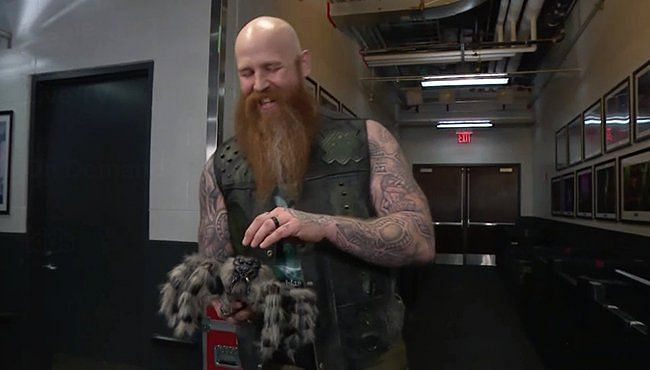 A few months before his WWE release in 2020, Erick Rowan began a gimmick where he started to bring a covered cage to the ring. He was possessive over this creature and it even bit him, forcing him to lash out at his opponents - mostly enhancement talent.
There came a day months later when No Way Jose, of all WWE superstars, insisted on seeing what was in Erick Rowan's cage. Big Red would tell him that all he was waiting for was for someone to ask politely.
He carefully took out the creature and it turned out to be a massive, hairy spider. It undoubtedly looked terrifying, but the angle ended a week later when Drew McIntyre squashed the cage with steel steps.
A month later, Erick Rowan was released by WWE.
---
#1. Scott Steiner's Tiger
Scott Steiner brought a Tiger to the ring in the final days of WCW Nitro. It was October 2000 and WCW was floundering as a company. After it was announced that WWE legend Yokozuna passed away, the commentary team was left to contemplate.
Soon after that, the bizarre entrance happened. Nobody really knows why Steiner brought a Tiger to the ring, but he explained in an appearance on Inside The Ropes that the animal handler had been with the Tiger backstage at a house show, giving Steiner the idea.
Interestingly enough, The Tiger had reportedly nearly bitten off Rey Mysterio's eye. Steiner explained that it was because Mysterio was wearing zebra-striped pants and stooped down to the Tiger's level. It's a random bit of history, and although it didn't happen in WWE, it involved a former WWE star.