It is widely believed that AJ Styles is among the best wrestlers in the world today, if not the best. When he came in, his merchandise sales were through the roof. While being a babyface, he got great reactions, put on great matches and even had great feuds with Chris Jericho and Roman Reigns,etc.
However, being a heel is where he has truly excelled. Despite the fact that he is a heel, he still continually gets among the best reactions in the company.
According to The Four3Four.com, this might be something WWE will be tapping into, as AJ Styles is expected to be a babyface by Wrestlemania 33.
The report says that AJ Styles will eventually run out of babyfaces to feud with, and him being a babyface opens things up for newer feuds. The report stated that the sheer amount of merchandise he sells is one of the main reasons a face turn may be incoming.
The fact of the matter is, high merchandise sales is the excuse used to not turn superstars heel. The fact that AJ Styles was not only selling high merchandise but was still turned heel in his feud with John Cena almost five months ago, is an indication that the WWE officials have nothing but trust in The Phenomenal One.
Add to the fact that Styles was the second Smackdown Live draft pick and the fourth overall draft pick is an indicator too, of his position in the eyes of the higher ups. And to top it all off, he won the World Championship in less than nine months with the company.
There are very few names who have scaled the top of the mountain as quickly as Styles did, but his rapid push is clear proof of his position. Many consider AJ Styles to be the MVP of Smackdown Live and the deserving superstar to carry the brand.
With John Cena fading out of a full-time role, Randy Orton working his way up again, and Dean Ambrose getting some backlash from the fans, Styles is definitely the right star for the blue brand.
It is unlikely that Styles will defend the title next month at Survivor Series as the storylines seem to be leading up to the world champions being on their respective brand's Survivor Series team next month.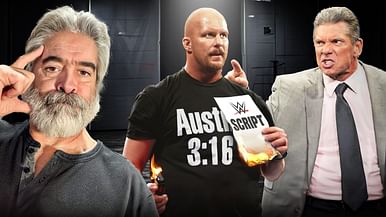 How Stone Cold was born in 2 minutes