In each edition of Gimmick Some Lovin', we take a look at one iteration of a gimmick match available on the WWE Network. Some are iconic for their success, others for the extent to which they flopped, and some just... happened.
We defined a "gimmick match" as, in any way, adding a rule/stipulation to or removing a rule from a match, changing the physical environment of a match, changing the conditions which define a "win", or in any way moving past the simple requirement of two men/women/teams whose contest must end via a single pinfall, submission, count out, or disqualification.
Because both men have been sending shockwaves through the wrestling industry and its fanbase, as well as non-wrestling media outlets, thanks to last week's edition of 30 for 30 airing on ESPN, today, we're looking at the ten in 22-2 when we analyze the No Disqualification Match from Wrestlemania X8 pitting The Undertaker against "The Nature Boy" Ric Flair.
Big Evil or Big Hospitality?
Before we talk about the feud that led to this underrated match, let's take a look at the tweet from documentarian Rory Karpf, the doc's director, that's been turning heads for days now, inspiring this article.
On his podcast The Masked Man Show, pro wrestling journalist David Shoemaker noted that wrestling documentaries need some kind of onscreen notification for new fans, casual fans, and non-fans when something is happening onscreen that has never happened before.
In the case of Undertaker's interview for the "Nature Boy" documentary, it was the first time in over a decade, possibly the first time ever, that Booger Red has spoken candidly without an affected voice and without playing a character.
He spoke as a lifelong fan, and as an awed coworker, of the documentary's subject and, clearly, made quite the impression on the filmmaker and his crew. This is a side of Taker that fans have been clamouring for ever since his symbolic abandoning of his gear, seemingly signalling a retirement, at Wrestlemania 33.
While it's no surprise that Mark Callaway is such a friendly person (this is a man who has a tattoo dedicated to a group of pals whose uniting interest was playing dominoes backstage, after all), it was a shock to many fans' systems to pair that tweet with the gentle giant sitting quietly in a living room chair refusing to make death threats and puns.
Today, we'll turn back the clock to a time when Undertaker was a little less generous, onscreen at least, with his affections toward Ric Flair, when he was just as soon to offer a lead pipe to the skull as he was a fresh pot of coffee and snacks: his 2002 heel run as "Big Evil" and his Wrestlemania X8 battle with Flair.
Caught in Limbo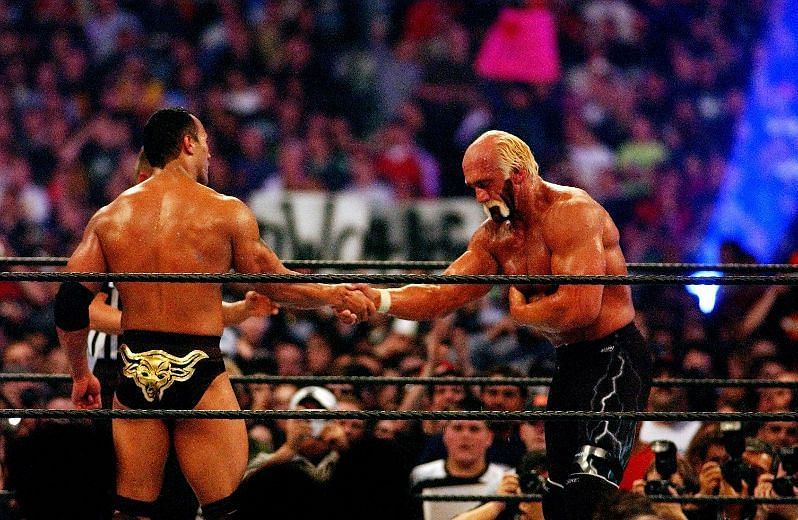 2002 was a very strange year in the business of professional wrestling, sandwiched directly in between the end of the Attitude Era and the beginning of what is known as the Ruthless Aggression era.
Vince McMahon spent the first portion of 2001 building up to what is widely regarded as the greatest pay-per-view, or at least one of the five greatest PPVs, in the sport's history, Wrestlemania X7.
That show also brought about the first in a series of odd decisions (Stone Cold Steve Austin's much-debated heel turn and alignment with McMahon) which, when combined with odder choices afterward (nearly all of the storytelling choices made in the InVasion angle, which is a discussion for another time) and untimely injuries (to stars like Triple H and Chris Benoit), a significant portion of the fanbase saw that the Attitude Era was over and the WWF was no longer for them.
Chief among the sins committed by the InVasion angle was the fact that, due to talent being unavailable thanks to many top performers' contracts being with Time Warner rather than WCW, the invading force of Sting, Hogan, Flair, Goldberg, and the like (which many fans were itching for) instead became a stacked WWF roster pretending that Booker T and a cadre of mid- and undercarders like Buff Bagwell, Mark Jindrak, Bryan Adams, Lance Storm, and Mike Awesome were credible threats to their company and job security.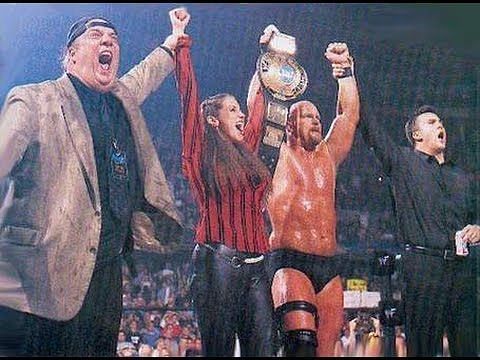 Additionally, the InVasion story quickly became less about a true battle between two longstanding rival companies (and an upstart number three looking to play spoiler), and instead became just another witch-hunt gang story which, surprise surprise, centred on McMahon family drama.
The feud was thankfully taken behind the barn and shot at the 2001 Survivor Series where a winner-take-all contest between the WWF and The WCW/ECW Alliance (on the whole show, you could count on one hand the number of Alliance members who had competed on WCW or ECW television in the preceding 12 months) ended with the foregone conclusion of the elder McMahon remaining in business and his children's new toys being broken.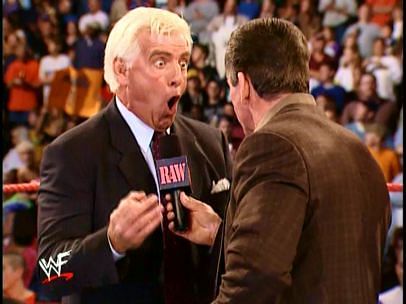 Almost immediately after Vince was set to claim his WCW and ECW assets, though, it was revealed on Monday Night Raw that Shane and Stephanie could only afford to buy those two companies, respectively, because they sold their WWF stock to a mysterious investor, who turned out to be Ric Flair. Flair became the first significant WCW name to make the jump to the undisputed new king of cable wrestling, and a bitter blood feud began with McMahon almost immediately.
A Case for Big Evil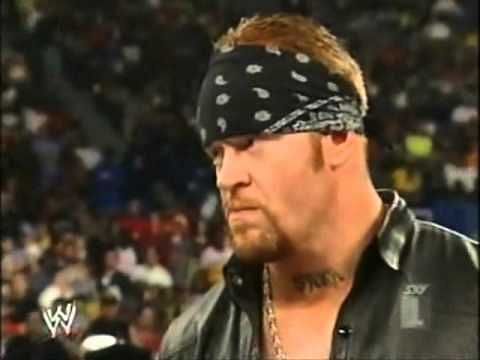 The last time we discussed Undertaker in this article series, he was wearing purple corpse-handling gloves and showing off supernatural abilities like summoning lightning and teleporting inside of a grave; that version would go through several tweaks (some major, some minor) over the course of three years to end up as a totally-not-Satanic co-leader of the Corporate Ministry before injuries put him on the shelf for eight months.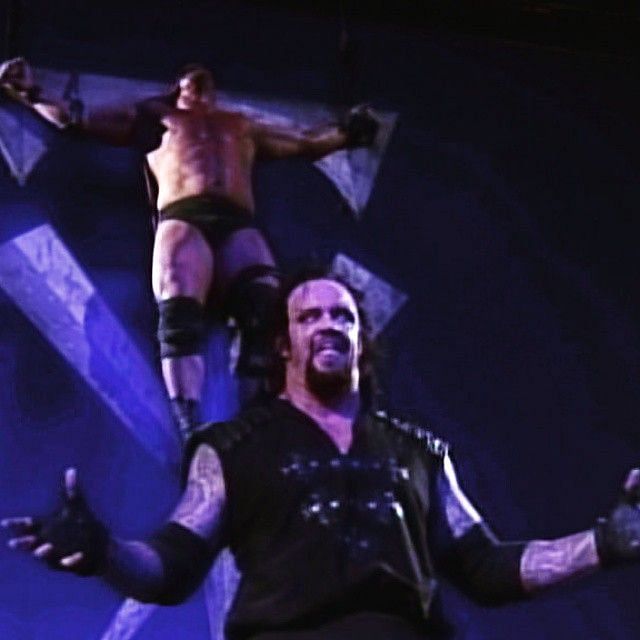 His return in May of 2000 brought with it the first significant overhaul of the character since his debut a decade prior; while small changes had accumulated over three years before the injury, after the injury Taker had replaced the supernatural powers and "is he a zombie?" mythology with motorcycles, chewing tobacco, bandannas, and ill-advised fashion choices.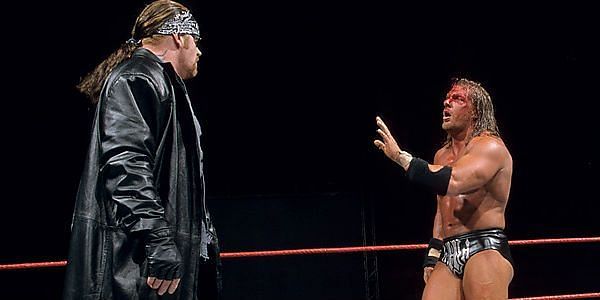 By early 2002, though, the character began taking on a much harder edge, along with an in-ring style heavily influenced by mixed martial arts, which was beginning its mainstream ascension in popular culture. Taker cut his hair short, adopted a wide variety of chokes, began openly trash-talking his opponents during matches, and developed a habit of breaking his own pin attempts to continue abusing his foes.
"Big Evil" was born, and invigorated the American Badass character as a no-nonsense heel set on owning and defending the ring as "his yard". The feud surrounding today's match catapulted Taker back into the main event scene, giving him an all-too-brief run with the WWE Undisputed Championship and adding a murderous rage to his personality which gave his matches an intensity they had lacked for a long time.
The Feud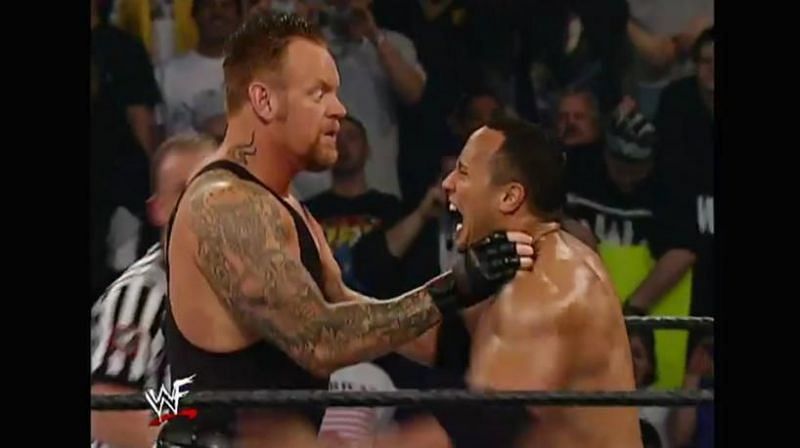 Like the match itself, the feud that leads to Wrestlemania is a victim of being surrounded by angles which are remembered far better by fans and by the company itself.
Flair had been a less-than-impartial co-owner of the World Wrestling Federation and had made Undertaker's aggression a frequent target of his hands-on management style. At the February 2002 No Way Out PPV event, Taker squared off against The Rock (whom Deadman, Inc., had tormented throughout the winter with vicious attacks), and Flair prevented further destruction of one of his franchise players by striking Undertaker with a lead pipe and setting up a Rock win.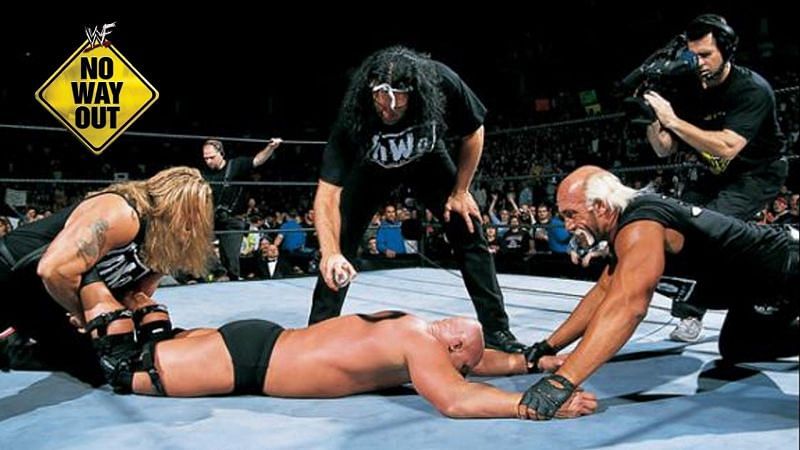 Unfortunately, that show is far more frequently remembered for the return, after a significant hiatus in which they nearly managed to destroy two different wrestling companies, of Kevin Nash, Scott Hall, and Hollywood Hulk Hogan as the reformed New World Order. The trio received a significantly larger share of television time and story focus than Taker and Flair, despite Big Evil's displays of some truly diabolical heel work throughout the month of March.
The Undertaker had challenged Flair to a Mania match to avenge Naitch's constant meddling, but Flair asserted that he could not due to his executive role in the company. Taker made a more forceful case for the match by bloodying both Arn Anderson and David Flair (the latter of whom Undertaker held hostage during a training session and continued to torture in a series of pretapes).
These attacks forced Flair's hand, and he accepted the Dead Man's challenge in a quintessentially Flair promo; Flair's violent retaliation, however, left fans caught in the crossfire and landed "The Nature Boy" a storyline suspension from the WWF Board of Directors, to be reviewed after Wrestlemania.
McMahon, for his part, would exploit Flair's temper and attempt to sway the Board's decision by pushing Ric to further his series of increasingly bad decisions in regards to his feud with Undertaker. McMahon, in his mind, could regain control of his company either by provoking Flair to show himself as unfit for leadership or by allowing Undertaker to send Flair into an early and immediate retirement
The Rules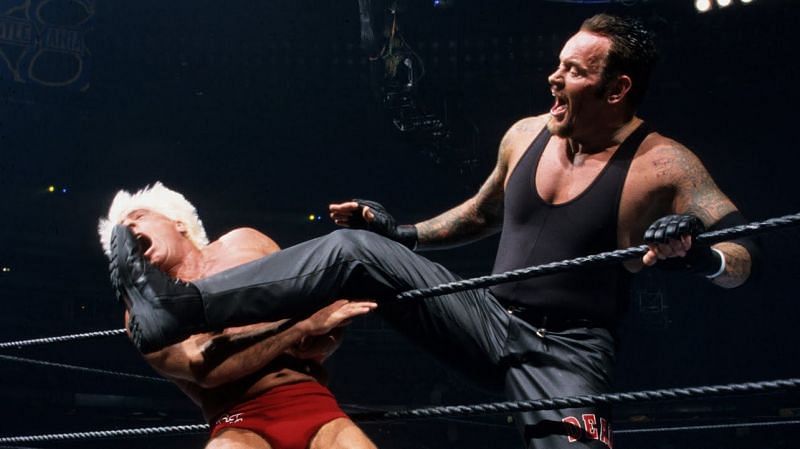 Owing to the hatred between the two men, and Vince McMahon's desire to see his blonde nemesis thoroughly demolished, this match is a No Disqualification contest, meaning that the only way to win is to score a pinfall or a submission inside the ring.
The Match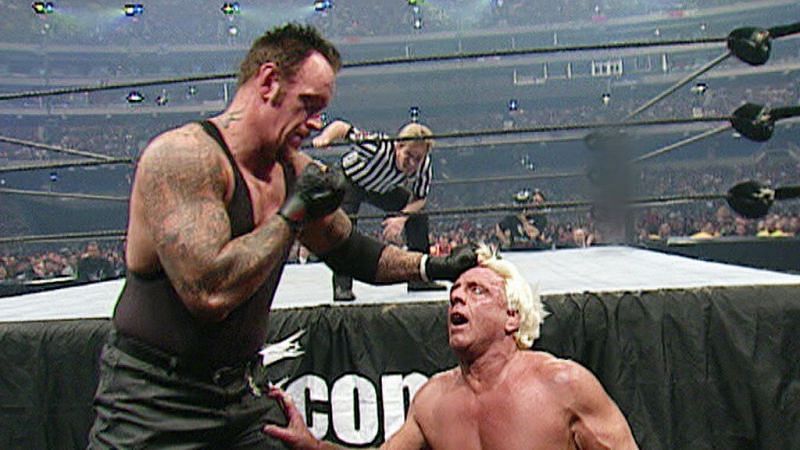 There's a lot to enjoy in this match, if you can get over the guilt of enjoying it; after watching Flair's documentary and seeing the latter (and more violent) portions of his career portrayed in a sadder light, the image of an older bloodied Naitch is a bit harder to take than it was at the time.
Yes, this match is bloody. The juice flows early and amply, and everybody save referee Charles Robinson wears the crimson mask by the final bell (including Anderson, who makes a run-in for possibly the single greatest spinebuster in this century). Taker gets a cut on his cheek and responds like "You made me bleed my own blood" Simpsons bully Nelson Muntz, battering his blonde nemesis in the announcer area (however, Flair fights back with fists of his own, much to the absolute delight of the men sitting front row).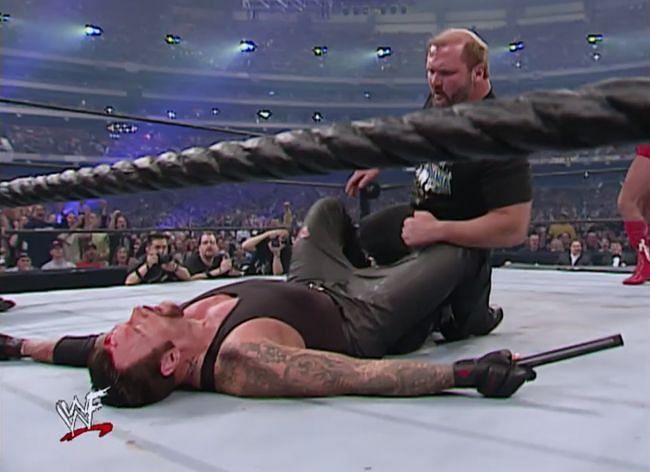 Ric's hair was made for blood, and this was before it began thinning in a near-overnight transition from silver fox to the old man about a year after this match. He calls to mind his bout with "Macho Man" Randy Savage from a decade before, bleeding profusely through poufed-up locks for much of the contest; this time, however, his theatrical selling was designed to garner sympathy rather than heel heat.
Whether due to nostalgia or Undertaker's evil actions (or a mixture of both), Flair is positively revered in the Skydome. He cuts his own entrance short to attack the Deadman to thunderous applause, and his chops grab "Woooo" chants which are deafening even from the couch (also, unlike the Road Warriors and Nikita Koloff, Undertaker's torso is not impervious to Flair's palms).
Undertaker, meanwhile, embraces his heel role with gusto, breaking up at least two of his own pinfall attempts and grinding a forearm into Flair's bloodied forearm until Taker's own limbs were a solid red. He breaks out some spectacular big moves made only more fantastic by the massive setting; my favourite thing about Mania's pre-smartphone stadium era is the explosion of tens of thousands of flashbulbs greeting a top-rope superplex and guillotine legdrop.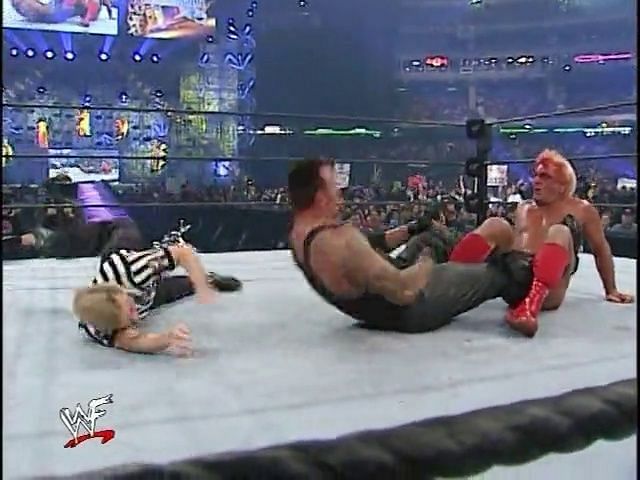 Those are great visuals, but the crowd brings a next-level aura with their reactions to Flair's valiant attempts to fight back. Flair interrupts a chokeslam attempt with a swift kick to Undertaker's yard, grabbing a massive reaction topped only by a bloodied Flair "Nature Boy" vamping this way through a Figure Four Leglock.
That sets up the finish rather elegantly; Undertaker is too exhausted, and his leg too pained, to fully lift Naitch into a Last Ride powerbomb attempt, so he thinks better of it and spins Flair into a Tombstone Piledriver, which hadn't been seen in years, making the crowd temporarily forget that Undertaker is the heel.
The Tombstone, of course, gets the three. Robinson goes to lift Taker's hand for the ceremonial victory pose, but Undertaker absolutely murders him with a clothesline while I pause writing this article to email the 2K development team to ask when this will finally be an option in the games. Leaning against the ropes, he then counts to ten on his fingers, but The Streak at this point is more trivia than a character-defining trait.
My Rating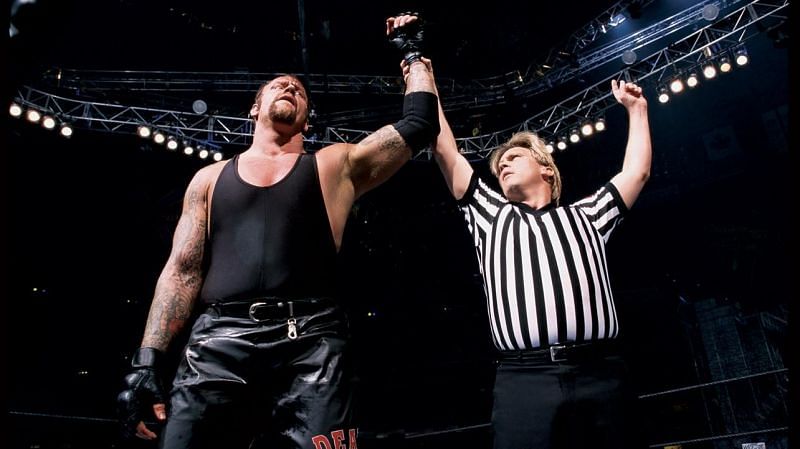 It's strange how matches from this era of Undertaker's career are often left out of coverage of "The Streak". Between a great brawl with Triple H at Wrestlemania X7, the bloody trainwreck here, and a match at Wrestlemania XIX that...happened...the biker period doesn't seem to get as much retrospective respect as the matches featuring Taker's otherworldly persona (for what it's worth, that XIX match at least deserves more love than the Giant Gonzalez match from Las Vegas).
Jim Ross makes a few mentions of Undertaker being unbeaten, but it would be at least another three years before that unbeaten streak would become a defining part of his Wrestlemania storylines; that's freeing, in a way, because one of the most frustrating things about latter Undertaker matches on the Grandest Stage are the near-falls toward the end where both Taker and his opponent seem amazed that someone could kick out of a finisher (despite this being post-Attitude Era wrestling where at least three finishers are needed to actually finish a match).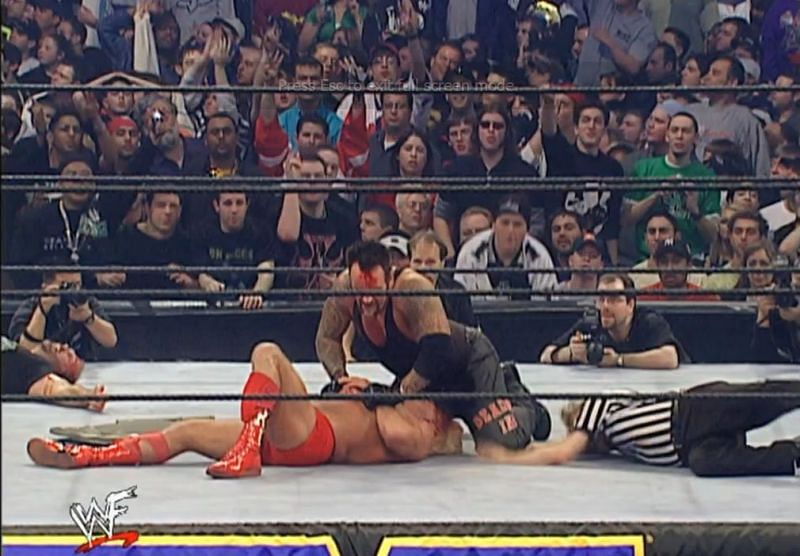 That simplicity saves this contest; there are two finishers (three if you count the spinebuster), and the match doesn't overstay its welcome. The Undertaker pummels Flair like Hawk and Animal did in War Games, but the change in heel/face alignments adds an extra layer of enjoyment; the thunderous applause for Flair's old-school heel tactics foreshadows the Toronto crowd's later embracing of Hogan, which also, unfortunately, also overshadows this bout.
Ignore the commentary (it hasn't aged well; parts that were ill-advised at the time, like Jerry Lawler saying that "the Flair family tree could stand to lose a few branches" have rotted in the past 15 years) and enjoy a fun meld of Undertaker's hard-hitting biker heel approach with Flair bumping like it's 1986 all over again.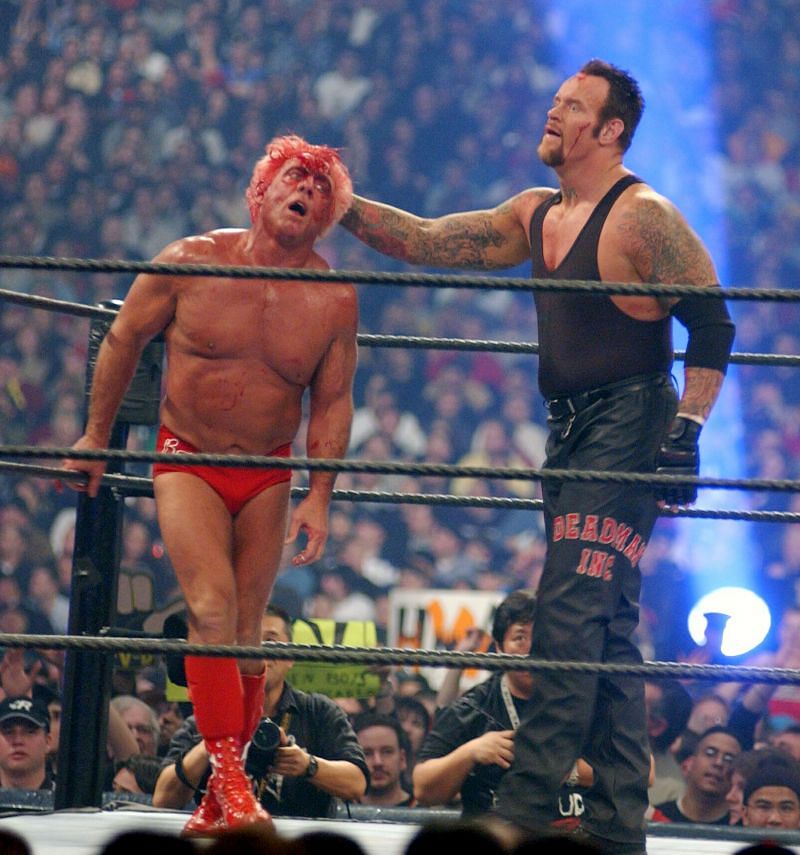 The blood works and the violence aren't overdone. This isn't Flair-Steamboat or Undertaker-HBK, but it's still better than its status as relatively forgotten. It places well in its story and allows Flair to fight back with gusto without stretching believability by having Undertaker seem too vulnerable.
The pair makes the most of the stipulation, and it fits both the story (both characters have plenty of motivation to bloody their foe, and McMahon's evil intentions in making this one a No Disqualification match come to bloody fruition, although Flair's co-ownership would be reinstated, leading to the first WWE brand split later on), as well as the performers (neither of these men is capable of leaving anything in the locker room in late March or early April).
Mostly because of the surprise of how enjoyable this one turns out to be, I give the Wrestlemania X8 No Disqualification Match 8/10.
Meltzer Says
Dave gives this one a middling three stars, which suggests to me that he missed Double-A's spinebuster. However, that also puts it into a three-way tie for the highest rated match on the card (which might say more about Wrestlemania X8 than it does about this match).