Huge match announced for the first RAW of 2013
7.32K //
27 Dec 2012, 14:20 IST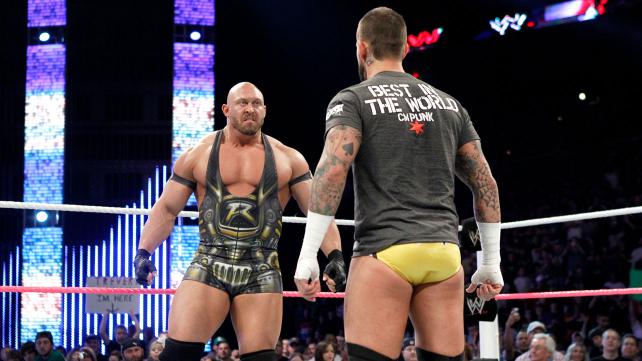 A rematch between CM Punk and Ryback for the WWE Championship has been in the works since the triple threat at Survivor Series (which also included John Cena). A Tables, Ladders & Chairs Match between the two was announced for the TLC pay-per-view, but had to be scrapped when Punk legitimately went down with a knee injury prior to the show. Since then, Punk has continued to appear on RAW and Smackdown!, albeit in a non-active role, while still holding onto the WWE Championship, continuing his historic run as champion (4o4 days and counting). Well, Punk has not been medically clear to compete the last month or so, but that will change starting in the new year.
Currently, the plan for the very first episode of Monday Night RAW in the year 2013 is for CM Punk to defend his title against Ryback one more time. And, this past Monday night, Ryback confirmed that not only will the match take place (Punk should be cleared by then), but it will take place under Tables, Ladders & Chairs rules, just like the original plan for the TLC pay-per-view.
Although there is a strong possibility Ryback could finally win the WWE title on this night, Ryback fans should not hold their breath. The current plan, as we learned earlier this year, is for whoever is WWE Champion by the time the Royal Rumble takes place to defend the title against former champion Dwayne "The Rock" Johnson. While Johnson is open to the idea of facing Ryback for the title, the long-term plan has always been Punk/Rock. Both men want the match, and this is a dream match fans have been dying for. Despite Ryback's push that will likely result in a championship run, it will not be at Punk's expense.
Instead, Ryback is expected to move over to Smackdown! in the next month or so and build towards a feud with current World Heavyweight Champion The Big Show. Rumor has it Ryback is expected to win the 2013 Royal Rumble match and choose to face Show instead of the winner of the Punk/Rock match. One of the main reasons for this is not only to put the World title on Ryback and make him the dominant face of the "blue brand", but WWE are hoping for a major Wrestlemania moment by having Ryback hit Show with his finisher, Shell Shocked.
Although none of this is confirmed as of this moment, these are the plans that have been in the works for a while, and it is highly unlikely they will change all that drastically between now and Wrestlemania 29.
Watch the video of the announcement here: