Huge spoiler regarding the winner of the WWE World Heavyweight championship match at the Royal Rumble
17.23K //
13 Jan 2015, 18:27 IST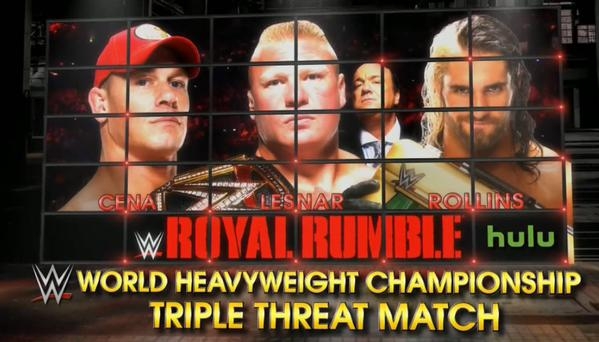 WWE often tries to grab the eyeballs by leaking information online, just like they did last night with Randy Savage. But more often than not, the inside information is leaked by a mole. We can take the example of MetsFan4Life, who leaks the backstage stories, along with the possible results of the PPVs before hand on Reddit.
But once again, WWE might have shot themselves in their own foot, as a new advertisement has surfaced online, essentially giving away the winner of the Royal Rumble main event for the WWE World Heavyweight championship, between John Cena, Seth Rollins and the current champion, Brock Lesnar. Here is what the official advertisement states:
"WWE® WORLD CHAMPION JOHN CENA SLAMS INTO ALLENTOWN DURING WWE® LIVE ROAD TO WRESTLEMANIA AT PPL CENTER ON MARCH 8

TICKETS GO ON SALE THIS SATURDAY, JANUARY 17 AT 10 A.M. AT PPLCENTER.COM

WWE's biggest Superstars, including John Cena, Randy Orton, and Kane, slam into Allentown during WWE Live Road to WrestleMania at PPL Center on Sunday, March 8 at 3 p.m.
Tickets, starting at $15, will go on sale this Saturday, January 17 at 10 a.m. exclusively through PPL Center, online at PPLCenter.com, by phone at 610-347-TIXX or in person at the Mealey's Furniture Box Office located on 7th & Hamilton St. at PPL Center."
This is being advertised on PPLCenter.com, for a WWE live event in Allentown, PA set to happen on March 8th. This would imply that John Cena is going to win the triple threat match at the Royal Rumble to become the new WWE World Heavyweight champion.
Furthermore, it would also give away a part of the WrestleMania main event match, as Cena would be headlining the event, going in as the WWE World Heavyweight champion. Although the advertisement doesn't necessarily mean that Cena would win the triple threat match at the Royal Rumble, as plans can change at any moment, it once again highlights the mistakes made by the WWE in leaking potential storylines.
It remains to be seen whether Cena will win the title at the Royal Rumble, but such mistakes in the past proved costly, and if it is indeed true, then WWE won't likely change the result of the PPV at the last moment, as the road to WrestleMania has already begun, and WWE will have plans almost set in stone leading up to the mega event.