WWE Extreme Rules 2013: John Cena injured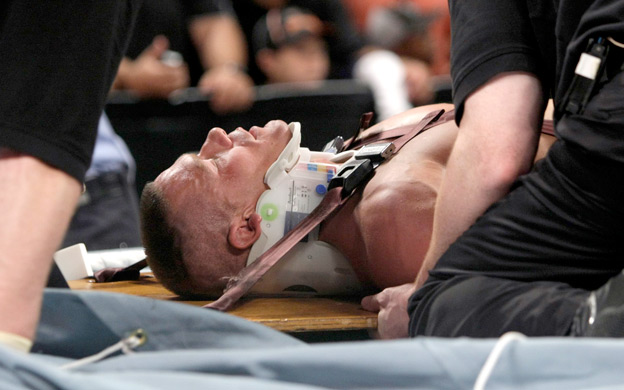 The Last Man Standing Match for the WWE title between John Cena and Ryback at the WWE Extreme Rules pay-per-view, which started off with some high octane action, ended in a No Contest. Here's how the event unfolded:
After fighting against each other for a long period in the ring, both men found themselves amongst the crowd moments after John Cena forced Ryback through the barricade near the time-keeper's area. Cena went for the sleeper hold, placed the semi-conscious Ryback on a table and successfully hit a cross body splash on Ryback, sending him through the table. Ryback picked himself up, but with the help of a fire extinguisher, Cena managed to contain Ryback. This is where everything changed drastically for the 'Champ'. As Cena prepared to finish off Ryback with the "Attitude Adjustment", Ryback countered and speared Cena through the main structure behind the entrance ramp and pyro area. There were sparks flying everywhere.  This is where things took a turn for the worse for the WWE Champion.
The referee rushed towards the scene and found both men unconscious. While Ryback was carried away with the help of a few officials, John Cena was found unconscious and had to be stretchered out with a neck-brace. The injury looked to be really serious. As of now, we have to wait from WWE for the official announcement. But from what we know, the WWE Champion John Cena has suffered a serious neck injury.
"We realise that it's the WWE Extreme Rules, which is the name of the Pay-per-view, but this time it has gone too far." – Jerry "The King" Lawler's apt words on commentary.
Update:
No official announcement has been made yet by WWE regarding the injury of John Cena and Ryback. However, WWE.com reported that while John Cena was carried on a stretcher with a neck-brace, he gained some consciousness but 'refused' to go to the hospital. Distraught reactions from Vickie Guerrero, Teddy Long and Charles Robinson were posted but we are still awaiting an official announcement from the WWE.
It is not known yet how severe the injury would turn out for John Cena. As we know, there have been career threatening injuries earlier for superstars like Edge and Steve Austin.
John Cena has been injured. Both Ryback & John went through the pyro and are getting medican attention. #ExtremeRules twitter.com/IHeartFandoms/…

— #ExtremeRules (@WWEGamesFanatic) May 20, 2013
We will keep providing you updates as they come. Along with the fans, we sincerely hope for John Cena's full recovery.