The real-life feud between Dutch Mantell and Ric Flair just doesn't seem to wither away. Mantell delved deeper into his issues with Flair during the latest Smack Talk episode. The 73-year-old legend finally explained why he was annoyed with the Nature Boy.
The problems arose after Dutch Mantell shared his honest and constructive criticism of Ric Flair's 'Last Match' a few weeks back.
The WWE Hall of Famer hit out at Mantell in a strongly-worded tweet, in which he called him a "miserable old wrestler." Despite posting a tweet that seemed like a white flag from Flair, the Nature Boy is still at odds with Mantell going by his latest comments.
Dutch admitted that he was unhappy that Ric Flair mentioned his name "out of the blue" instead of paying attention to what he had to say about the former WWE Champion's most recent match. Mantell stood by his statements and once again claimed that Flair looked unimpressive in his last in-ring outing.
The former WWE manager certainly didn't mince his words while issuing another tremendous response to Flair, as you can view below:
"I got pissed off because he brought my name up out of the blue. Just, hey, you had a shi**y match! My god! I've had shi**y matches, but I wouldn't attack somebody if they said, 'Hey, it was a shi**y match.' I'd say, 'Sure, yeah, it was!' I'd just got to agree with them because it is what it was. It was worst than the sh**s. It was living sh**s." [2:31 - 3:00]
You can check out the video below:
Dutch Mantell found it odd that a match featuring Jay Lethal and Jeff Jarrett could end up underwhelming.
Mantell called out Ric Flair for being the weak link in the bout and wished the WWE legend had never even stepped into the squared circle in the first place:
"Because what can you do with a dead man in the ring, drag him around?" continued Dutch. "And when you're in the ring with Jay Lethal and Jeff Jarrett, and you can't have a good match or a presentable match, the problem is not them, the problem is not the fans, it was Ric because Ric was in there!" [3:01 - 3:30]
Dutch Mantell calls out Ric Flair for his bizarre post-match excuse
Even Ric Flair has admitted that he wasn't 100% during his highly publicized return to the ring last year. During an interview, the 16-time world champion revealed that he passed out twice during the match due to dehydration, and Dutch Mantell was stunned by the revelation.
Mantell took a shot at Flair's apparent drinking problems and said he'd never heard a wrestler use 'dehydration' as an excuse for their poor performance.
Dutch once again addressed Ric Flair's social media attacks and stated that he'd received a lot of support from his followers over the past few days.
"Then he comes back and says, 'Oh, I'm dehydrated.' I've never heard that excuse in my life. To be dehydrated? Maybe if he didn't drink half a case of beer every day, maybe he might not be dehydrated! But anyway, he wanted to keep it going; I said okay! We'll keep it going. I've also had people come out of the woodwork and say things." [3:31 - 4:10]
Whose side are you on in the heated rivalry between two absolute legends of the business in Mantell and Flair? Share your reactions in the comments section below.
---
If you use quotes from the article, please embed the YouTube video and add a H/T to Sportskeeda for the transcription.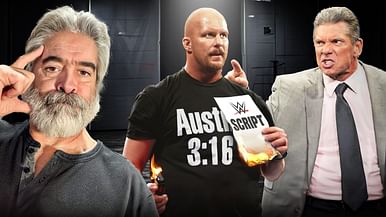 How Stone Cold was born in 2 minutes
Edited by Ashvinkumar Patil