Former WWE head writer Vince Russo recently stated that he wants to see Nia Jax and Piper Niven form a tag team to defeat current women's champions Dakota Kai and IYO SKY.
Jax made her WWE return at the Royal Rumble premium live event as she entered the Women's Royal Rumble Match at number 30. The former women's champion was released from the company in November 2021.
Meanwhile, Doudrop was absent from the company's programming for the last few months and returned with her original name Piper Niven.
Speaking on the latest edition of Sportskeeda Wrestling's Legion of RAW, Vince Russo fantasy booked the idea of having Jax form a tag team with Piper Niven, formerly known as Doudrop.
Russo wants to see Jax and Niven win the WWE Women's Tag Team Championships by squashing the current champions.
"If it's me, bro, if it's me, like next week, I'm booking Nia Jax. I love this, I love this, what is it? Piper Niven now, with no explanation, no no no, she's Piper Niven. Bro, if it's me, I'm taking Nia Jax and I'm taking Piper Niven and I am squashing these two girls next week, ending their run as tag team champions forever." said Russo [28:40 – 30]
Watch the latest edition of Sportskeeda Wrestling's Legion of RAW:
---
Alexa Bliss' heartfelt message to Nia Jax after her return
Jax made her WWE return as a surprise entrant into the Royal Rumble Match. She entered the Women's Rumble at number 30 but didn't last long, as she was eliminated by several stars.
The former women's champion's return is yet to be officially confirmed, and it is also yet to be revealed whether she has signed a full-time contract with WWE. She wasn't present on this week's episode of Monday Night RAW.
In the aftermath of Nia Jax's return at the Royal Rumble, her good friend Alexa Bliss sent her a heartfelt message. Taking to Instagram, the former RAW Women's Champion wrote that she missed Jax.
"*in phoebe voice** OMG !! THAT IS BRAND NEW INFORMATION 😂😂 missed ya!!!"
Bliss was also in action at the Royal Rumble. She was unsuccessful in capturing the RAW Women's Championship after losing to Bianca Belair.
It remains to be seen what is next for both Bliss and her friend Nia Jax as WWE heads toward WrestleMania 39.
If any quotes are used from this article, please embed the YouTube video and credit Sportskeeda Wrestling.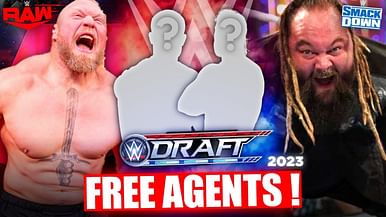 Brock Lesnar and 10 WWE stasr who are FREE AGENTS