Before the Women's Revolution in WWE, there were two icons of the Attitude Era: Trish Stratus and Lita. The duo main evented Monday Night RAW, a first for the Stamford-based promotion. Both of them were incredibly popular and in a league of their own. Trish is also a former seven-time Women's Champion.
SmackDown Superstar Zelina Vega was a fan of both women growing up. She claimed that Trish Stratus influenced her majorly when she decided to become a wrestler.
Speaking on Anna Faris is Unqualified, Zelina recalled her first meeting with the WWE legend.
"When I met Trish Stratus, [she] was one of the people that influenced me a lot when I decided to do this. When I met her, for some reason, the first thing — because I was so nervous — the first thing I said was, 'Oh my God, I hated you growing up,' and she's like, 'Oh, thank you.'" (H/T WrestleZone)
Vega added:
"That interaction, to normal people, made absolutely no sense at all. But for us, it just made perfect sense," she said. "It was just such a compliment to her because I was like, 'Man, you really got me to hate you because I loved Lita so much and you just found ways to make me hate you.'" (H/T WrestleZone)
The WWE Hall of Famer last competed in a singles match against Charlotte Flair at Summerslam 2019 in a losing effort. Nevertheless, her in-ring performance received a ton of praise.
Meanwhile, Zelina Vega entered the Women's Royal Rumble match on Saturday night and put on an impressive showing before being eliminated by Lacey Evans.
---
Zelina Vega is yet to win a World Championship in WWE
Despite taking part in a tryout for WWE and sporadically appearing on television, the 32-year-old wouldn't sign a contract with the global juggernaut until June 2017.
Having held the Women's Tag Team Championship and the distinctive honor of being the first Queen of the Ring, Zelina is yet to win a World Championship in WWE. Last year, the Legado Del Fantasma member reacted to Triple H mentioning an event taking place in Puerto Rico in the future.
"If WWE really does go to Puerto Rico and that does become a thing, I hope that I get the opportunity to challenge for the title because what better way than to be in Puerto Rico, where my family's from, and just be able to have that moment there. That would be the cherry on top of my perfect career. I will not complain about anything else ever," Vega said. (H/T Sportskeeda Wrestling)
It remains to be seen in what capacity Vega and her faction will be used on the road to WrestleMania 39.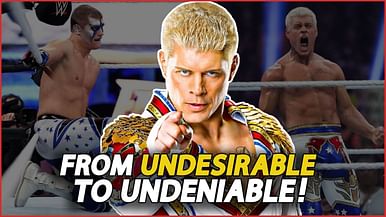 How Cody Rhodes returned to WWE and change pro wrestling forever!