IMPACT Wrestling has added a lot of new faces to their roster over the past few months, but Kimber Lee has been one of the most explosive additions, adding to an incredibly stacked Knockouts Division.
I recently had the pleasure of chatting with IMPACT Wrestling's Crown Jewel, and we spoke all about her short, but impressive, stint in the company, as well as those rumors of the Knockouts Tag Team Championships returning, and just how Kimber Lee differs from Abbey Laith.
Sportskeeda meets Kimber Lee
You can watch the entire video of our interview with Kimber Lee below, or read on for the full transcript.
---
Sportskeeda/Gary Cassidy: So, IMPACT Wrestling — talk about a company that creates their own chance and then absolutely takes that chance.
Kimber Lee, I know you'd only been part of the roster for a couple of months up until Slammiversary and that was just around one month ago, but I need to ask, has there been a shift in mentality in the locker room in that time or has it been a case of, "Right, we got to this point, let's make people realize why"?
Kimber Lee: Like you said, I've been there three months so I don't think I can speak on the overall shift through time but, in the three months that I have been a part of IMPACT Wrestling, everyone has seemed to just want to make it the best place possible for professional wrestling.
I can attest to the women all being women who support each other and we all want to make it a better place, and make it the best place for women's wrestling. That is the mentality I've noticed since day one and I think, because of that and because everybody has that mentality, IMPACT Wrestling is doing the things that it's doing now and it's an awesome thing to see, and I couldn't be more excited to be a part of IMPACT at this time and be a part of it long term.
---
Obviously we mentioned that you debuted back in May. It's only been three months, but you've also most definitely taken your chances. You look like you're in the shape of your life, the form of your life and enjoying wrestling again.
Is the Kimber Lee we're seeing the old Kimber Lee or a completely new Kimber Lee?
I think it's the old me — but improved. I've gone through my own set of trials and tribulations, I've had some dark periods in my life that I've had to get through, and I've managed to get through them and overcome.
I think that defines you as a person and it changes you as a wrestler, too, because that's part of me and I feel like people were starting to forget who I was, and I'm not okay with that.
I came in wanting to remind people just exactly who I am and why I call myself the Crown Jewel, and why I deserve to be at the top of the women's division.
---
Next: Kimber Lee discusses facing off against Deonna Purrazzo and Eddie Edwards' suggestion of the Knockouts Tag Team Championships returning
Sportskeeda meets Kimber Lee
Our interview with IMPACT Wrestling star Kimber Lee continues below.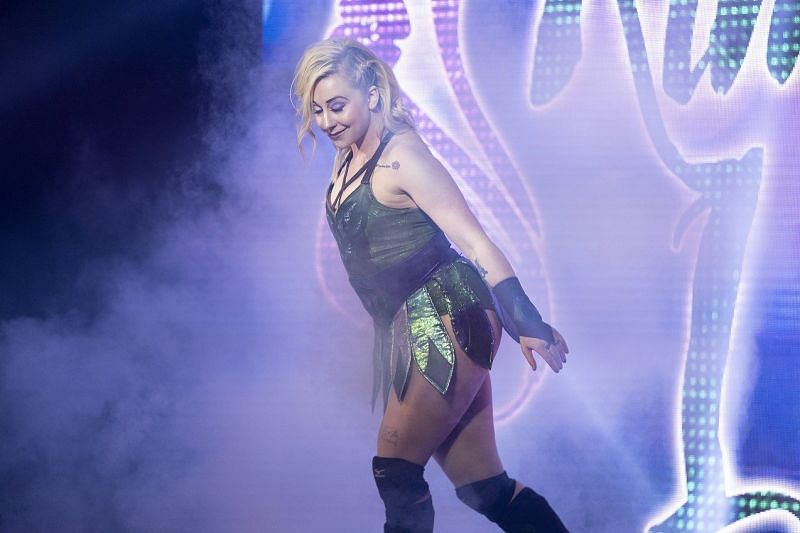 Sportskeeda: We need to go back to a couple of weeks back on IMPACT. You mentioned that you want to make people realize who Kimber Lee is again. If there was ever a match to do that in, it's a match against the current champion: Kimber Lee vs. Deonna Purrazzo.
What was it like being in the ring with Deonna and what is it like just having someone like Deonna Purrazzo in IMPACT?
Kimber Lee: You know, it was awesome. Deonna and I have only ever wrestled one time before this and it has been a few years at this point, so I was incredibly excited to share the ring with her again and on a much bigger platform this time. You know, Deonna is somebody who says it like it is. She is one of the greatest technical women's wrestlers out there.
I don't know if I'd say she's the best because I kind of think I'm pretty good, too, but hey, she's definitely somebody who is a force to be reckoned with and I want to match myself with those people, and getting an opportunity to share the ring with her is a great one. Granted, it didn't go the way I would want to but my Crown Jewel would probably show up with me if it was a title match, wink-wink, nudge-nudge. Now that I've gotten to feel the waters and test her out a bit, I don't know if she would come out victorious the second time.
---
That was a brilliant match and I would love to see Kimber Lee vs. Deonna Purrazzo again at one point. So, onto IMPACT Wrestling Emergence. The rumor is that it's going to be headlined by Deonna Purrazzo and Jordynne Grace.
What's it like knowing that, in IMPACT Wrestling, at any point, any time, anyone can be anywhere on the card? On one end of the scale, Eddie Edwards defending the Championship in the opening match and obviously the women can easily main event. What's it like knowing that that roster is so fluid that anyone can be anywhere on the card?
It's just an amazing feeling to know that I'm a part of something that is so diverse. It gives women opportunities that a lot of places still don't because, even now, with all the progress that we have made, there's still this feeling that the women have to go earlier on the card and that's not the case.
IMPACT lets us show that that's not the case and they give us the opportunities that we deserve but the same goes for everybody on the roster and there hasn't been a time where I felt that the men were more important than the women, which I have felt that in other places, and it's just an amazing thing to be a part of.
---
Next: Kimber Lee discusses intergender wrestling.
Sportskeeda meets Kimber Lee
Our interview with IMPACT Wrestling star Kimber Lee continues below.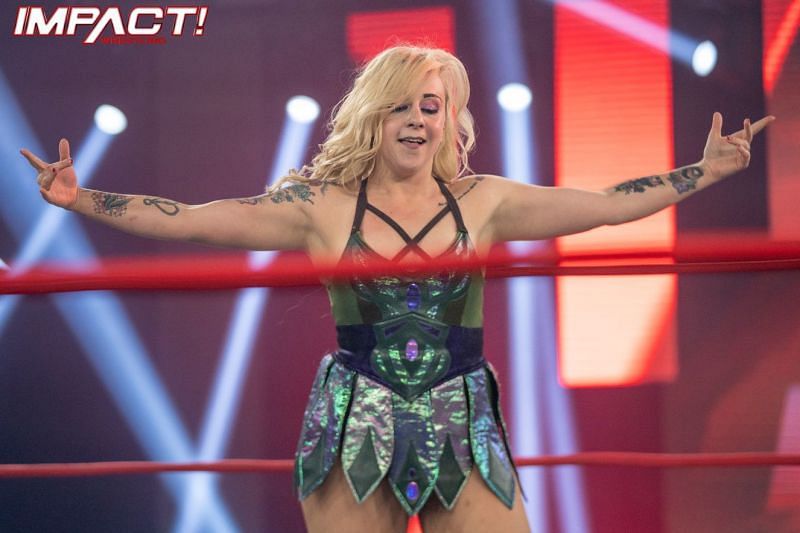 Sportskeeda: One thing IMPACT do really well right now is value their talent. We mentioned that the women's division. You're someone who has never completely restricted themselves to wrestling women.
Intergender wrestling, is that something you would like to see more of in IMPACT Wrestling?
Kimber Lee: Intergender wrestling is something ... Wrestling is wrestling, that's how I've always looked at it. One of my favorite phrases is equal rights, equal fights. I look at us all as wrestlers, I look at us all as equals ...
But the women's division at IMPACT is so stacked that there's nothing wrong with saying I am a Knockout at IMPACT because we are just as good as the men, if not better.
If intergender opportunities were to open up, it's just another competition and it's another match, and I'm going to take it full force like I would if it was a women's match, and I think IMPACT has every opportunity to integrate us all into one and I wouldn't mind seeing that happen but, again, I'm not upset if they do decide to keep a very set women's division because the women are so good and I'm happy to be a part of that, too.
---
You've been in IMPACT for three months and we've seen how stacked the division is, there's a lot of Kimber Lee matches still left to see in that division!
One thing that came up in a recent interview that I'd done, this was with Eddie Edwards, who said that he definitely wouldn't be against seeing Knockouts Tag Team Championships return.
Is that something you would be up for seeing back and, if so, who might we see partner up with Kimber Lee to take the division by storm?
Oh, absolutely! If you've followed my career at all, you know tag team wrestling is one of my favorite things to do and to see that element come back into IMPACT would be just fantastic and it would be something I would want to go for.
The one person I always have to think about when it comes to a tag team is — there's already a Queen, I'm the Princess, so that kind of writes itself, doesn't it? I think me and Madison Rayne could do some damage if we teamed up.
---
Next: Kimber Lee discusses Taya Valkyrie and the Knockouts Division
Sportskeeda meets Kimber Lee
Our interview with IMPACT Wrestling star Kimber Lee continues below.
Sportskeeda: That's a very interesting tag team right there and Madison Rayne was someone that I kind of had in mind for that question so I'm glad you mentioned her.
Madison Rayne is someone who we seem to be seeing a little bit more of her in the ring than we have in recent years of late. What do you think of Madison Rayne? She hasn't lost a step at all, has she? She still looks great.
Kimber Lee: No, absolutely not, she hasn't lost a step. She is exactly where she used to be. She's probably even better than she's been and she's just, like everybody there, a force to be reckoned with and I know I would like to see more of her in the ring, too.
---
So, I had two names written down to team with Kimber Lee. The top one was Madison Rayne and the other was Taya Valkyrie, What's it like working with people like Taya and Madison Rayne who have been in IMPACT for a long time? What's it like being under their guidance and IMPACT since joining?
I mean, it's awesome. I can't say enough how much all the women at IMPACT support each other. Yes, there are women who have been there longer but they don't make you feel less significant just because you haven't been there as long as them. They make you feel like you're a part of the team and they accept you in.
It's just a great place to be a part of and it's all positive energy. I don't feel like I'm walking on egg shells, and I've felt that before. It's not a good feeling. You feel like you've got to watch back at all times and, at IMPACT, I feel like if we were to have a problem come up or something even personal, they would be there for me, even though I've only been there for three months and that's really cool.
---
Next: Kimber Lee discusses the Knockouts Division and her IMPACT future
Sportskeeda meets Kimber Lee
Our interview with IMPACT Wrestling star Kimber Lee continues below.
Sportskeeda: I mentioned a couple of the veterans there, and we've mentioned how stacked the IMPACT Knockouts Division is. But if someone has just started watching IMPACT, say at Slammiversary, who is the one Knockout that you think, "Man, people need to be paying attention to her"?
I'm going to guess you would say yourself but maybe aside from yourself, who is the one person that people should definitely be paying attention to?
Kimber Lee: Hmm. I think people need to keep an eye on the team of Tasha Steelz and Kiera Hogan. Both of them have so much energy and they're little firecrackers. They make me laugh and cry, and get mad — all at once — in their matches. They're going to do something great together, they absolutely are, and I would not sleep on those two.
---
We are going to compare two names here and I want you to tell me the difference between them. Let's mention the name Abbey Laith and let's mention the name Kimber Lee. What is the difference between Abbey Laith and Kimber Lee?
I would say Abbey was a girl who didn't really know who she was. She was grasping at straws, trying to be something in a place where she didn't really get the opportunities that she needed to show herself forward.
Kimber Lee is a persona that has been with me for a very long time, I have grown into that — and she had to kind of hide for a little while but now she's coming back full force and there's nothing to hide any more, and I get to be me, and that's the difference.
So, we know Kimber Lee is in IMPACT for the long haul. What are Kimber Lee's plans in IMPACT Wrestling going forward? What do you want to achieve in IMPACT Wrestling?
I want to be the greatest — not just women's wrestler, but the greatest wrestler IMPACT Wrestling has ever seen.
---
Thank you so much to Kimber Lee for taking the time to chat with us, and to IMPACT Wrestling for setting up the interview. You can follow Kimber Lee here and IMPACT Wrestling here.
You can watch Kimber Lee on IMPACT weekly every Tuesday at 8pm PT on AXS TV in the US or via IMPACT's Twitch channel. UK viewers can watch IMPACT on Wednesdays at 9PM UK time on Fight Network UK.
Stay tuned with Sportskeeda for more IMPACT interviews coming very soon.