Paul Heyman finally revealed who had the idea to pair him with Roman Reigns back in August 2020.
Reigns turned heel when he returned at SummerSlam 2020, attacking Braun Strowman and The Fiend. He then introduced Heyman as his new manager moving forward. He won the Universal Championship a week later at Payback and has held it ever since.
In an appearance on Rick Rubin's Tetragrammaton podcast, Heyman discussed the origins of his pairing with The Tribal Chief. He revealed that it was Vince McMahon who came up with the idea of Reigns having Heyman as his manager.
Heyman even thought that McMahon wanted him to become a commentator after he was removed as an executive director.
"Vince calls me in the middle of August and he says, 'We're gonna take you back into television," Heyman said. "I'm thinking, 'Oh, oh. He's gonna make me a commentator and Jim Ross isn't here. ... I said, 'Okay, well, what do you got in mind?' He says, 'I'm going to put you with somebody.'"
He added:
"I said, 'Well, you know Vince, the options are kind of limited in that.' I'm trying to tiptoe into a delicate situation here where I'm about to butt heads with him. ... He goes, 'I'm envisioning Roman Reigns with Paul Heyman.' I'm thinking, 'Oh my God. He's gonna pull the trigger on this.' He would never pull it with Cena. He would never have allowed Cena to come to the dark side." (h/t WrestlingNews.co)
Paul Heyman was the perfect manager for Roman Reigns when he turned heel for the first time since he was a member of The Shield. Heyman has done wonders for Reigns' character as The Tribal Chief, and they will celebrate three years together in a couple of months.
---
Roman Reigns is one of six world champions Paul Heyman has managed
Paul Heyman is already one of the greatest managers in WWE history. The Wiseman has managed a WWE record six world champions, including Roman Reigns, Brock Lesnar, CM Punk, Kurt Angle, The Big Show, and Rob Van Dam.
Reigns has been Universal Champion for more than 1,000 days under Heyman, while Lesnar's longest reign with him was 503 days. CM Punk reached 434 days as WWE Champion when he started his reign with Heyman.
With The Bloodline story far from culminating, Roman Reigns and Paul Heyman's partnership will not be ending anytime soon. There's also a lack of top SmackDown stars to challenge Reigns for the Undisputed WWE Universal Championship.
---
Who do you think has the best chemistry with Paul Heyman among the WWE Superstars he has managed in his career? Give us your answer in the comments section below.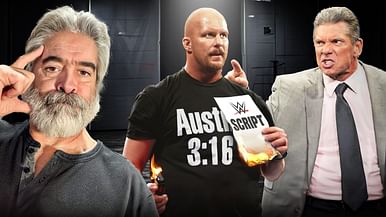 How Stone Cold was born in 2 minutes