WWE Superstar Alexa Bliss hasn't been seen on RAW or SmackDown for nearly two months now, with her last appearance coming at the Royal Rumble. Reports indicated she was on a hiatus before the five-time women's champion dismissed them. Bliss has remained active on social media, providing various updates about herself.
The latest one was of a facial procedure she recently underwent. Little Miss Bliss took to her Instagram story to reveal the effects of it. The treatment helped remove the tanned patches on her face.
Bliss even left a "message" for her younger self, stating that she should have stayed out of tanning beds. She thanked the American Skin Institute in her story as well, which you can view HERE for a few more hours.
Here is what she said:
"Dear younger me, you should have stayed out of tanning beds. All clear now though! Thank you @americanskininstitute for taking great care of me," wrote Alexa Bliss.
Check out a screengrab of the Instagram story below:
The WWE fan who tweeted the screengrab from Instagram expressed concern for Bliss, with the current RAW star replying that she is doing okay.
Here is what Alexa said in it:
"Thank you! Don't worry, short healing time. Always get your skin checked! Esp if you are in the sun or use tanning beds! Lol," she tweeted.
Check out a screengrab of the tweet: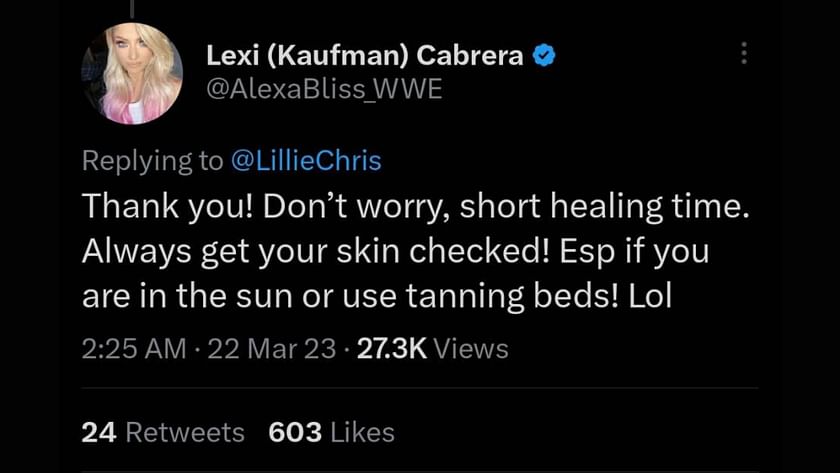 It remains to be seen when the five-time women's champion returns to WWE. We at Sportskeeda Wrestling wish the best for Alexa Bliss amid her current absence.
---
Alexa Bliss could return to WWE alongside Bray Wyatt
Before she was gone from WWE television, the company teased a potential reunion between Bliss and Bray Wyatt. She was confronted by Uncle Howdy as well, while the former Universal Champion essentially guaranteed they would have an angle together at some point following the Royal Rumble.
Wyatt is also currently absent from RAW and SmackDown, with major doubts over his participation at WrestleMania 39. It isn't known if he will return in time to face Bobby Lashley at The Show of Shows, but a storyline with Little Miss Bliss could be imminent and serve as a minor reset for his character.
Do you think Bray Wyatt and Alexa Bliss will return to WWE together? Leave your predictions in the comments section below!
Who was Rhea Ripley's first crush? Find out here.
Poll : Do you want to see Bray Wyatt and Alexa Bliss reunite?
279 votes