WWE SmackDown Women's Champion Rhea Ripley recently sent a bold warning to the future winner of the Women's Money in the Bank ladder match.
On July 1st, the O2 Arena in London will host the 14th annual Money in the Bank professional wrestling Premium Live Event. The show will see multiple women compete in a ladder match for the Money in the Bank briefcase, which contains a contract for a future Women's Championship match.
In a recent interview with Battleground Podcast, Ripley stated that she was not worried about losing her title to anyone.
"Look, I prove every single week why I'm the most dominant woman here in the WWE. So, whoever wins Money in the Bank, whoever becomes number-one contender at any point, I'm not really that worried because I'm just gonna prove to them once again exactly who Rhea Ripley is and what I am capable of. I'm gonna hold on to this championship for as long as I possibly can," she said.
The SmackDown Women's Champion added:
"Obviously, people do surprise you and things happen that are unexpected but I don't really just have a set of two eyes. I also have Dom Dom, Finn, and Priest. So, if it ever looks like I am in doubt or I am in trouble, which doesn't really happen too often, I also have them. We're there for each other, we're a family, and we're a close net unit. So, I can only see us taking over and I'm not losing my championship to no one. So, I'm not really too worried." [From 3:07 to 4:03]
Check out the entire video below:
Rhea Ripley addressed the fall of The Bloodline and what it means for The Judgment Day in WWE. Check out her comments here.
---
Rhea Ripley commented on possibly having intergender matches in WWE
Rhea Ripley has confronted several male superstars since joining the WWE main roster in 2021. She even had a one-on-one intergender match against Akira Tozawa in December 2022, which she won.
In an interview with FOX 61, The Eradicator addressed the possibility of seeing more intergender matches in WWE.
"I'm not too sure. So, for me, I would like to see it just for the pure fact that I also love beating up the men. I love showing them exactly who I am and proving my dominance. And it's a different kind of excitement for me because you get to see the fear in their eyes when they realize that they've taken you lightly. Like they didn't take you as a threat to begin with. So, I hope so for me, but I'm not too entirely sure what the future holds," she said.
Rhea Ripley says one of her boyfriends accepted Seth Rollins' apology; the other seeks revenge. Check out her comments here.
---
Please credit Battleground Podcast and give a H/T to Sportskeeda if you use the above transcription.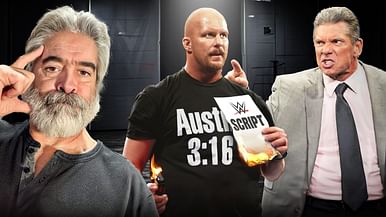 How Stone Cold was born in 2 minutes
Edited by Gurjyot Singh Dadial