WWE Women's World Champion Rhea Ripley recently sent a message to Jimmy Uso after Jey Uso refused to join The Judgment Day on the latest episode of RAW.
Rhea Ripley didn't appreciate Jey Uso's actions from Monday Night RAW. During his match against Drew McIntyre, he superkicked members of The Judgment Day and chose to be on the side of the babyfaces rather than ally with the heels and become a part of The Judgment Day.
Ripley, who was not on RAW this week, shifted her attention to Jimmy Uso following the actions of his brother. She sent a message on Twitter to the former Bloodline member in a friendly tone. Jimmy is currently on SmackDown and has been trying to get back into The Bloodline.
"Hey Jimmy… What's up Uce?" wrote Ripley.
Check out Ripley's message to Jimmy Uso:
Vince Russo suggested a huge twist in the Cody Rhodes-Jey Uso storyline
Vince Russo previously suggested that a huge twist could possibly take place in the storyline between Cody Rhodes and Jey Uso.
Speaking on Sportskeeda Wrestling's Writing With Russo, Russo claimed that if he were in charge of booking the storyline, he would have Jey associated with Roman Reigns.
"What I'm doing is...a lot of stuff that I throw out there, they're intricate storylines and they take weeks and weeks and weeks and weeks and weeks. If I'm writing the storyline between Jey Uso and Cody Rhodes, then Jey is still connected to Roman [Reigns]. But we don't know that and I'm trying to paint Jey Uso as a babyface and maybe certain things and situations and circumstances happen where it may look like Cody Rhodes is the heel. And that's the picture Jey is painting."
With Jey having formed an alliance with Cody Rhodes, WWE is likely to book a huge multi-man match featuring the babyfaces against The Judgment Day. It remains to be seen whether the match will be at Survivor Series.
---
What are your thoughts on Rhea Ripley's message to Jimmy Uso? Sound off in the comments section below.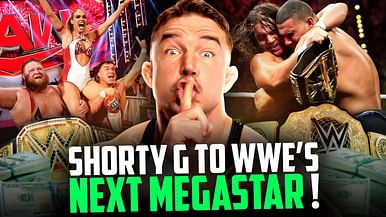 Why Chad Gable could be the next WWE mega star