Former WWE head writer Vince Russo was unhappy with Cody Rhodes being booked in a match against Chad Gable.
The American Nightmare faced Alpha Academy's Chad Gable this week on RAW. Rhodes put on a great show for the audience as he used the Cody Cutter and followed it up with the Cross Rhodes on the former tag team champion to secure a huge victory.
On this week's Legion of RAW, Russo stated that WWE was pandering to the intelligent fans with this match. He detailed that if Cody struggled against a mid-carder like Gable, it would hurt his credibility against a dominant champion such as Roman Reigns.
"They're looking at Chad Gable and Cody Rhodes being a great match. I just saw the Meltzer awards, Gable was like the number five Best Technical Wrestler on the Planet. That's what they're looking at. Oh, this is going to be a great, little match. The internet is going to love this match. Yeah, you're going to love this match if you believe in fake fights. Everybody else was like, number one, what is the point of this match? Gable, no way is he going over. Then number two, we're going to get a 50-50 match that does nothing for Cody. Absolutely zero, bro." [7:30 - 8:20]
You can watch the full video here:
You can catch the full results of Monday Night RAW here.
---
Cody Rhodes will be on SmackDown this week
After the win against Gable, Cody Rhodes got on the mic to greet the audience. He mentioned that he hasn't been in the same ring as Roman Reigns since their WrestleMania match was made official.
The American Nightmare said that he knew The Tribal Chief would appear on SmackDown this Friday and announced that he would also be in the same arena.
Later, in a backstage interview with Cathy Kelley, Paul Heyman mentioned that Rhodes was looking to upstage the Undisputed WWE Universal Champion on his own show and that The American Nightmare would also be dealt with if required.
Are you excited to see Rhodes and Reigns in the same building on SmackDown? Sound off in the comments section below.
---
If you use the quotes from this article, please embed the YouTube video and add a H/T to Sportskeeda for the transcription.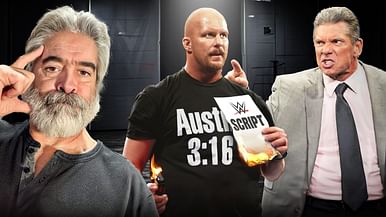 How Stone Cold was born in 2 minutes