Bill Apter recently explained how watching The Bloodline's relentless beatdown on Kevin Owens in the closing moments of WWE Royal Rumble 2023 made him sick.
Roman Reigns defeated KO in the main event of the Royal Rumble last Saturday. Though the match itself was great, it was the aftermath that left the fans stunned. Reigns, The Usos, and Solo Sikoa humiliated Owens by handcuffing him to the ropes and ensuing a beatdown for the ages as Sami Zayn looked on in horror.
After the former Honorary Uce attacked The Tribal Chief in frustration, The Bloodline, except for a conflicted Jey Uso, brutalized Zayn as well to close the show. Speaking on Sportskeeda Wrestling's The Wrestling Time Machine podcast hosted by Mac Davis, Bill Apter stated that watching the attack on Owens made him "sick."
The wrestling veteran also praised Jey Uso's development for being conflicted and walking away instead of joining his stablemates in attacking Sami Zayn.
"It made me sick at the end of that... When Jey Uso walked out, that made such a statement because he had become, originally, he didn't even want Sami Zayn in The Bloodline... and they became like almost best friends; they just worked out something. Sami Zayn hit Roman Reigns with that chair because they kept attacking Sami's best friend [Kevin Owens]. I'm sure he was still Sami's best friend," said Bill Apter.
Bill Apter also mentioned that he was "horrified" to see how long the beatdown lasted. He also wondered why WWE officials like Adam Pearce didn't come out to control the situation, which spiraled out of control.
"He just couldn't take it anymore. But it horrified me how long the beating went on... What bothered me, was where were all the suits when that went down. Why didn't Adam Pearce and all the other officials come and stop that?" (20:25 - 21:37)
Check out the full episode below:
---
Do you want some Bloodline magic in your home? Get official merchandise at THIS LINK!
---
Bill Apter opines on a civil war between The Bloodline in WWE
At this week's Sportskeeda Wrestling's UnSkripted, Bill Apter pitched the idea for a civil war between the members of Bloodline.
He stated that going by how Jey Uso refused to attack Zayn and Owens, he should join hands with the two to take on Roman Reigns, Jimmy Uso, and Sol Sikoa in a six-man tag team match.
"What I wanna see is Roman Reigns, Jimmy Uso, and Solo against Jey Uso, Kevin Owens, Sami Zayn. Six-man tag team match. I would pay to see that," said Bill Apter.
With WrestleMania 39 inching closer, fans can expect The Bloodline saga to only get more heated and intriguing with every passing week.
What do you make of The Bloodline's attack on Kevin Owens at Royal Rumble 2023? Sound off in the comments section below.
---
If any quotes are used from this article, please embed the YouTube video and credit Sportskeeda Wrestling.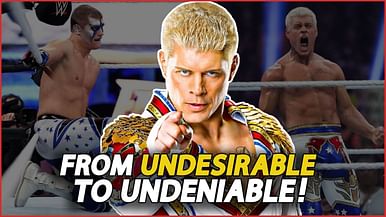 How Cody Rhodes returned to WWE and change pro wrestling forever!
Edited by Arpit Shrivastava