Zelina Vega, Bianca Belair, and other WWE stars have reacted to Carmella's heartwarming update ahead of RAW.
Carmella has been on hiatus from the promotion due to her pregnancy and recent birth of a baby boy. Her husband, SmackDown commentator Corey Graves, has also missed the past couple of episodes of the blue brand due to the newest addition to their family.
The veteran has been off of WWE television since her loss to Bianca Belair on the March 6 edition of RAW. Earlier today, the 36-year-old shared a video of her newborn son and claimed that he was playing it up for the camera:
"Absolutely swooning over this newborn shoot we did today with @annewilmusphotography. He's a little ham for the camera and I just can't stand it. 😩🫠🥰," she posted.
Zelina Vega, Megan Morant, and Nia Jax, among other stars commented on her post on Instagram. Bianca Belair, Renee Paquette, and many more wrestling stars also liked the post, as seen in the image below.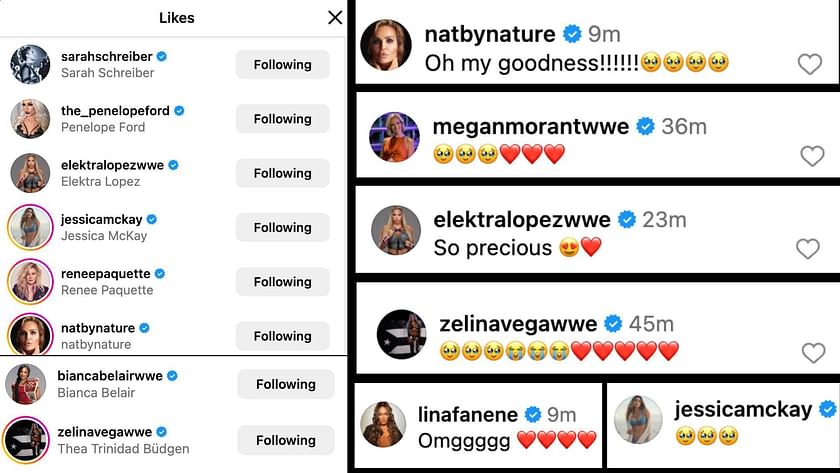 ---
Carmella sends a message to her haters amid WWE hiatus
Carmella recently sent a message to fans who complained about her posting updates about her pregnancy.
The inaugural Women's Money in the Bank winner has not competed in a televised match since her loss to Bianca Belair on the March 6 episode of RAW. The veteran kept fans updated during her pregnancy, but some people didn't seem to enjoy the content.
She took to social media recently to inform fans that she was not going to stop posting about her pregnancy. The former champion included a clip of Marv from Home Alone 2 yelling "Never!" to get her point across:
"It's hilarious to me how much men have to say in the comments… stay mad, Greg ✌🏼#pregnancy #momtobe #pregnantstyle #pregnancydiary #maternityfashion," she posted.
Kevin Owens and Hall of Famer Road Dogg have filled in for Corey Graves during his absence from SmackDown commentary. It will be interesting to see when the happy couple returns to WWE television.
Are you looking forward to Carmella's return to WWE? Let us know in the comments section below.