Punk-a-thon - A season of Punk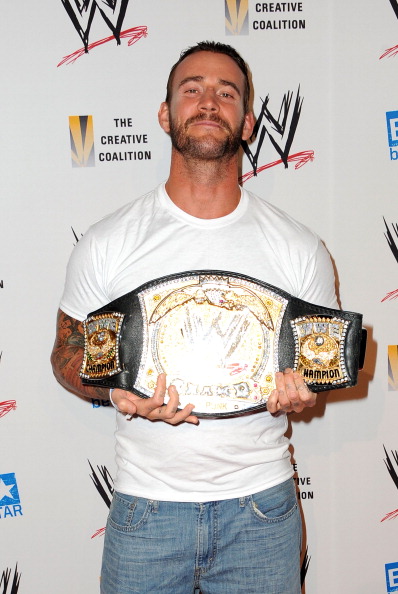 When the clock struck midnight last night we saw CM Punk walking out of the Survivor Series Pay Per View as the WWE champion, after his triple threat match against Ryback and Cena. All roads are now leading to The Rock vs CM Punk at the Royal Rumble. Chances are that The Rock might end the "tyrant" reign of CM Punk (which hardly does justice to the man's real life persona), with Punk getting put over by The Rock, Cena winning the Rumble and facing Rock for the second "once in a lifetime match" WrestleMania, once again. I think there is no need for a guy like The Rock to put over Punk. He is not in the business full time any more. From a business point of view, The Rock should get put over Punk at Rumble. It would be better for the business if CM Punk wins and then later drops to someone the WWE think will be the next moneymaker at WrestleMania, and then a new star would be born. Let us not get into that right now, and just stick to celebrating a year of Punk, truly the "Best in the World".
CM Punk surely has come a long way from being a guy who was never looked upon as being the top guy in the WWE. CM Punk is not the guy who you would normally associate as the WWE champ. He is not 290+ pounds. He is not jacked. He has tattoos all over his body. He is anything but what WWE perceives to be their top guy. Once on commentary during WWE NxT with Scott Stanford, when asked what does CM stand for, he mockingly replied: "Company Man", which he was certainly not.
Many of you might think why there is a big fuss about a guy being the champ in a scripted stunt show for a year. There is more to it than meets the eye. Pro-wrestling is not fake, it's scripted. The blood, the pain and sweat, all are real. Try falling off a four-foot table or taking a power slam from a friend. Only then you will know what I mean.
Despite the misconception that all injuries are scripted, it does hurt. All the Indy wrestlers go home sore after wrestling every weekend at their local wrestling show living a carnie life. The wrestlers at WWE are on road 300 days a year. No one, I repeat no one works that hard in any sport or sports entertainment. The broken down bodies of wrestlers from yesteryear like 'The best there is, the best there was and the best there ever will be' Bret 'the Hitman' Hart, who suffered severe damage to his spine while he was wrestling over the years and was paralyzed for a year. They do all this for us, the fans. In Punker's words,
"We put our lives in each other's hands and whether you like me, you hate me or you love me, we do it for each & every one of you!"
It takes more than just talent to be the number one guy in the company. The powers that be should like the guy and most importantly the fans should "like" or "hate" him depending upon whether the guy is a "face" or a "heel", rendering him marketable. Getting a no-reaction is a sin in the pro-wrestling business. So, to remain the champ for such a long period in the era where musical chairs is the mode for determining champs, is an achievement worth the noise.
His reign might have started off at Survivor Series in 2011, but CM Punk's career took a complete U-turn when he cut that promo on RAW a few weeks before the Money in the Bank PPV. That promo will probably rank amongst one of the best in the history of professional wrestling because it broke the thin line between kayfabe and reality. I vividly remember watching it unfold on the last segment of RAW, Punk with a sit down pose on the ramp near the titantron, speaking the truth in every sense possible. I still get goosebumps listening to it. The promo is a slice in the life of every man who has ever been looked over when he truly deserved something. He went from being one of John Cena's "gangstas"(extras) in his gangsta car at WrestleMania 22, to beating him for the title at Money in the Bank, to one of the loudest pops I have ever heard in my life at Chicago, and then walking out with the WWE title. That is truly a story of a Cinderella man. CM Punk was on the verge of quitting WWE and going back to the Independent scene where he was the uncrowned King of Independent Wrestling. In his documentary, when asked why he changed his mind and stayed with the WWE, he said:
"I'm a guy for all intents and purposes, never should have even made it to WWE. I've had road blocks after road blocks after road blocks thrown into my way. But not only I got passed those roadblocks, I did it while flipping off the people who put those road blocks. I feel I have a responsibility to the younger wrestlers on the roster, the ones who aren't signed yet, and the future of pro-wrestling as a whole to help make this place BETTER and change this place. I certainly can't change it by sitting on my couch in Chicago"
That's a leaf we all can take out of CM "Phil Brooks" Punk's book. We certainly can't change anything sitting on our couch. *CM Punk! CM Punk! CM Punk!……..* There I go chanting as the light fades away.