We are back with our daily edition of the Royal Rumble Roundup, where we will discuss stories related to the upcoming premium live event. The show will mark the beginning of the Road to WrestleMania Hollywood, and fans are excited to see the surprises that could unfold on the first of WWE's big-4 annual shows.
Today's list discusses rumors about massive returns and backstage plans for Hall of Famers, known to be among the biggest draws in the company's history. Here, we look at the biggest news and rumors surrounding Royal Rumble that have dominated WWE headlines in the last 24 hours. So, without further ado, let's begin.
Disclaimer: The following article may contain possible spoilers for Royal Rumble 2023, and readers are advised to proceed cautiously.
---
#1 Edge and Beth Phoenix are rumored to make a huge return at Royal Rumble 2023
Legendary WWE Superstars Edge and Beth Phoenix are rumored to be making a massive return at the upcoming premium live event. The real-life couple made their last televised appearance together in October last year. At the time, The Rated-R Superstar was involved in a brutal feud with Judgment Day.
He became frustrated after being betrayed by the group he created, which led to his rivalry with Finn Balor. Both superstars locked horns in an intense "I Quit" Match at Extreme Rules 2022. Edge was forced to say "I Quit" to avoid risking an attack on his wife, Beth Phoenix. But Rhea Ripley hit Phoenix with a violent con-chair-to as Judgment Day celebrated Balor's victory.
Edge and Phoenix are expected to return to the Royal Rumble with vengeance on their minds. The latter might cross paths with Rhea Ripley in the women's match, while Edge will potentially battle Balor during the 30-man battle. Rumors suggest that WWE initially had a massive Hell in a Cell bout planned between Balor and Edge, but the creative team could now also book a mixed tag team match.
---
#2 Backstage plans for 'Stone Cold' Steve Austin among other legends on the Road to WrestleMania Hollywood
Backstage rumors claim that WWE hopes to bring legendary names such as John Cena, The Rock, and 'Stone Cold' Steve Austin for WrestleMania 39. The latter's appearance seems to be the "surest" thing as long as he feels comfortable with what he is given. Wrestling Observer Radio's Dave Meltzer was recently quoted as saying:
"[John] Cena is a 'probable,' and Dwayne [Johnson] is a 'possible,'" while "[Steve] Austin is probably the surest of the three (...) it's just a question of how he feels, and he's gonna do what he feels like doing," said Meltzer.
Austin wrestled at WrestleMania last year, facing Kevin Owens in an entertaining match. He appeared on the second night following an impromptu bout between Pat McAfee and Vince McMahon.
The Hall of Famer stunned Austin Theory and Vince to celebrate an epic in-ring return after 19 years. Steve Austin seemingly wants another match at WrestleMania and could kickstart his feud as early as Royal Rumble.
---
#3 Will The Undertaker appear at WWE Royal Rumble 2023?
WWE confirmed that The Undertaker is headed to San Antonio, Texas, which is also the venue for Royal Rumble 2023. The Phenom will host The 1 deadMAN Show on January 27 at Tech Port Center + Arena, where he will share stories from his career panning between kayfabe and real life.
This led to several speculations regarding his role at the upcoming premium live event. Although there are no updates on The Undertaker potentially appearing on the show, he is expected to remain backstage.
It should be noted that The Undertaker is scheduled to appear for RAW XXX next when the red brand will celebrate its 30th anniversary. The announcement led to several fans speculating over a possible interaction between The Deadman and Uncle Howdy.
Read more about other surprise returns planned for WWE Royal Rumble 2023 on Sportskeeda Wrestling's Royal Rumble Roundup.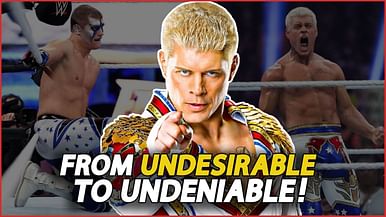 How Cody Rhodes returned to WWE and change pro wrestling forever!