New reports have emerged on how Triple H and company officials selected the specific stars to enter into the ongoing tournament to crown a new world champion.
This past Monday on RAW, Seth Rollins outlasted five other stars to qualify for the World Heavyweight Championship match at Night of Champions on May 27, with one SmackDown star set to join him soon.
Ringside News recently explained why WWE officials left certain stars out of the current tournament and why specific ones were chosen to compete for the belt.
"WWE is preparing to crown a new champion, but they need to get a tournament out of the way first. There were only so many spots in that World Heavyweight Championship tournament, and some people were left out for a good reason. We were told by a tenured member of the creative team that, 'These were the matchups that made the most sense considering where we're going.'" (H/T Ringside News)
Although the title will be exclusive to Monday Night RAW, many have been left confused as to why six SmackDown stars have been put in the tournament for the new world championship.
Triple H was a big fan of a recent WWE match
This past Saturday in Puerto Rico, WWE hosted the Premium Live Event Backlash, with Bad Bunny vs. Damian Priest being one of the standout matches of the show.
Speaking on Sportskeeda Wrestling's UnSKripted, WWE Legend Savio Vega, who made his surprise return during the bout, commented on Triple H's reaction to the match.
"He congratulated everybody. He talked to Bad Bunny; he talked to Damian Priest. Shook my hand, Carlito's too. He said, 'Wow, what a show.' He was in the director's seat with Bruce [Prichard], and yes, he came out of his seat and congratulated everybody," said Savio Vega. [23:40 - 24:05] (H/T Sportskeeda)
Check out the full video below:
Since Triple H took over as WWE's head of creative last July, it can be argued that the overall quality of RAW, SmackDown, and the monthly Premium Live Events have significantly improved.
How would you rate Backlash out of 10? Let us know in the comments section below.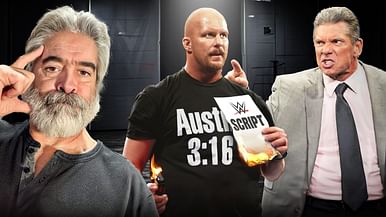 How Stone Cold was born in 2 minutes