"Free agent" is a term that can be applied to many wrestlers right now following WWE's staff reductions last month, but only one person right now can claim to be the Hottest Free agent - and that's Tay Conti!
Conti, formerly known as Taynara, was quietly released by the company, but the talented Brazilian's departure made waves all across the wrestling world.
I had the pleasure of catching up with the former NXT Superstar and judo specialist recently, to chat all about her release, THAT t-shirt, which WWE Superstars Tay will keep in contact with, and aspirations of wrestling in Japan!
Sportskeeda meets Tay Conti
You can watch the full interview in its entirety below, or keep reading for more!
---
So, the one place we need to start off is your recent release from WWE. Funnily enough, there had been rumors of your release before the mass exodus, which resulted in a certain t-shirt... We'll get on to that soon. What I want to ask is, did your release come as a shock to you and how did you find out you were being released?
Well, yes, it was a shock for me because I asked for my release, like, a couple of months before. I wasn't happy there and we were trying to figure out something, right? And then I was not able to get my release, so we were okay after then, I gave myself one more chance to try because I had no option, right? Because I had a contract - but, yes, everything was good. I was having matches and everything was fine so, yeah, I didn't expect to be released. They called me and they were like, "Yeah, you're released". So I was upset, of course, at first. I had to give myself, like, a couple of days to understand and to put everything in the right place but, yeah, that was sad, to be honest.
---
For me, I thought you were one of the most exciting prospects in NXT, and unlike anyone we've ever seen before! You obviously have a great look, an amazing background in judo and the fans were behind you, which is proven by your 100,000 Twitter followers.
Why do you think it didn't work out?
For me, it worked out. I didn't have much chances to show you guys all I can do, so the minimum chance I had, I was doing everything that I was able to do there because all I had pretty much was, like, a four-minute match, three-minute match to put somebody else over, so my job was to make people look good. And I need to do my job. I'm professional. If they say, "You need to make her look good," I need to do it, but then I think, in a couple of moments, I was able to find pieces in the match, moments that I was able to show a little bit of what I can do, who I am and my personality, my abilities. Not so much because, of course, that was not the time for me to do it.
---
Next: Tay Conti discusses THAT t-shirt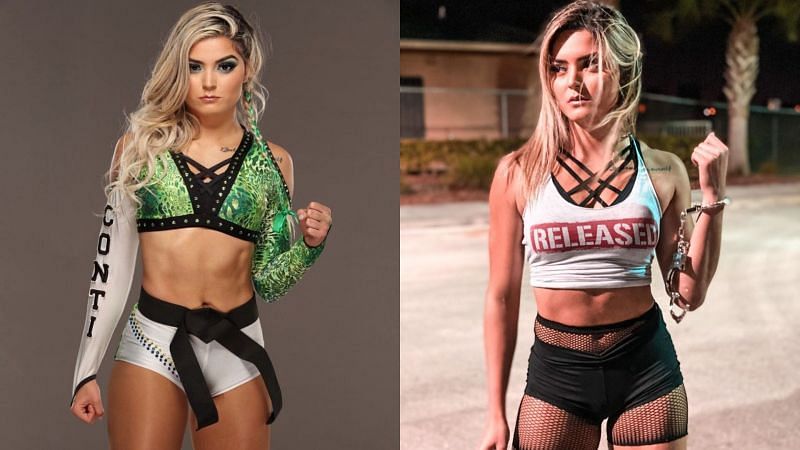 Okay, and we mentioned the t-shirt briefly, but there were rumors that came before that. There were reports you'd "stormed out" and left WWE, then you returned with the "released" t-shirt on it. Could you clear that up? Did you walk out and, if so, how did you end up coming back?
So, I didn't ask for my release right away, right? I was unhappy, so I was trying to find a way to be happy and to do my job well. To be, like, good for me and good for the company. I was talking to them, and I was asking, like, for options. Like, "Hey, can you give me an opportunity to show this better? What should I change? Do I need to change anything?" I was giving them ideas and everything but then the feedback was always really good. They said, "Don't change anything, we don't need you to change," but then they didn't use me, so I was getting so frustrated and I was like, "Well, I don't want to work here if I'm not happy," you know?
I can't do a good job if I'm not happy. It's not good for me and it's not good for the company. I was just trying to find that balance. Then, when we "finally got it" - because it never happened - it was like, okay, we had a couple of conversations, so I took a couple of weeks away from wrestling to figure out everything in my mind because you need to be healthy. I was just trying to get better and when we figured out everything and I was getting back to the live shows, the live events, and it was like, "Well, since everyone is putting on social media that I got my release, why not? Let's try it. I'm going to get a T-shirt and I'm going to try to change, a little bit, my gimmick."
And that had a back story and everything for this. That was not just something like, "Hey, let's mess it up, let's put a T-shirt, let's go there." No. I put everything on paper. I was like, well... And plus, when everyone decided to put on social media that I got released, I was very okay with WWE. That's the funniest part. When everything went on social media, I was very good with them. We had our last conversations and we were good. It was like, "Well, I don't know what you guys are talking about." But then it was like, "Yeah, let's try to do it." The idea behind it was like, I'm getting released from who I was before. That was the idea. I was never able to show that, but that was the idea. You know, like, "Here is my handcuffs, and getting released from who I was in the past." Now it's a new Taynara, or whatever. That was the idea. But it didn't work out. They didn't really like it. I don't know how they took the release T-shirt, probably not well because I was not able to use it again. But yeah.
---
Next: Tay Conti discusses her WWE run
You now have a "released...for real now" shirt which is incredible!
For real!
But I need to ask, when can you compete elsewhere? Do you have a 30-day non-compete?
So, that's a good question because I've never talked about it. I don't even know if we can talk about it. It's really soon. Next month, I'll be okay. Since I don't know, I prefer not to say an exact day, but yeah. Next month, I'll be okay.
It's pretty much like it's contract-wise, so we need to, you know, to be honest, and do what the contract says because I signed it before, and I need to do it.
---
Okay, so you're at home - for right now, at least. What are you doing to pass the time?
Well, I started to study again! I'm doing digital marketing. So I'm so excited. Yeah. So excited. And I've been doing it in Spanish, so it's a little bit harder for me but I'm doing it. Yeah, so I'm having the time to put all my projects, all my goals on the paper and be able to organize everything, so I'm happy. I'm happy.
---
Looking back, how do you remember your run in WWE? Was it a good experience?
What were some of the highlights?
Let's see. I think... Of course, the most important moment that I will have forever with me is the WrestleMania moment. I never thought it would be so soon. I know that was like a pre-show or whatever but I was in a WrestleMania ring, you know. How many people can say that? Not much! It's a dream, pretty much.
Of course, that was never my dream before because I never watched wrestling before but, since I stepped my foot in the PC and in WWE, I was like, "I need to be better, I need to be bigger," because that's how I am. I was born to do my best. I was like, "Yeah, I want to be there." And when I got the call, last minute, they told me, and I was like, so excited, so happy. That was, of course, the most important moment for me there.
---
Next: Tay Conti discusses where she wants to compete next
So, you're a free agent now...
The Hottest... Sorry! Sorry to cut you off! The Hottest Free Agent! Sorry.
No, no. You're right, we need to address it correctly, you ARE the Hottest Free Agent!
I need to ask, what's next? Firstly, will you continue wrestling and, if so, where would you like to compete?
Yeah, I will be in the wrestling business for sure. I have a big... Like, BIG dream to go to Japan. I really want to wrestle in Japan. I don't know when it's going to happen, I don't know how, but I will make it happen. You know, because that is a big step for me. But I want to do it all, you know, 'cause I don't know anything about wrestling outside of the WWE. Everything is so new for me, so I'm excited. I want to learn, I want to live everything. All the companies, I want to know everything. I want to meet new people. I want to wrestle with new people and learn from them. I'm just so excited. I'm not sure about my next step but I'm sure that I will do my best.
---
Next: Tay Conti discusses who her best friends are in WWE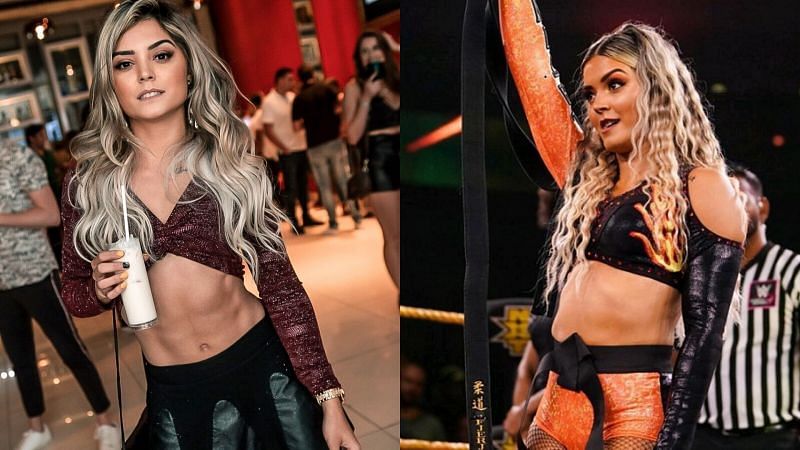 So, you spent a few years in WWE. I'm sure you made some amazing connections. Before we started recording, you told me I sound like Nikki Cross!
Who are your best friends in WWE? Who will you keep in touch with?
Well, I have a couple of people I will keep in touch with for sure but, like, Nikki has my heart. Nikki is different. Nikki and Raul Mendoza. They are like... I have no words for them. Since day one, Nikki was so helpful and I had, like, my first matches against her, so she's so special. She always helps me with everything. I'm so thankful to have her, to have Raul, Raul's always in my house, we're always together. I really like a lot of people there, but those two are like my bestest friends there!
She's amazing. Oh, wait, wait, I'm going to show you something then. Stay here.
Look what I have here!
That was like a really special moment. Yeah, it's a special moment. I was not able to go to her wedding because of my visa. I didn't have my visa... The right visa to travel back then and I was helping her to choose the dress for her wedding, so it was a really special moment.
---
Finally, what are you most excited about going forward now that you have this opportunity to spread your wings?
Japan. Japan, for sure. I don't even need to think. It's like, it's one thing that I will do for sure. It's something that came before WWE. It's something from my passion for judo. I've had this dream since, I don't know, since I was eight, nine, so it's something bigger than everything else. You know, I need to do it. I want to be able to go there, to learn, to have matches, so I'm so excited for that.
---
Thank you so much to Tay Conti for chatting with me.
You can follow Tay on Twitter here and check out her merch via her own site here or via Pro Wrestling Tees here.