Sportskeeda meets The Good Brothers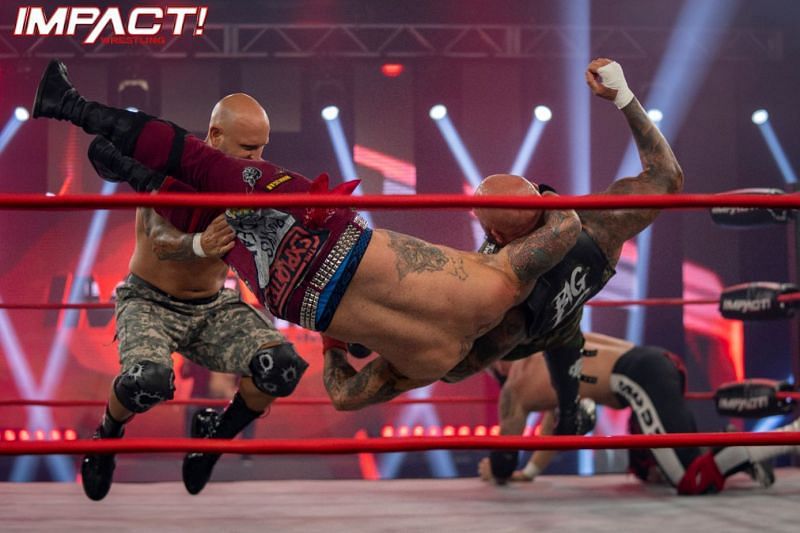 Like I said, you've most definitely made an immediate impression and got EVERYONE talking! I keep referring to you guys as "needle-shifting" talents, someone who brings eyes to the product. I spoke to World Champion Eddie Edwards last week, he very much echoed that sentiment.
But the one thing I need to ask, you guys aren't the only new arrivals in IMPACT. Of course, there's Eric Young, Heath, EC3 and Brian Myers. Do you know personally if you guys were the first to sign out of that group and, if so, did any of them ask you any advice - or was it the other way around?
Gallows: Well, yeah, we were all talking. We're all friends. We were all talking leading up into this and I think it came off beautifully. Like you said, EC3, EY, Brian Myers, Heath. It came off great. But yeah, we were talking a lot. Karl and I have had success outside of WWE, so a lot of times, people come to us to ask. Especially someone like Heath who was in that system for 14 years. They don't necessarily know what it's like outside, so we don't mind helping our brothers along when they need it but I think we were a huge part of that.
---
Definitely, and that's the one thing that I think so many of you turning up, obviously you guys I mentioned being a huge name but there's people that have never been outside of WWE. The one thing that I need to ask before we get into everything that's going on in IMPACT right now and how fun it is. There's one man that you guys are very good friends with who is somewhat of a legend in IMPACT and TNA in AJ Styles. Did you guys ask him for any advice before you signed, and what was his reaction to you signing?
Gallows: He called when he knew that it was actually confirmed but, you know, he's busy doing his schedule in WWE and we were busier than we've ever been. Putting together all the stuff we're working on so he called and said he was happy once it was done but I don't think we ever actually went to AJ for advice on whether we should do it or not.
Anderson: Ultimately, we're going to talk AJ Styles into coming back to IMPACT. That's what we're doing every single day. We're texting him and telling him to come back.
---
That would be incredible! We keep mentioning yourselves and the other new arrivals. I'm going to assume that if I ask you, "Which new arrivals will have the biggest, pardon the pun, impact in IMPACT?" you will say yourselves so let's take you guys out of the equation. Which of the other guys do you think is going to be like a rejuvenated talent in IMPACT and someone the world has to see?
Anderson: I thought... Gallows said this earlier that Heath... What Heath can do when he comes back and just being able to stand out, show what he can physically do is going to be awesome, man. And Brian Myers. People really haven't gotten a chance to see what Brian Myers can do. He's a talented brother. And of course EC3 has had a main event run in IMPACT before, and then Eric Young was obviously the World Champion. There are so many things that got picked up at Slammiversary and the TV after, and it's an exciting time for impact.
Gallows: Yeah, I mean, you throw that in there and you've got the Motor City Machine Guns, one of the greatest tag teams in IMPACT history. They are making a surprise return, too, which I almost felt the most bad for them because I loved how that was positioned to open the pay-per-view but if we had had a live audience, they would have got one hell of a pop when that music hits.
I loved that that you guys were like a decoy for them turning up because everyone expected you to answer the open challenge. Those guys come out and it's double as exciting because we know we still get you guys later on the night and the Motor City Machine Guns at the start, it was absolutely great.
---
Next: The Good Brothers discuss the IMPACT locker room