Dwayne Johnson's mother, Ata Johnson, is thanking the heavens for surviving the latest tragedy. The 74-year-old cheated death, not for the first time, on Wednesday evening in Los Angeles.
The Rock's mother is one of the most respected individuals in the wrestling industry. Her absence would have left a massive void behind. Read on to find out how it nearly came about.
Ata Johnson was involved in a terrifying car crash last night. The news was broken by her son on his official Instagram handle. Dwayne Johnson noted that his mother was left a bit shaken by the incident, but "she'll survive and continue to get evaluated."
Ata Johnson is the adopted daughter of legendary wrestler Peter Maivia. She has been be The Rock's pillar of support throughout his life. An elder member of the Anoa'i family, she was recently seen cheering at the Alamodome in Texas during the Royal Rumble 2023 event.
Dwayne Johnson's mother is a fighter. She went through a tough marriage with Rocky Johnson, with whom she split in 2003, and even battled lung cancer. Angels are watching over Ata Johnson, as pointed out by The Rock, and the wrestling world is glad about it.
---
What life lesson did Ata Johnson give to Dwayne Johnson?
Behind every successful man is a woman. The Brahma Bull often talks about his close relationship with his mother. He regularly shares anecdotes and throwback pictures to show his appreciation for the woman who made him who he is today.
The People's Champion has massive respect for his mother and follows her advice in the letter. He recalled how Ata Johnson wanted him to stay humble despite his standing in the world during an interview.
"My mom would always tell me, 'Listen, you can see whomever you want. But always, always, always treat them nice like you would treat me. Always.' That's what she would tell me, so that's how I was." [H/T Essentially Sports]
The Rock has come a long way from being the 14-year-old who was evicted from his apartment with his mother for not paying rent on time to being one of the highest-grossing Hollywood stars.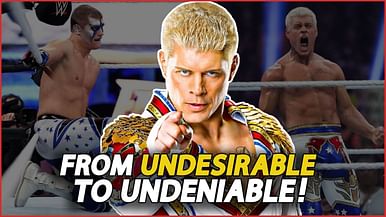 How Cody Rhodes returned to WWE and change pro wrestling forever!