What is wrong with CM Punk?
5.05K //
13 Mar 2013, 13:23 IST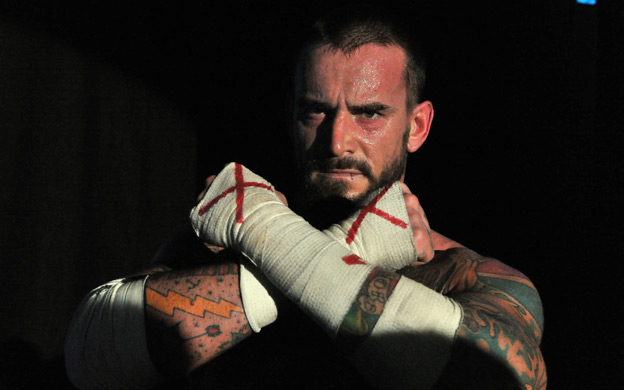 If you've read my previous articles, you'd know that I'm a big fan of C M Punk. I've followed Punk since his Ring of Honour days, and from then, it was quite obvious that he was destined for greatness. He wasn't like the others; he had a different aura. Whether he claimed to be different because of his straight edge ways, or because he was a Second City Saint, there was something in him that set him apart from the rest. He would go on to have many memorable matches in Ring of Honour with the likes of Austin Aries, Samoa Joe, Christopher Daniels etc, and true to his statement, he cemented himself as one of the best wrestlers in the world.
When Punk came to WWE, the big league, very less people had faith in him. Those who followed Punk believed that he could set himself apart anywhere. But in a place like WWE, that would always be difficult. But true to the faith of those few, he reached the upper echelons in the WWE when he won the World Heavyweight Championship. Still, Punk was 'one of the guys'. People saw nothing in him that would set him apart. Also, the fewer opportunities he was getting made him mad. And the fact that he proved himself time and again that he was one of the best performers and one of the best wrestlers, but got him nowhere, tested his resilience. Punk then did an Austin. He wanted to leave the WWE, and requested an open mic to deliver one of the most famous promos in wrestling history. Something changed that night in the WWE. Punk had that moment that he was desperate for, that one thing that set him apart from the rest. The 'Voice of the voiceless' was born.
From then, Punk saw a dream run where he became the WWE Champion, and was the face of the company for over a year straight. That is something people can only dream of. He became the number 1 guy in the WWE, something he so desperately wanted. WWE also saw a fresh resurgence of stars such as Daniel Bryan and Zack Ryder, who were always liked and supported by the fans and the Internet Wrestling Community. By the end of 2011, everything was rosy in the WWE as far as the Internet Wrestling community was concerned.
I've always given Punk his due. There are only a few who can bring in the reality aspect during promos like Punk can. Like Austin, his tone and aggression sets him apart from the rest on the mic. The fact that people are taken seriously happens very few times in the WWE, because the rest become monotonous. But for the past few months, C M Punk has become the same. When he claimed to be a 'spoke on the wheel', we saw glimpses of a Messiah, someone who'd give us something different than the same shtick that comes out every week from the likes of Cena, Orton and the rest. And for a good period of time, we did. We received better champions, better matches and better storylines. But as often as it happens in the WWE, all good things came to an end. And CM Punk was becoming stale. His character needed a change. And that was when Rock came back to the WWE.
During the 1000th episode of Monday Night RAW, CM Punk turned heel completely when he attacked Dwayne. After that, Punk held the title for several more months, and during this time, he had become what he accused John Cena of. Even though he was the most entertaining aspect of the 3 hour show, Punk became a corporate puppet. He was no more a rebel that we all fell in love with, something that only Stone Cold could do. Austin carried it on for nearly 3 years, which is nothing short of amazing, and which was what I expected from Punk. But for the WWE, Punk was another way to churn some cash out of the smart fans' pockets, and that is what they did.
With the new CM Punk shirts and accessories, WWE outsmarted the 'smarks' (smart fans). While it is true that an individual can sometimes rise above the corporate juggernaut (note Steve Austin), no one can rise above Vince McMahon. With Austin and Punk, Vince gave us a glimpse of what can happen when he puts the fans above money. While it is a double edged sword, that is where Vince has outsmarted every other fan. When you create an Austin or a Punk by giving what the fans want (and what the industry needs), you create more revenue and generate more money. And when that wears off, like it is happening with Punk, you go back to the alternative, which was the Rocks and Triple Hs back in the Attitude Era, and the John Cenas and Randy Ortons of this era.
I'm not accusing Punk of doing anything wrong on purpose. But Punk has become a 'Corporate Guy'. You say that to anyone and that makes them mad, and correctly so. No one wants to be a corporate puppet. But when you're in the WWE, there is only one guy who calls the shots, and while occasionally you do break the glass ceiling and rise above the corporate machine, that isn't permanent. Would they allow Punk to do whatever he wants? No. And if Punk wanted, he could make WWE even more interesting. He was himself in Ring of Honour, which was why he had a character of his own. CM Punk was CM Punk, but when you're in the WWE, you are what McMahon wants you to be. Punk's character has become stale for his standards. You do not want CM Punk to be another John Cena, and which is why he has to come up with some new dimension for his character. Austin didn't have to be edgy. Austin didn't become predictable, because the storylines back in the Attitude Era were phenomenal. Sadly, that isn't the case now. Punk's feud with Undertaker so far has been perfect; Punk is great as a heel. Why? Because he does all the little things right. Those are the things that matter. Hopefully, by the end of the feud, Punk will find his edge back. It's not a delight for a fan to think that a superstar is getting stale, especially if he's the only reason to watch the show.