Damian Priest is currently a member of WWE's The Judgment Day alongside Rhea Ripley, Finn Balor, and Dominik Mysterio, and their bond is extremely tight.
While on After the Bell, The Prince shared that Rhea Ripley is like Damian Priest's little sister or cousin, as she is someone he always looks out for. On the other hand, Finn feels like the latter is his brother, while he views Dominik as his nephew.
"I feel like I'm the uncle of the group in a way. Damian's like my brother, Dominik's like my little nephew that I'm taking care of, and Rhea is like Damian's little sister, or little cousins that he's looking out for all the time." (42:24-42:40)
Why did tensions rise between Finn Balor and Damian Priest on WWE Money in the Bank?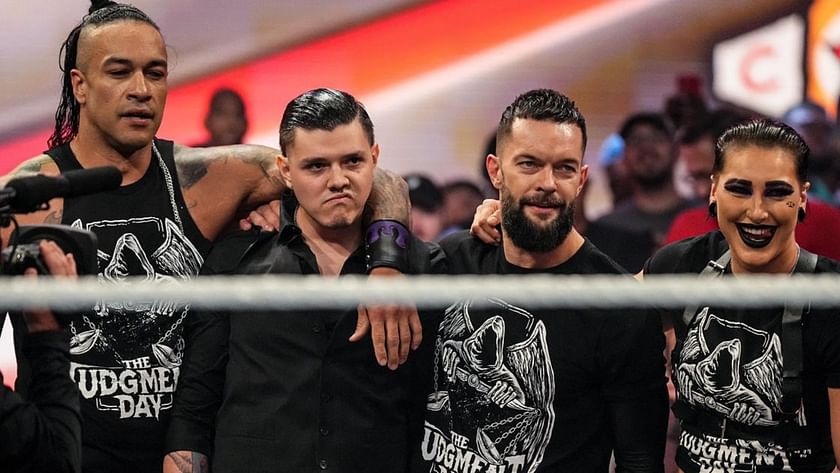 It's been known that Damian and Finn are not having the best relationship lately. However, this may change after what transpired in WWE Money in the Bank.
Damian Priest became Mr. Money in the Bank this year and ensured his fellow Judgment Day member knew this. During Finn's World Heavyweight Championship against Balor, the 40-year-old appeared with the contract and distracted Finn. Due to this, the latter was unable to win his title bout.
Despite this interaction, Damian Priest shared that their relationship is still good. During the post-show press conference, he even said Finn Balor was like his brother, and his act was to pressurize The Visionary instead.
"Look, sometimes there are misunderstandings, and to be fair, we have had few lately. But, as far as The Judgment Day is concerned or Finn Balor and I are concerned, we're brothers, everything is good. I think he wasn't sure if I was there to cash in on him, which wasn't the goal, it wasn't an idea of mine, I did not want to do that."
Which WWE Superstar could replace Damian Priest in The Judgment Day?
With Mr. Money in the Bank 2023's status in the group now possibly on thin ice, The Judgment Day may already be looking for his replacement.
It should be noted that in recent episodes of WWE RAW, JD McDonagh made some recent appearances in the background of The Judgment Day. At one point, he was even seen interacting with Balor backstage.
It will be interesting to see if Damian will be eliminated from The Judgment Day or if the WWE heel faction will remain together despite the building tensions.
Please credit After the Bell and give a H/T to Sportskeeda Wrestling for the transcription if you use the above quotes from this article.