The 2023 Men's Royal Rumble match has come to an end but without setting a staggering record. Rey Mysterio's record for the longest appearance in the match has come to an end.
This year's Royal Rumble had its fill of surprises. Edge returned at No. 24 while Beth Phoenix gave some good ol' karma to Rhea Ripley. NXT commentator Booker T briefly returned to the ring, delivering a Book End followed by a spin-a-roonie moment. Logan Paul also showed up, but Cody Rhodes, the last entrant, eventually booked his ticket to WrestleMania Hollywood.
Rhodes was met with heavy resistance from Gunther. Both gladiators battled it out at the end for over five minutes. There were times when both superstars almost got the better of the other but some strategic maneuvers negated the threat. The Ring General was eventually thrown over-the-top rope after a Cross Roads.
Gunther left a huge impression on the audience in his first-ever Rumble appearance. He started at No.1 against Sheamus and went on to eliminate multiple stars including the Banger Bros. and the returning Booker T. The performance became even more historic when he broke Rey Mysterio's 17-year long record.
In 2006, Rey Mysterio shocked the world by eliminating Randy Orton to win his first Royal Rumble Match. He lasted 1 hour 2 minutes 12 seconds, a record which was believed to be insurmountable.
Tonight, The Ring General beat that record by a long margin. As pointed out by Michael Cole after the Men's Royal Rumble came to an end, Gunther lasted 1 hour 11 minutes and 25 seconds. Mysterio wasn't part of the action to witness his record getting broken though.
On a side note, Daniel Bryan previously held the record for the longest Rumble appearance, lasting an hour and sixteen minutes in the Greatest Royal Rumble 2018. However, his record is not acknowledged by WWE since he left the company in 2021.
---
Gunther wanted to be a part of the Royal Rumble action for a long time
The current Intercontinental Champion has had a spectacular main roster run. No sooner had he debuted on SmackDown, Gunther wreaked dominance on the roster. His efforts paid off as he became the Intercontinental Champion in June 2022.
The 35-year old wasn't a part of the Rumble proceedings until now. Prior to making history, Gunther expressed his desire to fight in the 30-Man match, claiming the contest to be "fantastic" during a recent interview.
"I always enjoyed the Rumble. I think when I was a fan watching, I liked the Royal Rumble even more than WrestleMania. So yeah, if the chance is there to be part of the match that would be absolutely fantastic."
Leader of The Imperium, Gunther is probably going to continue his rivalry with the Banger Brothers leading up to WrestleMania Hollywood.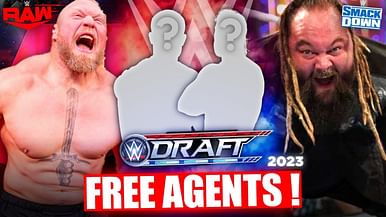 Brock Lesnar and 10 WWE stasr who are FREE AGENTS
Edited by Ashvinkumar Patil