Fans consider Dwayne Johnson to be a legitimate contender in a potential WWE sale. One of the highest-paid actors in the world, Johnson has the monetary backing as well as wrestling experience to be a favorite going into the bidding wars.
WWE has experienced major shake-ups this year. Vince McMahon returned to the Board of Directors to pursue plans to put WWE on sale. His daughter, former co-CEO Stephanie McMahon, announced her departure on the day Vince became Executive Chairman.
During these events, rumors of WWE being sold to Saudi Arabia took the wrestling world by storm, but they were eventually deemed fake. Still, Saudi's PIF is eyeing a potential sale along with major companies such as Netflix and Amazon. AEW's Tony Khan is also keeping a close watch on the matter.
Dwayne Johnson gave his honest opinion in the event of WWE going on sale. Stressing the need for the buyer to have a passion for wrestling, The People's Champion hinted at not being interested in buying the company by repeatedly using 'they' during an interview:
"The fan base is very large and very passionate and there's nothing like the WWE. So, I think with the new owners, if there are new owners, and acquirers that are gonna come in, I think they have to share that same passion for the company and for the world of pro wrestling which isn't always easy to do."
The Rock revealed that he had a "my plate is always full" mentality. His hectic Hollywood schedule, combined with the expectations of wrestling fans, made him a part of a constant tug-of-war. However, the wrestler-turned-actor is keen to fight new challenges:
I used to have this mentality … that, 'Well, my plate is full. However, I'm going to make room for [more]' — and I would find a way to do that," he said. (H/T CNBC)
Could The Rock have a change of mind when WWE goes on sale? Buying and managing the wrestling entertainment giant would be the biggest challenge of his life. Time will tell whether such an event pans out, although it seems Dwayne will be focusing mostly on his acting goals and familial life.
---
Dwayne Johnson reportedly made more than $30 million USD in 2022
2022 was the year of The Brahma Bull even though he only starred in two movies. Formerly a part of the superhero franchise DC's grand plans, Dwayne Johnson bagged notable roles in movies such as DC's League of SuperPets and Black Adam.
Portraying an anti-hero, Dwayne Johnson's Black Adam was a moderate success at the box office. It earned him more than $20 million, following great success in its initial stages. The arrival of Avatar 2 and Black Panther: Wakanda Forever hampered the movie's success substantially.
In total, Dwayne Johnson earned $32.5 million for his roles in two movies. He has more exciting projects to look forward to this year.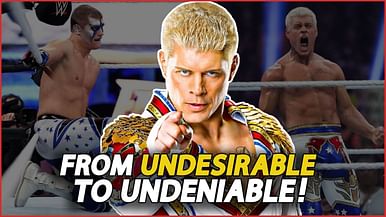 How Cody Rhodes returned to WWE and change pro wrestling forever!