We all haveseen them on the television screen or the arenas itself rocking the ring and putting ona show as faces or heels in the company. WWE superstars are celebrities in their own rights and are famous personalities recognized all around the globe. But superstars sometimes tendto forget their stardom personaand commit acts that put them in the headlines for all the wrong reasons.Rash driving, DWI and offences like assaults are some which they seem to indulge in very often. And several of them were arrested for their offensive acts which did not escape the eyes of the law. Here is a compilation of mugshots of WWE superstars which you may or may not have known about but should definitely see.
#15 The Big Show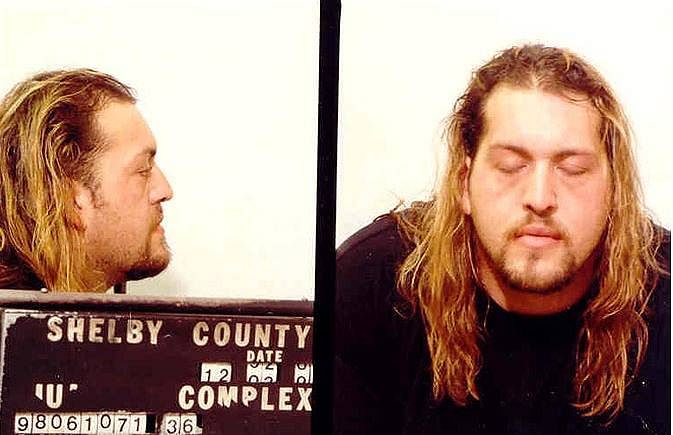 The Big Show. Paul Wight, the 500-pound wrestling star, was arrested in December 1998 by Memphis cops for allegedly exposing himself to a female motel employee. The criminal case, though, was subsequently dropped due to insufficient evidence.
#14 Jimmy Uso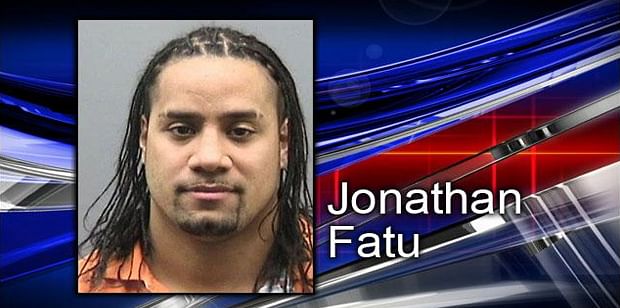 Jonathan Solofa Fatu, better known as SmackDown competitor Jimmy Uso, was arrested and charged with Driving Under the Influence on March 13, 2013 in Hillsborough County, Florida. He was released on $500 cash bond the same day. Fatu was previously arrested on September 29, 2011 in Tampa, Florida, on "suspicion" of driving under the influence. An officer stated that he saw Fatu driving the wrong direction down a one-way street.
#13 Scott Hall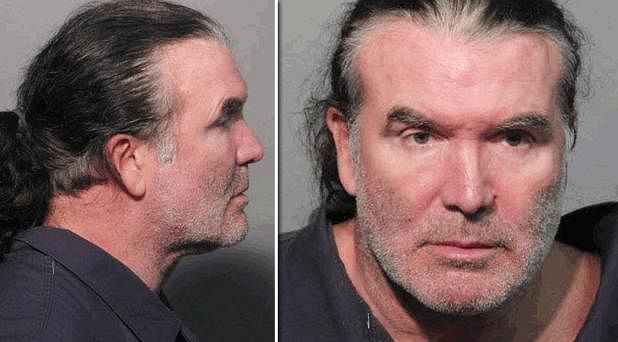 Wrestler Scott Hall was arrested after he allegedly assaulted his girlfriend. The former WWE star, who was known as Razor Ramon was arrested when officers were called to his home to address a domestic disturbance. He was booked on a domestic violence charge, but Howell is not interested in pressing charges. Before that Hall also had previous encounters with the law. In 1983, Hall was charged with second degree murder after a man died in an altercation at a bar. Charges were dropped due to lack of evidence, but in a documentary for ESPN, Hall admitted to killing the man with the man's own gun.
#12 X-Pac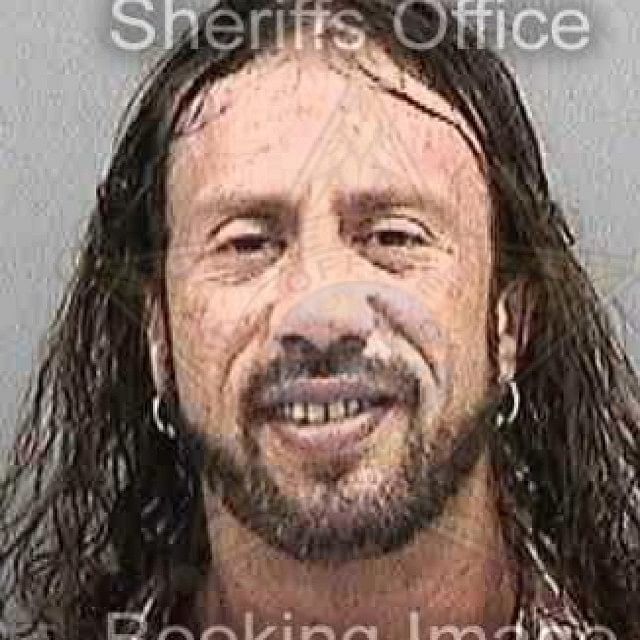 Sean Waltman aka X-Pac was arrested in St. Petersburg, FL for possession of hydrocodone and drug paraphernalia. He was booked on $2150 bond. Hillsborough County Sheriff's Office had confirmed that Waltman was arrested for possession of hydrocodone and drug paraphernalia.
#11 Andre The Giant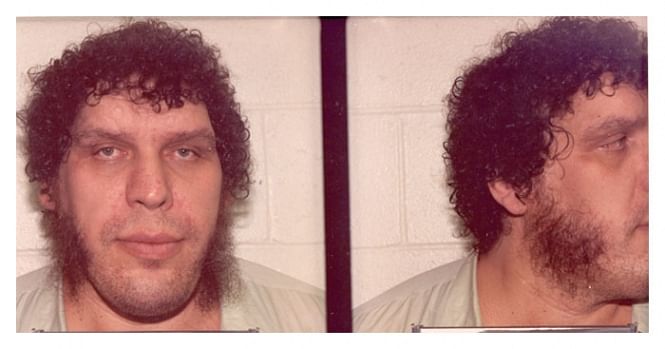 After allegedly roughing up a TV cameraman, the 540-pound wrestler was arrested for assault by sheriff's deputies in Linn County, Iowa. Andre the Giant (aka Andre Roussimoff) was arrested by the Linn County, Iowa sheriff in August 1989 and charged with assault after the 540-pound wrestler allegedly roughed up a local TV cameraman.
#10 Lita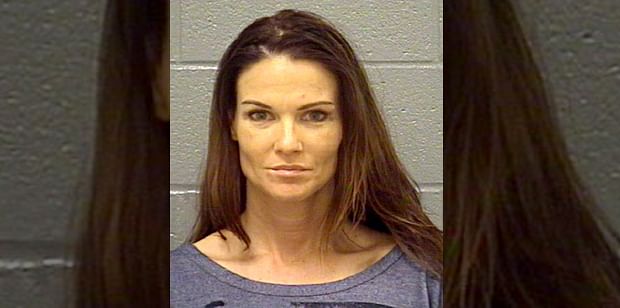 Former WWE Diva Amy Dumas, who wrestled as Lita, was arrested in Augusta, Ga. and charged with speeding in excess of maximum limits and driving with a suspended or revoked license.
#9 Kurt Angle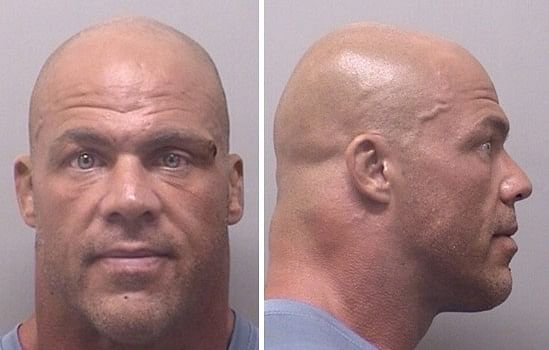 Kurt Angle has a long history with alcohol-related arrests. In 2007, he was arrested for DUI in Pennsylvania. He was then arrested twice in 2011- once for being drunk behind the wheel of his parked car, and once for DWI. He has been arrested 4 times in 6 years for alcohol related incidents
#8 Eddie Guerrero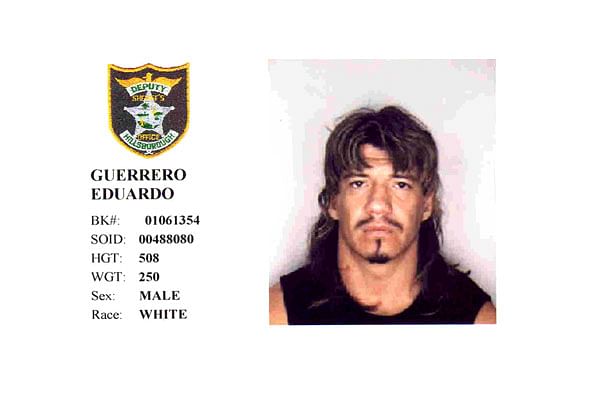 The late Eddie Guerrero was arrested by Hillsborough County, Florida sheriff's deputies in November 2001 and charged with driving under the influence. Guerrero pleaded no contest to the DUI rap and was sentenced to probation and ordered to attend an alcohol education course.
#7 Booker T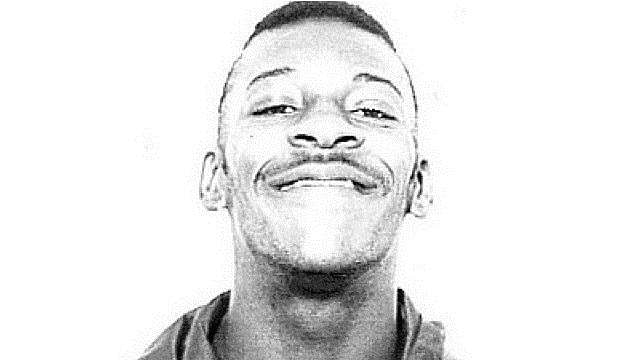 WWE wrestler Booker T. (real name: Booker Tio Huffman) was arrested in 1987 after committing several armed robberies of Wendy's restaurants in Houston (at the time, Booker flipped burgers for the chain). Booker subsequently pleaded guilty and served 19 months in prison.
#6 Brock Lesnar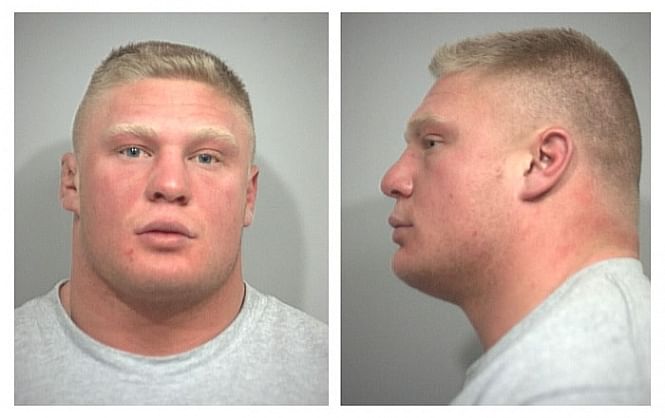 Brock Lesnar was arrested in 2001 for illegal possession of steroids. Brock beat the felony charge four months later when tests revealed that the items in question were not steroids.
#5 Chris Jericho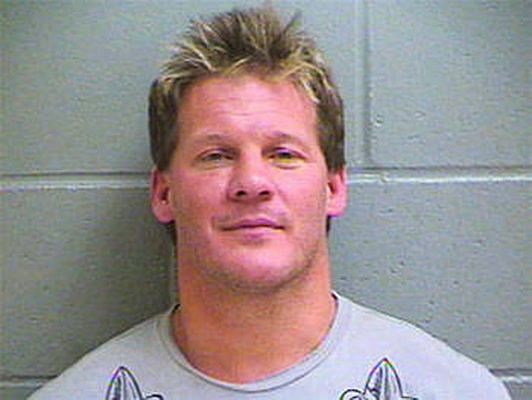 Chris Jericho was arrested in Kentucky along with fellow wrestler Gregory "Hurricane" Helms early Wednesday morning on charges of public intoxication after the two were reportedly brawling in a taxi.
It was reported that police were called to the Shell station because Jericho and Helms had been fighting in a cab, and quoted police as saying both were "extremely intoxicated."
#4 Jeff Hardy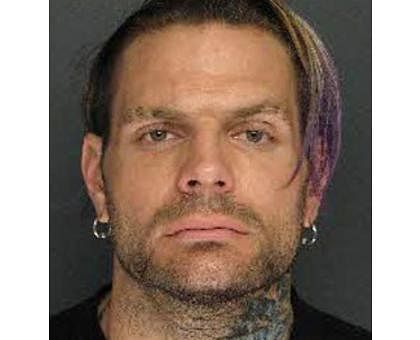 Former WWE champ Jeff Hardy was arrested on grounds of drug trafficking charges after police discovered a significant quantity of drugs in his Cameron, N.C., home. Hardy was charged with felony trafficking in opium, two counts of felony possession with intent to sell or deliver a Schedule III controlled substance, felony maintaining a dwelling to keep a controlled substance, felony possession of cocaine and misdemeanour possession of drug paraphernalia.
His bail was set at $125,000. On September 8, 2011, Hardy was sentenced to ten days in jail, 30 months of probation and a fine of $100,000. Hardy served his jail sentence from October 3 to 13, 2011.
#3 Ric Flair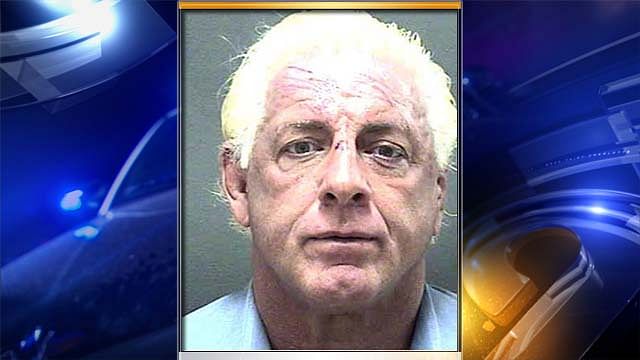 WWE Hall of Famer Ric Flair was arrested in 2005 following a road-rage incident.
Flair was charged with injury to personal property and simple assault and battery after he allegedly got out of his car and grabbed a motorist by the neck and proceed to kick the person's vehicle.
#2 Shawn Michaels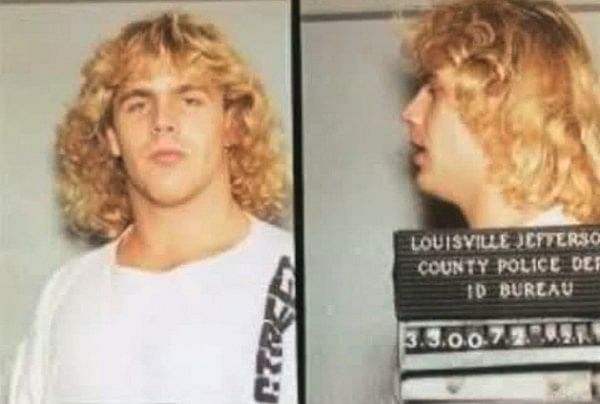 Shawn Michaels was arrested in Louisville, Kentucky and booked into the Jefferson County Jail Sheriff's Office. The exact date and cause of arrest was never made public.
#1 Stone Cold Steve Austin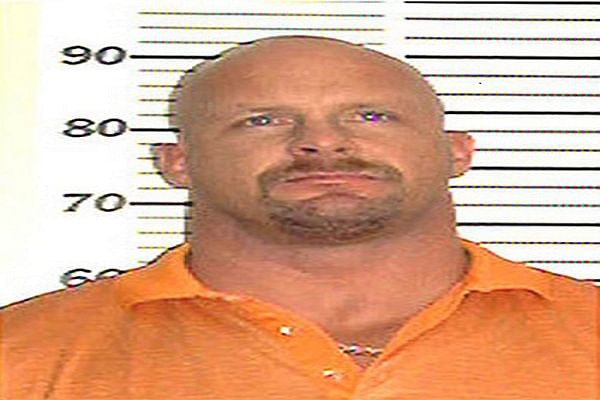 The biggest superstar of the Attitude Era Stone Cold Steve Austin was arrested on charges of domestic violence after he assaulted his then wife, Debra Marshall, who herself was a WWE Diva.Austin turned himself in after authorities issued a warrant for his arrest stemming from a June 15 domestic disturbance at the couple's Northwest Side home. Debraaccused Austin of hitting her several times after an argument.
Lets' look at all the WWE Superstars arrested in this short video:
Braun Strowman reveals the greatest talker in history here