WWE News: AJ Lee says NXT star is going to blow her out of the water
5.68K //
13 Dec 2017, 22:22 IST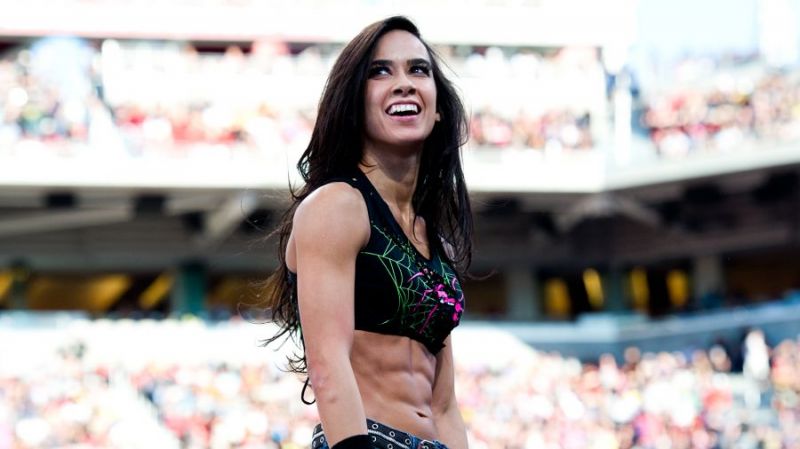 What's the story
WWE has a bright future with many amazing Superstars in the pipeline. At this point, the WWE Performance Center is somewhere you can find some of the best pro wrestling stars of today and tomorrow.
Zelina Vega is currently enjoying a run alongside Andrade Cien Almas as he carries the NXT Championship. But this summer she played AJ Lee in the upcoming Fighting With My Family movie. AJ Lee had some amazing words to share about Vega while saying she was one of a kind and commenting on how big of a name she'll be in the pro wrestling business.
In case you didn't know...
AJ Lee carried the WWE Diva's Title longer than any other woman in history with 408 days throughout three runs. Needless to say, this record will probably never be broken as long as the WWE Diva's Title remains defunct.
That being said, any compliment coming from AJ Lee needs to be taken with a lot of weight because she knows what she's talking about.
The heart of the matter
The upcoming WWE Studios and Seven Bucks Productions film Fighting With My Family is a very interesting project with a fascinating subject matter. Paige's famous wrestling family will be the subject of this upcoming film with Florence Pugh playing the Anti-Diva.
But during the scenes with AJ Lee, she will be portrayed by Zelina Vega. One fan recently posted a picture of Pugh, Vega, and Tessa Blanchard who did stunt-work for Pugh on the film. He can't wait for this movie and he's not the only one.
Zelina Vega opened up briefly about how AJ Lee was such an influence on so many people and how it was so much fun playing her. It sounds like Vega got AJ Lee's personality down to a tee including her skipping entrance.
AJ Lee fired back with a huge compliment toward Vega. She said the NXT star will be the first Zelina Vega alluding to her uniqueness. But she then took it a step further by saying Vega was going to blow AJ Lee out of the water with what she will do in the ring.
What's next
If you've seen Zelina Vega perform, then you know what she's capable of in the ring. Although AJ Lee was a great Superstar, Vega does possess a lot of abilities that Lee probably couldn't pull off as smoothly.
Therefore AJ Lee's statements about Zelina Vega are legit and an affirmation that there could be some big things in store for Andrade Cien Almas' current manager.
Author's take
I can't wait to see Fighting With My Family for many reasons and this is one of them. The film will capture a moment in time that a lot of people hold very close to their hearts as Paige emerged as NXT Women's Champion to topple the once thought to be unbeatable AJ Lee to capture the WWE Diva's Title during her first night on the Raw after WrestleMania 30.
It will also be cool to see how they cut together the wrestling scenes. But judging by the fact it's WWE Studios and The Rock's production company doing the film, it will probably be handled pretty well.
---
Send us news tips at fightclub@sportskeeda.com