WWE RAW, July 1: Best match of the night
2.38K //
04 Jul 2013, 18:51 IST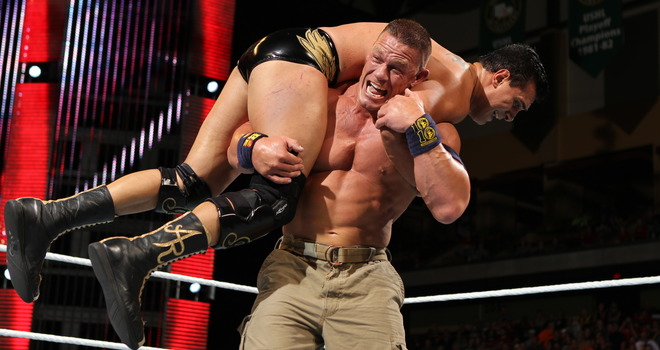 RAW this week was a teaser of sorts as it showed us little action as WWE tried to build up the feuds for MITB. The week was so calm that it has brought a situation that made the choosing of the best match, not because I was spoiled for choice but there weren't any, worth mentioning.
Though there were a few matches that looked good in comparison with the other matches of the night, the fact that they were nowhere close to the beauties that were delivered previous weeks made RAW disappointing. Expectations were soaring high for WWE to strike for three weeks in a row and sadly WWE didn't have the third time charm on its side.
However, surprisingly the best match came from none other than the star of WWE John Cena. The Champion vs Champion match between Cena and Del Rio was undoubtedly the best match of the night.
With no storyline existing between the two, the main event between the two was supposed to be a dull show especially as everyone was expecting Henry and Ziggler to play some role in the match. But WWE was cautious and knew the importance of delivering in the main event and thus gave these both wrestlers ample amount of time to work out a decent match.
The match was similar to any other Cena match as Del Rio seemed to get quite a few close falls. Cena kicked out of a backbreaker, a top rope enzuigiri and every move that Del Rio came up with. Del Rio had time to brag about his dominance over the champion but that gave Cena the required time to counter with a suplex. Del Rio managed to escape the AA and hit another enzuigiri that Cena kicked out at two. Cena had his close moments too as Del Rio managed to kick out at two after a top rope clothesline by Cena.
Cena, after a few counters, managed to lock in the STF but he had to break the lock as Henry walked into the ring. Del Rio tried to take advantage with a roll up but Cena somehow managed to kick out at two. Cena, after all these years, has become too good at kicking out at two. Anyway, it was time now for Ziggler to make his way to distract Del Rio and Cena utilized this opportunity to hit the Attitude Adjustment on a distracted Del Rio for the pin.
The end was somewhat dull as nothing serious happened. Cena and Henry had a stare down as the show ended. However, the problem is that Cena had to win clean over Del Rio, who is a champion himself. This win has clearly shown that WWE doesn't consider the World Heavyweight title of much value. The result was as expected and frankly all odds were placed against Del Rio despite the match being well contested.