RAW kicked off with a PPV worthy match where Braun Strowman faced Bobby Lashley in a Falls Count Anywhere match.
Braun Strowman vs. Bobby Lashley - Falls Count Anywhere match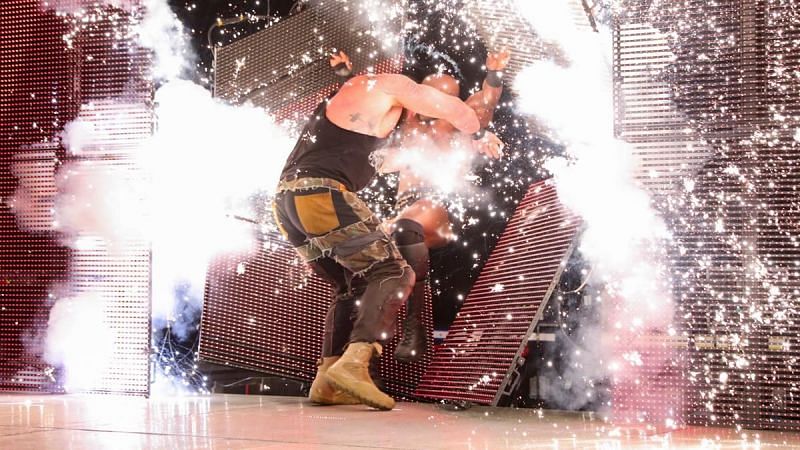 It looked like Lashley had the advantage early on with a Spear, Strowman quickly took control as things spilled to the outside.
The two battled through the audience and things escalated as they reached backstage where both Superstars went through an area where there were several explosions. There were officials co came rushing out with fire extinguishers soon as they two kept brawling.
Lashley had been dominating for the greater part of the match and drove Strowman into the entrance ramp for a two-count.
Lashley was showboating when Strowman rushed him and sent them crashing through the LED boards and more explosions were seen as the power in most of the arena was out.
Result: DNF
Both Superstars were lifted onto stretchers and were wheeled away backstage and eventually into ambulances that were headed for a medical facility.
Match rating: A
---
The New Day vs Samoa Joe & The Viking Raiders
The New Day and The Viking Raiders were ready for their match. Erik and Big E kicked off the match but it was soon interrupted by Samoa Joe who attacked Kofi Kingston. A brawl broke out and we cut for commercials. When we returned. the match was set for a three on three tag match with Joe joining the Raiders.
Kingston hit the Trouble in Paradise on Ivar after a huge sequence of high-flying moves from the Viking Raiders. Samoa Joe sneaked in with a Coquina Clutch from behind, knocking Kofi out and getting the win fior his team.
Result: Samoa Joe & The Viking Raiders def. The New Day
Match rating: B
---
Backstage, Drake Maverick's wife told him to pick between her and the 24/7 title before Truth came out to mock him subtly.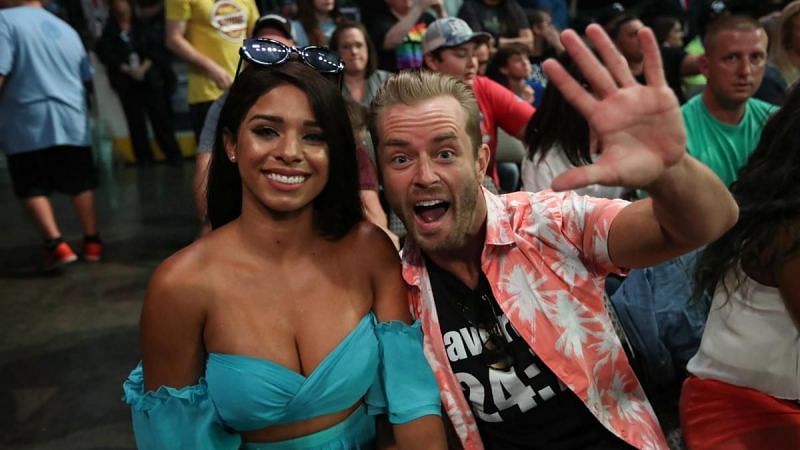 No Way Jose was making his entrance for his match with Cesaro when R-Truth crashed the party. He was taunting Maverick in the stands and dancing with his wife before he was chased by two other competitors. Cesaro was furious with the whole ordeal and wiped Jose out on the outside with a Neutraliser before walking away.
---
The Street Profits were backstage and were being interviewed by Caruso when they made a Rock reference.
---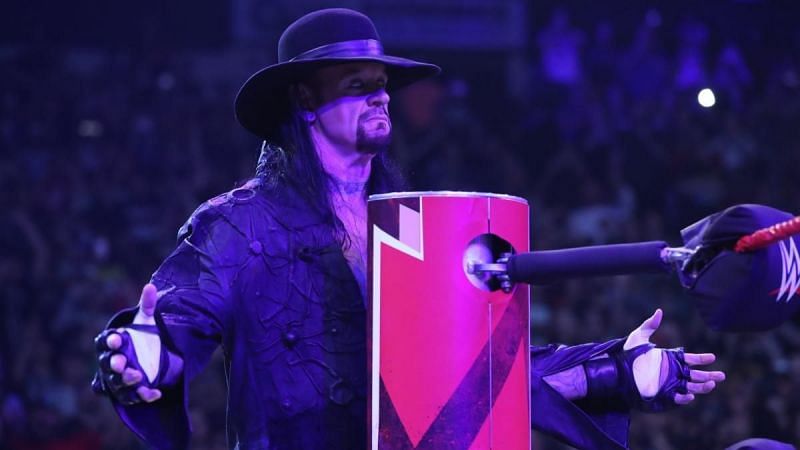 The Miz was backstage and vowed to end Shane's reign of tyranny, teasing a possible apperance from The Undertaker. Shane McMahon and Drew McIntyre came out and trashed on Roman Reigns and then on the Undertaker before Drew called him out to face them.
The lights were flickering in the arena and soon there was thunder and even a couple of bolts of lightning that that hit the ringposts. The ring went dark and 'Taker appeared, walking out to the ring. He made it clear that Roman did not ask for his help but that Shane and Drew's times had come. 'Taker then vowed to send the heels to 'hell' where they would repent.
Segment rating: A
Lacey Evans vs. Natalya
Natalya dumped Evans out of the ring to start the match. She followed Evans out but was caught with a right hand. The action headed back inside the ring as Evans continued to dominate.
Natalya was back in this as she brought out some of her trademark offense. As the tide was about to decisively turn against Evans, Corbin tripped Natalya. This lead to Evans hitting Natalya with the Women's Right for the 3-count.
Result: Lacey Evans def. Natalya
Match rating: C
---
Backstage, Gallows and Anderson were trying to stir things up between Ricochet and AJ Styles and tricked the champ into giving AJ a shot at the title.
---
The Miz vs. Elias - Two Out of Three Falls match
The Miz hit a Skull Crushing Finale almost as soon as the bell ring and pinned Elias for the first fall.
Miz: 1 - Elias: 0
The Miz vs. Elias - Two Out of Three Falls match (contd...)
In the latest WWE NEWS, The Miz was in complete control and went for the Figure 4. Elias rolled him up for a 2-count and followed it up with a Drift Away for the pin.
Miz: 1 Elias: 1
Elias hit a huge powerbomb when we returned and The Miz kicked out. The Miz locked in the Figure-4 and got the victory via submission.
Result: The Miz def. Elias
Match rating: B
---
Seth Rollins and Becky Lynch were backstage in an interview when Maria Kanellis challenged them to a mixed tag match later in the night.
---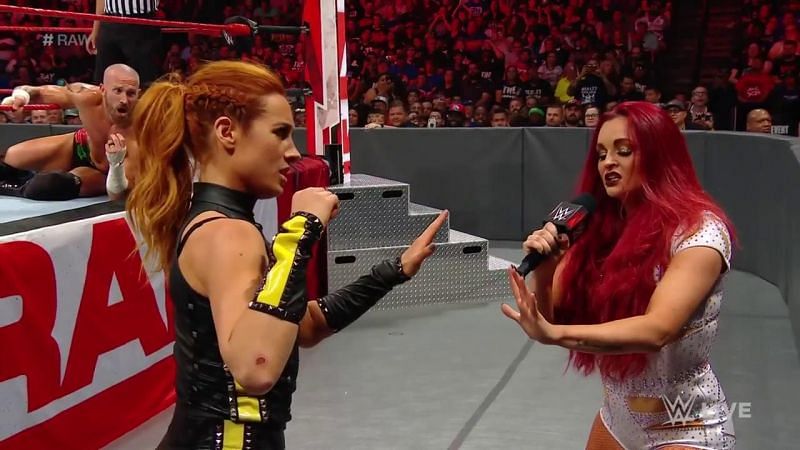 Seth Rollins & Becky Lynch vs Mike & Maria Kanellis
Rollins and Mike Kanellis started us off and Rollins dominated early on. Kanellis hits back with a nasty knife-edge chop only to be caught by a spinning lariat and then followed up by a Buckle Bomb and a Superkick.
Seth Rollins & Becky Lynch vs Mike & Maria Kanellis (contd...)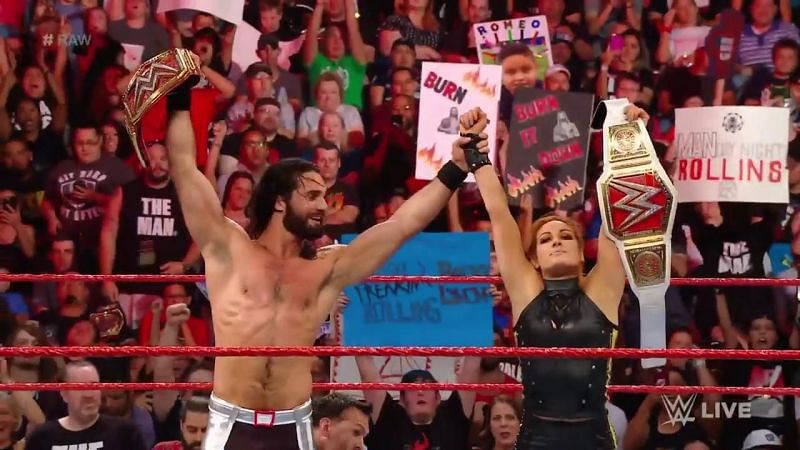 Seth forced Mike to tag in his wife and Becky and Maria were legal. Maria Kanellis revealed that she was pregnant before taking multiple shots at her husband for some reason. Becky then tossed Mike into the ring and locked in the Dis-Arm-Her on her and made him tap out.
Result: Becky Lynch & Seth Rollins def. Mike & Maria Kanellis
Maria told Mike that Becky was the only "man" in the building tonight before adding: "Maybe next time I'll ask Becky to impregnate me".
Match rating: S for Shocking (B)
---
Backstage, Paul Heyman was being interviewed when The Street Profits crashed the party.
---
It was time for A Moment of Bliss with Nikki Cross as the special guest. Alexa was congratulating Nikki when Carmella interrupted and insinuated that Alexa was using Nikki. Alexa called 'Mella R-Truth's sidekick before the two decided to have a match.
Carmella vs. Alexa Bliss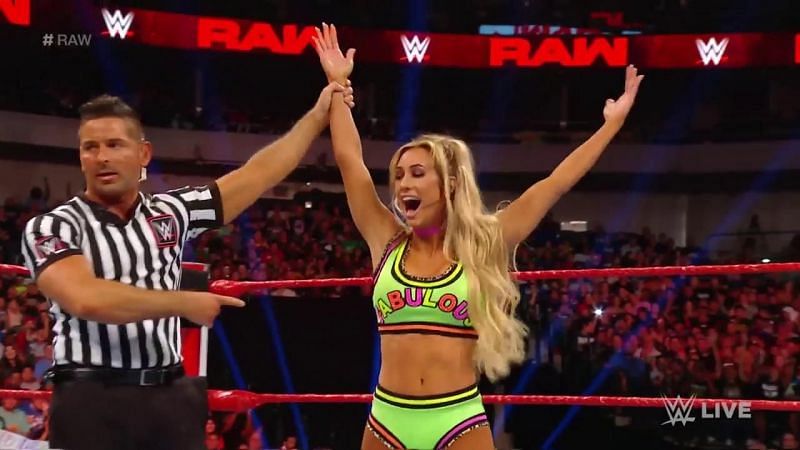 Carmella made her RAW debut with immediately rolling Alexa up and pinning her. It was over in a flash.
Result: Carmella def. Alexa Bliss
Match rating: C
---
Nikki Cross vs. Carmella
Nikki wrapped Carmella up in the apron at ringside before throwing right hands. Carmella caught Cross with a boot and took her down in the corner. She followed it up with a Bronco Buster for a 2-count.
Cross used a distraction and hit Carmella with her patented swinging neckbreaker to pin Carmella.
Result: Nikki Cross def. Carmella
Match rating: B
---
Backstage, we learned that the WWE Universe wanted Nikki to face Bayley instead of Alexa. Bliss got real mad and dragged Nikki along and that was the last we heard of it.
Maverick's wife left him alone for a minute before he ran into R-Truth and knocked him out with a suitcase before getting the pin.
Drake Maverick has regained the 24-7 title.
---
Ricochet (c) vs. AJ Styles - United States title match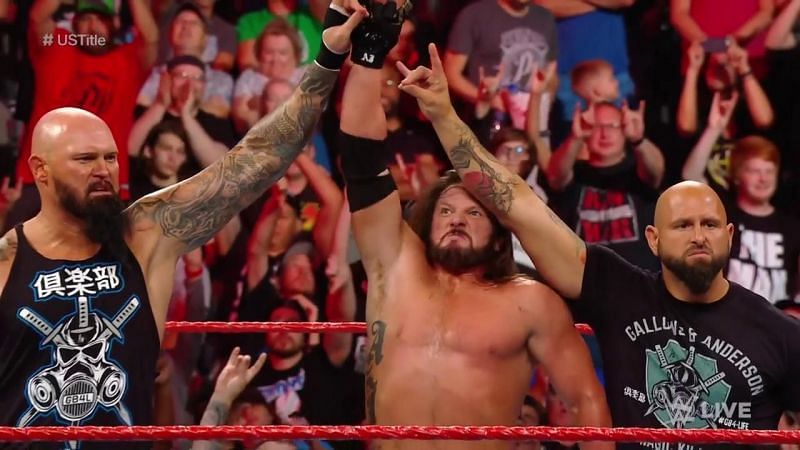 The match started off at a furious pace and both men went back and forth. Ricochet looked to follow his springboard clothesline with a standing moonsault but he was met by Styles' knees. Ricochet dumped Styles out of the ring and followed it with an incredible corkscrew plancha over the ropes.
AJ Styles caught Ricochet with a right boot and followed it up with a Phenomenal Forearm. It was a 3-count but Ricochet's foot looked like it was under the bottom rope. Another referee is in the ring and the match was restarted.
Gallows and Anderson came out as the match continued. AJ dodged a dive and hit the Phenomenal Forearm on the outside followed by a Brainbuster. Ricochet got a quick roll up and defended his title.
Result: Ricochet def. AJ Styles to retain United States title match
The stars shook hands after the match but AJ attacked Ricochet followed but Anderson and Gallows who hit the magic killer. Styles hit the Styles Clash and completed his heel turn by going nuts on Ricochet as the show ended.
Match rating: A
---
Episode rating: A
A few slow moments but overall a great show.
Braun Strowman reveals the greatest talker in history here